sharing positive training and the kpa way – Through Franchises!
---
Brian Burton and Sarah Fraser, both 2014 graduates of the
Karen Pryor Academy
(KPA)
Dog Trainer Professional (DTP) program
co-founded
Instinct Dog Behavior & Training
. Their business has grown tremendously in recent years, from initially offering only in-home services to operating from a small space in New York City, to operating from a larger New York City space to the decision to create a franchise model. There are now
seven Instinct locations
, with more franchises to come! Instinct Dog Behavior & Training has continued to grow, even during the COVID-19 pandemic.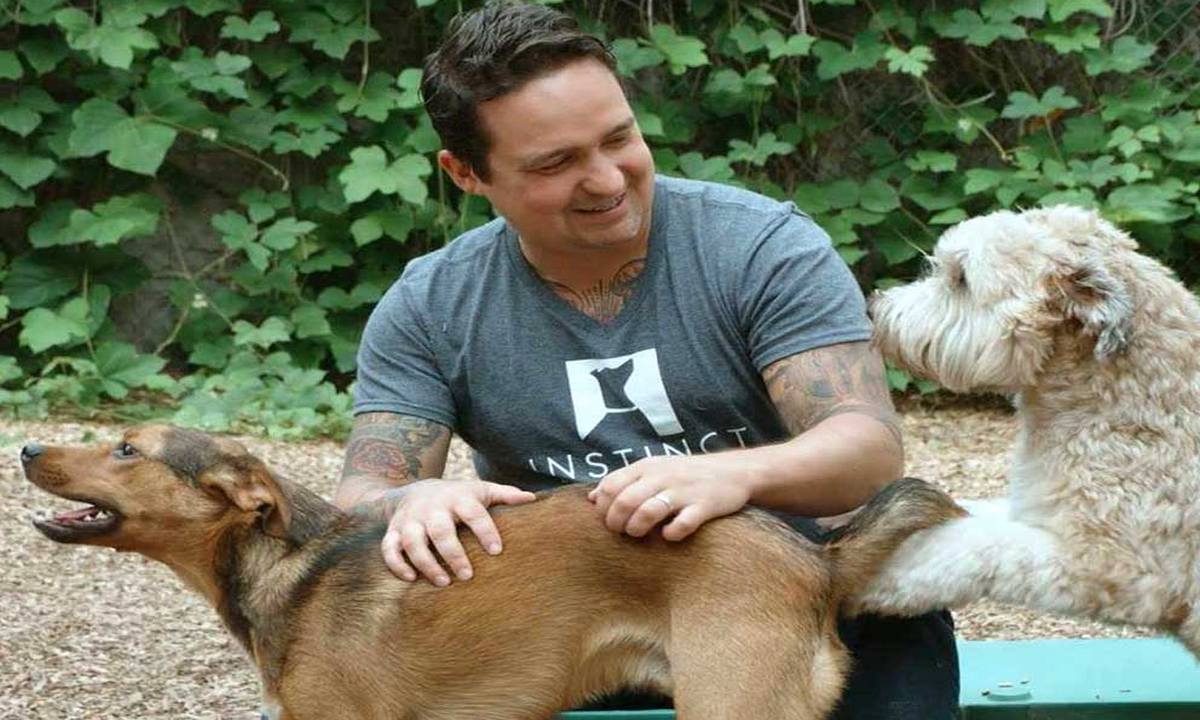 The Instinct philosophy models that of KPA: positive interactions with dogs and humans through respect, compassion, and kindness. Brian explains that the business' overall goals are canine behavioral health and growing the positive training industry. Brian and Sarah are building an animal-training culture with a program that balances dog and owner needs, prioritizes proper assessments, and sees teamwork as vital.
Brian and Sarah considered investor opportunities to support Instinct's growth but opted instead for a franchise model. They believe that keeping training services at the local, pet-owner level and scale preserves care that is personal and appropriate. The Instinct franchise model, with its local franchisees, keeps all aspects of the business aligned. Instinct distinguishes itself in the market by its inclusion of a vet behaviorist as a core component of the team. The company's core leadership team is comprised of spokesperson Brian, whose focus is on the franchises and owners and on Instinct's tech operations; Sarah, who oversees marketing, branding, and training-program quality; Emily Levine, DACVB (a co-owner of Instinct Englewood); and Chris Pachel, DVM, DACVB (a co-owner of Instinct Portland).
Some franchise owners are KPA Certified Training Partners (CTPs)! All other franchise owners and trainers must be equally well-qualified; Instinct requires certified trainers who have the same educational foundation and philosophy as KPA. The Instinct franchise model has provided a unique opportunity for CTPs, originally Sarah and Brian, but now others, to collaborate to benefit pet owners in need. Franchisees are most often found through word of mouth; it's important to maintain the quality of the business and its personnel.
Instinct franchises share goals and a mission; standards, structure, and methods; and equipment and tools. Everything is positive! The parent organization sets boundaries and guidelines, but franchise owners and trainers can still be creative within those boundaries. Keeping systems and processes simple and uniform helps both maintain the brand and ease the burdens of the individuals running each franchise. Economies of scale also allow for the advantages of collective brainpower; the collaboration and transparency that are vital lead to many positive ideas for the present and future. No franchise location is left on its own; there are significant communication channels in place with ready access to the expertise of the leadership team.
New franchise owners must agree to the streamlined model and commit to a phased growth plan. For example, full franchises are required to grow over a 4-year period to reach 24/7 operations. (Smaller operations that will not include overnight services follow a similar but different plan to accommodate various market sizes and business goals.) The Instinct leadership team holds weekly calls with franchise owners. Each location has a senior staff member/director of behavior and training and conducts "trainer rounds" to share information.
Instinct's tech operations are located in Nova Scotia and include a contact center that receives initial inquiries from pet owners. In-house tech staff book "Kick-off Consults," saving time and effort for each franchise, resources that can instead be directed to current clients.
Instinct also offers a free online school! Currently, there are approximately 9,000 people taking advantage of existing content. Content continues to grow, loaded and maintained by the same in-tech operations team. Content is created via a data-driven approach and in collaboration with researchers in a variety of academic fields. Content-creation projects include literature reviews of important topics such as the impact of sleep and diet on behavior and training. Existent content includes information on topics that are often the top concerns of Instinct clients, such as leash reactivity and kids and dogs.
Brian explains that Instinct has survived the unexpected conditions brought about by the COVID-19 pandemic through creative coping! Deeply discounted rates during the depths of the pandemic have kept the business going. Many clients have been frontline workers and people who are ill who need care for their pets during trying times. Just as clicker training is science-based, Instinct trusts the science when it comes to vaccines. For example, at Instinct East Harlem's facility, proof of vaccination or weekly COVID testing is required for employees.
As Instinct thrives and shares its philosophy in locations across the country, Brian is encouraged by the growing popularity of, and familiarity with, the message of positive training. The importance of canine behavioral health has spread within the training world, even during COVID! Always brainstorming with his team, Brian sees machine learning as a current and future opportunity. The Instinct team has been delving into accumulated data to find answers to questions including:
o   What behavior issues can be solved via multiple instances of problems and resolutions?
o   What helpful products are needed to fill known training and behavior-science gaps?
o   What training and behavior-modification programs work best in particular circumstances?
Instinct continues to gather people to its "same page, bigger team, shared results" philosophy, welcoming vets and even groomers to the franchise model. And, yes, Instinct is piloting a program for cats!