September 2023 KPA CTP of the Month
---
As a mental health professional,
Catherine Ricchetti
, KPA CTP, was already working with dogs as she built and implemented facility-dog programs. While she had credentialed social worker skills and experience planning and developing programs, she felt that her dog training skills were insufficient for her needs. When Catherine discovered Karen Pryor Academy (KPA) and learned that its core philosophy was positive training, a philosophy that mirrored her own, she knew she had found what she calls "a perfect match."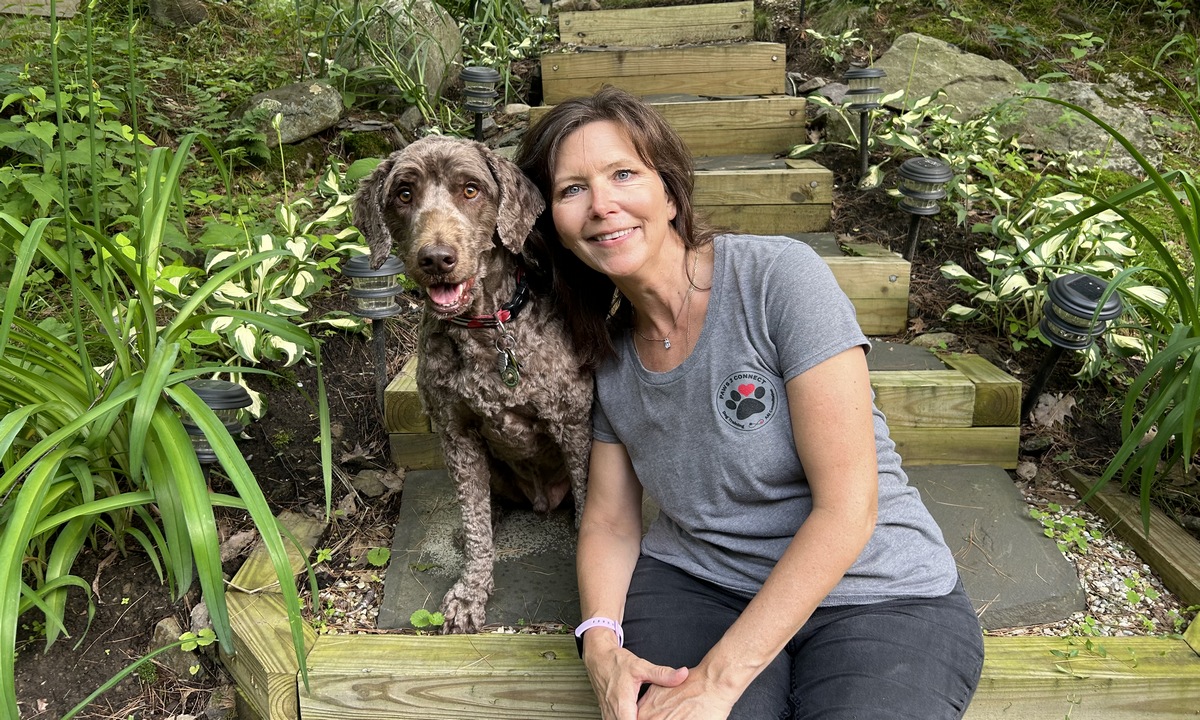 In 2003, Catherine launched a program for animal assisted interventions (AAI) and animal assisted therapy (AAT) as a social worker in the Guilderland (NY) school district where she worked. "What began as a one-dog program has grown! Our school district currently has seven facility dogs; one for each school." Each dog is trained to work with at least three staff members so that as many students as possible can receive services and benefits. To implement the program, Catherine drew on a plethora of social work and other skills, including grant-writing, fundraising, and program-development. "What I lacked was solid, science-based dog training skills."
Catherine completed the KPA Dog Trainer Professional (DTP) program in Binghamton, NY, in 2019. Her instructor was Steve Benjamin, assisted by Donna DeVoist. "Steve and Donna were wonderful; they were kind, patient, and very knowledgeable." Not only can Catherine still reach out to Steve and Donna for suggestions or support, but she remains in touch with other students from the class, mostly through Facebook.
Earning her KPA CTP designation was an invaluable addition to Catherine's existing knowledge and skill set. "Once I had completed the DTP program, I felt much more confident that I could develop a well-rounded, safe canine program." Catherine explains that "in the field of mental health, creating safety, including emotional safety, is paramount." She wanted to extend the safe environment to include the dogs that were part of her program; the needs of the dogs were just as important as the needs of her students and clients.
Remembering her DTP program experience, Catherine shares that she loved the science behind the classes. "I am sort of a dog-geek and I love to learn, so I ate up this part of the course." However, she found that training a different species was a bit challenging. Initially, she was training a friend's chicken, but clashing schedules, the unexpected speed of the chicken, and Catherine's early struggles with clicker timing led her to try training a horse to touch a target. Her success here delighted her! Catherine was also delighted by the videos classmates shared of their second-species training. "It was so much fun to see a fish and cats rocking clicker training skills!"
Unfortunately, Catherine's mother became quite ill while Catherine was completing the KPA DTP program. As she balanced caring for her mother and her classwork, Catherine sat by her sleeping mom's bedside completing assignments. "I would train her dog, Trooper, a sweet rescue learning basic cues like sit, so that I could stay with her." Catherine's mother died in the middle of her program. "It was very sad, but the dogs and their routines helped ground me. Training my dog or my mom's dog gave me some normalcy during a difficult time." Although Catherine's instructor was surprised that her dog, Copeland (named after Misty Copeland, the first African American woman promoted to American Ballet Theater principal dancer) was able to learn new skills from Catherine during that stressful period, Catherine explains that the training was her respite.
Her mother's illness and death reinforced Catherine's belief that facility-dog work was an incredible and valuable tool. "I saw it and felt it in my professional work and then in my personal life. Building canine programs in the helping professions, something I already believed in, was now a lived experience that I could take with me into my work."
Offering a brief primer about her AAI/AAT facility-dog work, Catherine starts with the emphasis on targeted interventions: when a professional partners with a dog to enhance the learning or goal of a client. For example, to help someone with anger-management or emotional-regulatory skills, a teacher or therapist would ask the client to help teach a dog to turn on a light switch (a target behavior taught in the KPA DTP program, of course). The professional teaches clicker mechanics to the client via TAGteaching (another part of the KPA curriculum). When the client becomes frustrated with the dog's slow acquisition of skills, the frustration is transferred to the canine and the client is asked to help the dog calm down. Eventually, the dog attains the skill, and the client sees how patience and calming skills helped the client help the dog. This exercise with a canine partner builds the client's self-control, anger-management, and patience skills. Other examples of targeted interventions tackle self-control and turn-taking (by teaching the dog to fetch a ball but the dog is not always the one fetching the ball) and venture into the work of physical and occupational therapists (scavenger hunts, obstacle courses, musical chairs, etc.).
Catherine believes that KPA expanded her career in several "absolutely wonderful" ways. Post-KPA, Catherine started a dog training business with two other trainers, called Paws2Connect. The business focus is helping professionals create facility-dog programs. "We work with school districts, nursing homes, and some police departments with the goal of creating safe, well-thought-out facility-dog programs where the dog thrives and, therefore, the populations that the professionals serve thrives, too." Paws2Connect helps the facility with all aspects of program development, prioritizing learning the science that KPA emphasizes so that the facility understands canines and the dogs thrive. "We help choose the puppies/dogs, work on program development, and oversee all aspects of dog training. This project is the perfect combination of dog training skills meeting my social work skills." Catherine is quick to add that "it is so much fun!"
Her KPA CTP certification opened another door for Catherine. She is now an adjunct professor teaching a class titled "Dogs In The Helping Professions" at Cobleskill College in upstate New York. Cobleskill College is (currently) the only college in the United States that awards a bachelor's degree in canine training and management. In her class, the focus is on creating safe, solid, and sound canine programs in facilities. "I'm helping to train the next generation of dog trainers, using positive clicker training skills to guide my students along their path. How cool is that?" Catherine stresses that what she teaches is all positive training; students work on clicker skills, timing to enhance canine learning, and breaking down behaviors into small parts using training plans. "I get to teach some of the geeky science I enjoy!" Importantly, Catherine can also employ the TAGteaching skills acquired in the KPA DTP program with her college students and help those students learn TAGteaching to use with their own future dog training clients.
Catherine is happy to add one more way the KPA DTP program and her subsequent KPA CTP designation enhanced her career. She recently published a dog training book, The Canine Nitty Gritty: How To Build A Facility Dog Program1. While Catherine wrote the book to use as she taught her college students and other professionals she helps, she recommends it to anyone who wants to build a facility-dog program. "One of the pitfalls encountered by many facility-dog programs is that goodhearted people who are excited about the idea of a dog working with them to improve their clients' well-being forget about the dog's needs." Just as KPA helped Catherine understand canine science and that a good facility-dog program must be a partnership between the dog and the handler, Catherine's book explores the needs of the canine and explains how to balance those needs with the needs of the facility's clients. Catherine says, "I tried to be the voice of the dog when I wrote the book, not literally, but I built in stop points and safety protocols for the dog." Catherine's hope is that the book reaches the people who need it most so that facility dogs are not just protected but thrive.
Catherine is devoted to positive training methods with dogs, and people. As a mental health professional working primarily with children and families, her approach to clients was already strength-based. "I think KPA was and is a perfect fit for me. I am always looking for strengths in my students and building on those strengths with positive reinforcement; KPA techniques were the icing on the cake." TAGteaching, employed with more precision since KPA, helps Catherine be concise in all of her communication.

I am always looking for strengths in my students and building on those strengths with positive reinforcement; KPA techniques were the icing on the cake.
Catherine continues to learn. "When I completed the KPA DTP program, I felt like my learning had just begun." She has attended a ClickerExpo conference and hopes to attend again. Similarly, she tracks other KPA offerings, attending when she can. "During COVID, I accessed podcasts on dog training from all over Europe and the United States. Now, I attend, virtually and in-person, training sessions offered by many positive training experts in the field, including Ken Ramirez!" Developing her college curriculum has increased her knowledge about the science of canine cognition and training. "I am working with canine science professors, and I still feel that I have much more to learn."
Honored as the National Association of Social Workers New York State Chapter (NASW-NYS) "Social Worker of The Year" for her work in AAI/AAT in 2018, Catherine's plan is to retire from her fulltime work as a school social worker in 2025 and continue to focus on her dog training business, Paws2Connect. "Facility-dog programs are growing at a rapid pace in the United States and Europe. I want to be part of this growth. Done correctly, everyone wins in facility-dog work: the clients, the staff, and the canine!" Catherine especially wants to advocate for the canine participants, helping to build solid, safe, well-structured, canine-kind programs. Paws2Connect offers online classes about dogs for people in AAI/AAT and for people launching facility-dog programs. Catherine says that they hope to expand access to these classes to help more people help their dogs.
A dream nurtured by Catherine ("I am dreaming big here and have no idea if it will occur, but…") is to encourage Cobleskill College, or another college or university, to create a micro-credentialing certificate program for AAI and AAT that focuses on positive canine training. While Catherine plans to advocate for the program in retirement, she says that it has already been discussed at Cobleskill. According to Catherine, "the seed has been planted." Catherine points to micro-credentialing programs at multiple universities as wonderful options. What she considers unique about Cobleskill College is that the college currently offer the only BA in canine training and management—and all of the professors use positive training methods ("a super-cool department!").
Catherine believes that what leads to disappointment, struggles, and even failure within facility-dog programs is not insufficient desire for the program, but insufficient understanding of the needs of the dog. "To be a voice for the dogs, I believe we need programs that model AAI/AAT programs and that require both significant dog training and clear understanding of the science that KPA teaches." If and when Cobleskill College moves toward a program of this type, Catherine wants to be part of that growth.
Catherine is grateful to KPA for the support and training that has allowed her to accomplish so much and have ambitious dreams for the future. "KPA is a voice for canines (and other animal species), advocating respect and kind treatment of all species. We need more KPA-minded people everywhere!"
Notes:
Catherine has also written a book titled Service Trained Facility Dogs. The book has information about dog training and covers with broad strokes building a facility-dog program (creating a proposal, writing grants, the Americans with Disabilities Act, therapy vs. service vs. facility dogs, choosing a breeder, choosing a puppy, whole-school character education with success-rate statistics, stories of dogs at work). A spin-off of this book is the children's book Miss Siggy Speaks. The book contains real letters from students written to Catherine's dog, Miss Siggy (named for Dr. Sigmund Freud!). The dog's replies are in the book of course!