May 2023 KPA CTP of the Month
---
Linda Randall, DVM, KPA CTP, owner and trainer at One Smart Dog in Seville, Ohio, graduated from the Karen Pryor Academy (KPA) Dog Trainer Professional (DTP) program and became a KPA Certified Training Partner (CTP) in 2022. However, she has been a positive trainer for many years, applying tenets of clicker training and other positive philosophies to her clients and herself, and toward understanding and coping with societal conflicts and challenges.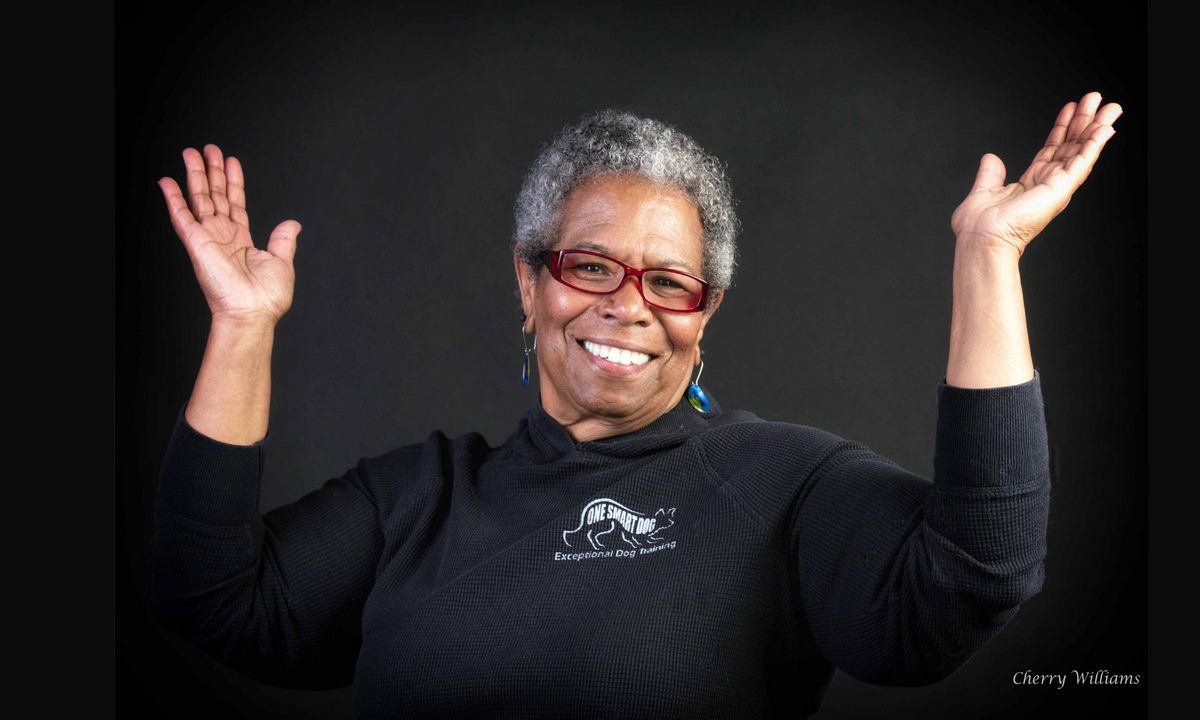 Recently returned from her 18
th
ClickerExpo conference, Linda says that she had long known about, talked about, and considered enrolling in the DTP program. In fact, she helped one of her instructors from One Smart Dog attend KPA before she enrolled herself. "As I became more involved with people in the KPA program, and with the start of the
diversity and inclusivity engagement at Karen Pryor Clicker Training
, I felt the time was right for me to enroll. I am glad I did!"

With the start of the diversity and inclusivity engagement at Karen Pryor Clicker Training, I felt the time was right for me to enroll. I am glad I did!"
Linda completed the DTP program in Michigan with Laura VanArendonk Baugh, graduating in the spring of 2022. She describes Laura as "a wonderful teacher and role model." Chaining together 10 behaviors as part of the program's final assessment was the biggest challenge for Linda. "I over-thought it!" Highlights of the program centered on "working with my classmates and learning from them and their dogs."
Linda has enrolled in other KPA educational offerings, as well as courses offered by ClickerExpo faculty members. She has completed Living and Learning with Animals and is currently in the How Research Works course, both from Behavior Works. Linda is certified at TAGteach Level 3. Her plan is to continue to apply all she has learned, and will learn, about positive training to "everything I do, including business, community meetings, and veterinary medicine." Tenets of clicker training pop up in Linda's daily routine, "often without me realizing it." Speaking about behavior in non-science terms is now a natural part of Linda's speech pattern. She says, "Let's hope it is subtle enough that I can continue to be effective and sound 'oh, so wise!'"
Although she has worked with a clicker for many years, with all dog breeds and with other animals, including cattle, Linda considers herself an intermediate clicker trainer, and expects to be at that level indefinitely! She explains that "the science of using a clicker continues to evolve along with positive reinforcement training. Keeping up, while practicing veterinary medicine and running a fulltime dog training facility, can be difficult."
Despite being discouraged from pursuing veterinary medicine by a high school guidance counselor who cited her race, gender, and inadequate science preparation as barriers, Linda completed her degree at The Ohio State University College of Veterinary Medicine. She is currently a member of The Ohio State University College of Veterinary Medicine's Admissions Committee. As a veterinarian, Linda's passions include animal behavior and sporting-dog injuries and treatment. Her practice emphasizes ethical and compassionate treatment and low-stress, minimal-fear care.
A teacher (in New York and Nigeria!) before she was a vet, Linda is skilled at working with learners of all species and ages but loves teaching children and their pets. "My favorite clicker stories always seem to revolve around kids! Their hand-eye coordination from using of cell phones, laptops, tablets, and video games makes them naturals at precise timing and reinforcement placement." Kids are Linda's favorite students. "They are the best and most empathetic dog trainers!" Linda believes that "engaging and caring for another species helps children show compassion for others and increases their curiosity and acceptance of people who are different."
Linda tries to extend positive reinforcement practices to herself and the world around her. "Sometimes it is very hard to maintain. Sometimes it feels like it is only an illusion I have about myself," she admits. Linda is deliberate about stepping back and remembering to be kind to herself. "I remind myself that when I am not feeling good enough, or I am worried, given the circumstances (i.e., the environment) I am making the best decisions I can. I am moving in approximations toward the person I truly want to be and, in many instances, am. "
Her focus on positive practices has been behind a delicate and important shift in Linda's interactions with "a changing and increasingly dangerous world." As an example of utilizing R+ training across areas of her life, Linda describes how over the past several years she has employed the "ABCs of behavior" to help explain actions by people with political and other beliefs radically different from her own. "While it seems incomprehensible to me, many people believe in theories and explanations that are, on their face, false and conspiratorial. I take a step back and ask myself what function their behavior has and what is maintaining that behavior. Sometimes I surprise myself with the answers I find." Linda acknowledges that while she can never know if her answers are true or accurate, "doing this helps me see them as people who are moving through their space as best they can. This doesn't mean that they are right or that I sympathize with them or sanction the harm they do." Having felt the effects of others' false values and opinions, Linda knows "the deep pain people can cause others." But she also sees that "there may be a path forward if we can shift the antecedents and arrange environments in our small sphere of influence to provide better outcomes. We have to try."
[Listen to Linda and Ken Ramirez discuss race in dog training in a February 2021 Live from The Ranch episode.]