may 2019 KPA CTP of the Month
---
Born in Ontario, Canada, Sandy Issler, KPA CTP, came to the United States for graduate school. She has lived in the US ever since, becoming a citizen in 2001. A research chemist with a demanding career, Sandy's lifelong love of dogs (especially golden retrievers) and horses was limited to canine pets at home and training and competing with her dressage horses. Sandy and her dogs attended basic training classes, but Sandy was put off by the choke chains and positive punishment in training that were prevalent at that time.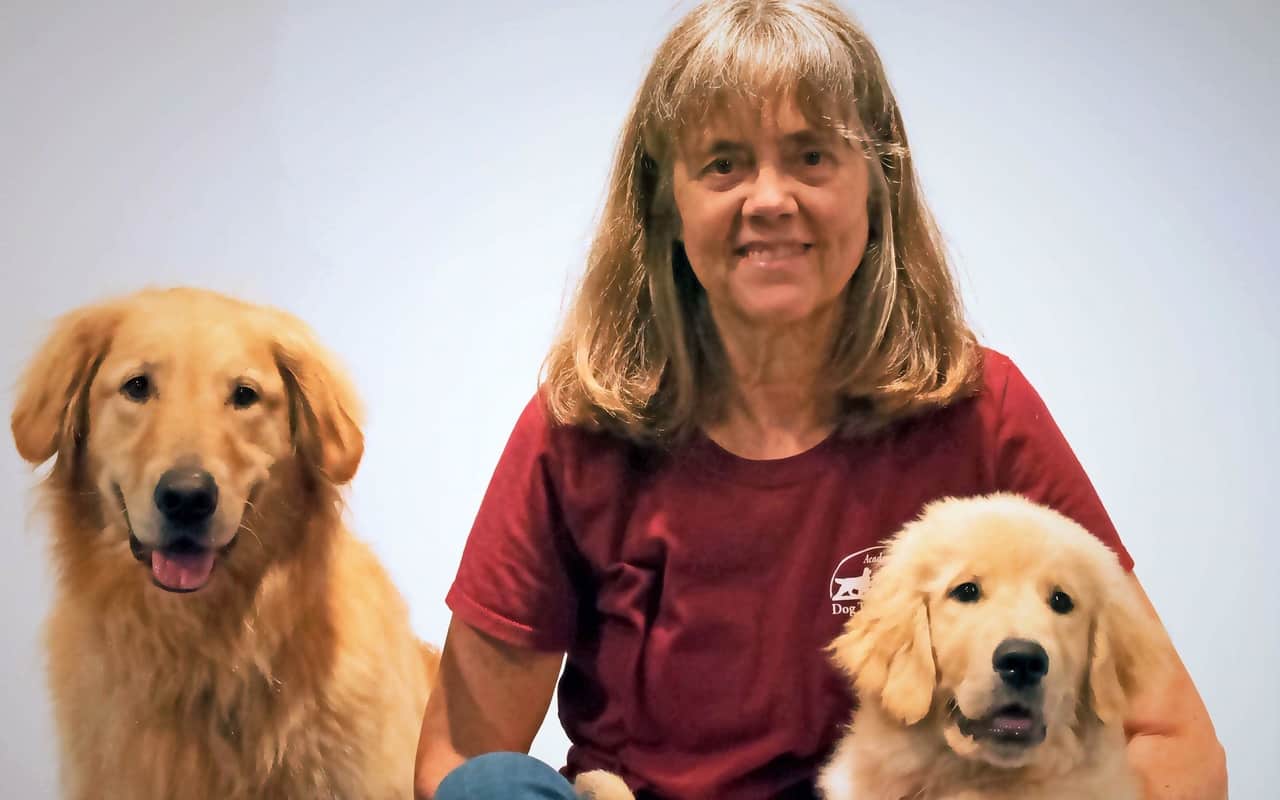 In 2014, Sandy discovered The Academy of Dog Training and Agility in Newark, Delaware, and enrolled in dog-training classes there. The Academy uses clicker training and was highly recommend by a friend. "I had heard about clicker training, but I began to understand the true nuances of marker-based training in the Academy's puppy S.T.A.R. class with my puppy, Rosie," Sandy shares. "The clear communication associated with the clicker used as a marker allowed my little Rosie to learn quickly and excel in her training." Sandy and Rosie had fun with their clicker training, which encouraged them to attend additional classes at the Academy–Rally Obedience, Freestyle, Agility, and Tricks. Sandy was intrigued by clicker training and wanted to gain more experience, so she volunteered to help teach the Academy's basic manners classes. As a result, "Rosie began her career as a clicker training demo dog."
When the opportunity to retire arose in early 2015, Sandy left her research career. Within six months of her retirement, Sandy enrolled in the Karen Pryor Academy (KPA) Dog Trainer Professional (DTP) program, having heard about the program from a trainer at The Academy of Dog Training and Agility who was already a KPA Certified Training Partner (CTP). Sandy completed the course under the instruction of Laurie Luck, and attended workshops in Columbia, Maryland. She says, "I was still relatively new to clicker training when I entered the program, so I learned a tremendous amount and enjoyed every minute of it. Since clicker training is based on Applied Behavior Analysis and the science of learning, it was a perfect fit for my scientific background and inclinations." Never having embraced aversive training methods, Sandy knew that positive training was the only method for her as soon as she learned more about clicker training,
Sandy found the DTP program challenging, as much of the content was new to her, yet she managed well. Rosie was Sandy's partner during the course. "Rosie was one-and-a-half years old at the time and was an ideal KPA training partner. She helped me through the DTP program with her brilliance and cheery, willing attitude," recalls Sandy. Achieving fluency in behaviors and putting those behaviors under stimulus control were the most challenging aspects of the course for Sandy. However, the DTP program provided lots of valuable information that helped Sandy master those skills.
The KPA DTP program was "a life-changing experience" for Sandy. "It changed my view on training and my interactions with animals," she says. Sandy reports that what she learned in the DTP program made sense to her. "Instead of commanding or telling animals what to do, it is much kinder to ask the animal to do the behavior and to view training as a two-way conversation." Sandy also found that viewing behavior in terms of A-B-C, Antecedent-Behavior-Consequence, transformed her training and prompted her to be more creative developing training plans and troubleshooting behavior issues. Learning about classical and operant conditioning, targeting, capturing, shaping, behavior chains, fluency, stimulus control, advanced concepts, behavior chains, ideas for teaching behaviors, private lessons, and group classes, and more all helped Sandy understand the clicker training philopsphy and methods and how to apply that type of training. She reports, "Once I graduated and became a KPA CTP, I was like a kid in a candy store with my new knowledge, shooting off in all directions. There were so many training things I wanted to try and new concepts I wanted to explore!"

Once I graduated and became a KPA CTP, I was like a kid in a candy store with my new knowledge."
Since completing the KPA DTP program, Sandy has expanded her new training career. She works with private clients in their homes and leads more classes and private lessons at The Academy of Dog Training and Agility, including therapy dog classes. "We have a supportive team of clicker trainers at the Academy. We discuss training ideas and explore solutions to various training challenges," says Sandy. She is excited to share the news that soon there will be four KPA CTPs at The Academy of Dog Training and Agility!
Sandy's own animals have benefited from her new skills and knowledges, too. Sandy has used clicker training to work with her dogs in dog sports such as scent detection, agility, and tracking. Her skills and accomplishments in the areas of puppy raising, trick training, husbandry/veterinary procedures, canine fitness, mimicry, and a variety of service dog behaviors have grown as well. Sandy has even clicker trained other animals: cats (agility skills!), alpacas (targeting, stationing, haltering, and husbandry skills), and horses.
Sandy's outlook since KPA has changed her interactions with the dogs and horses she trains most often. "I no longer 'command' them to do something, but instead 'cue' or ask them to do something for me. I listen to the animals' responses about whether they can do what I am asking and adjust from there." Realizing that an animal is trying to understand her, when something goes wrong Sandy assumes responsibility for the problem, evaluates her approach, and works to make training clearer for the animal(s).
Another benefit that stems from the KPA DTP, according to Sandy, is that she is more patient, stepping back and seeing the goings on in life and in the world as simply behavior. "I ask myself, 'What is the environment, what are the antecedents triggering the behavior, and what are the reinforcers?'" This analysis helps Sandy understand learners and problem-solve behaviors with all animals, including people. "I still have a long way to go with R+ and people!" Sandy says.
Although she calls herself a lifelong "horse person," Sandy still considers herself a beginner when it comes to the nuances of equine clicker training and acknowledges that she is still crossing over from traditional to R+ clicker training in the equine area. "Compared to the dog world, the equine R+ clicker training community is relatively small," explains Sandy. "But members are very welcoming and encouraging." Sandy has followed the equine track at three ClickerExpo conferences, learning a lot from Alexandra Kurland, Peggy Hogan, and Jen Digate. "I always come away with so many great ideas and so many things to try with the horses."
A perpetual and eager learner, Sandy has completed many courses, seminars, and webinars. She also searches out podcasts and other means of keeping abreast of positive training advances. "I am thrilled that there are so many sources of great positive reinforcement training information these days," she says. Of course, Sandy is always looking to do more. She has attended ClickerExpo multiple times and has completed both the KPA Canine Freestyle course and the KPA Better Veterinary Visits course. Other courses/topics Sandy has pursued include cyber-scenting with Helix Fairweather and Sarah Owings and equine clicker training via a workshop with Alexandra Kurland in November of 2018.
Sandy loves her work now and is especially excited about puppy and basic manners classes and about what she calls "fancy training." Sandy really enjoys teaching beginner dog/handler teams that are new to clicker training because the basic classes have a large and direct impact on the lives of people and their dogs. Many clients take their new foundation behaviors forward to the next series of classes. "I enjoy teaching new skills and watching communication and relationships grow, but I also love the fun we have in class," says Sandy.
Fancy training, or training advanced concepts, is Sandy's other special interest. "I use my golden retrievers to try out advanced training in dog sports such as scent detection, agility, and tracking—and in puppy-raising, trick training, husbandry/veterinary procedures, canine fitness, mimicry, and a variety of service-dog behaviors. Sandy's dogs love clicker training. "They excel at most everything… except maybe sheep herding!"
Thinking ahead, Sandy would like to visit the Karen Pryor National Training Center, The Ranch, and is eager to learn more about TAGteach in order to help her human students even more. Along with her continued focus on equine clicker training, Sandy is considering exploring hunt and field training with her golden retrievers. "It would be nice to see more R+ training in that area." Her second career well underway, Sandy Issler looks forward to broadening and deepening her professional expertise at every opportunity, always positively and with an assortment of species.