july 2020 KPA CTP of the Month
---
The life of
Jill Sackman
, DVM, PhD, KPA CTP, has always included companion and show animals. A veterinarian specializing in animal behavior, she now owns and runs Animal Behavior Consultants of Michigan. Jill's practice offers consultations, evaluations, wellness visits, and even house calls related to behavior issues with dogs, cats, and horses.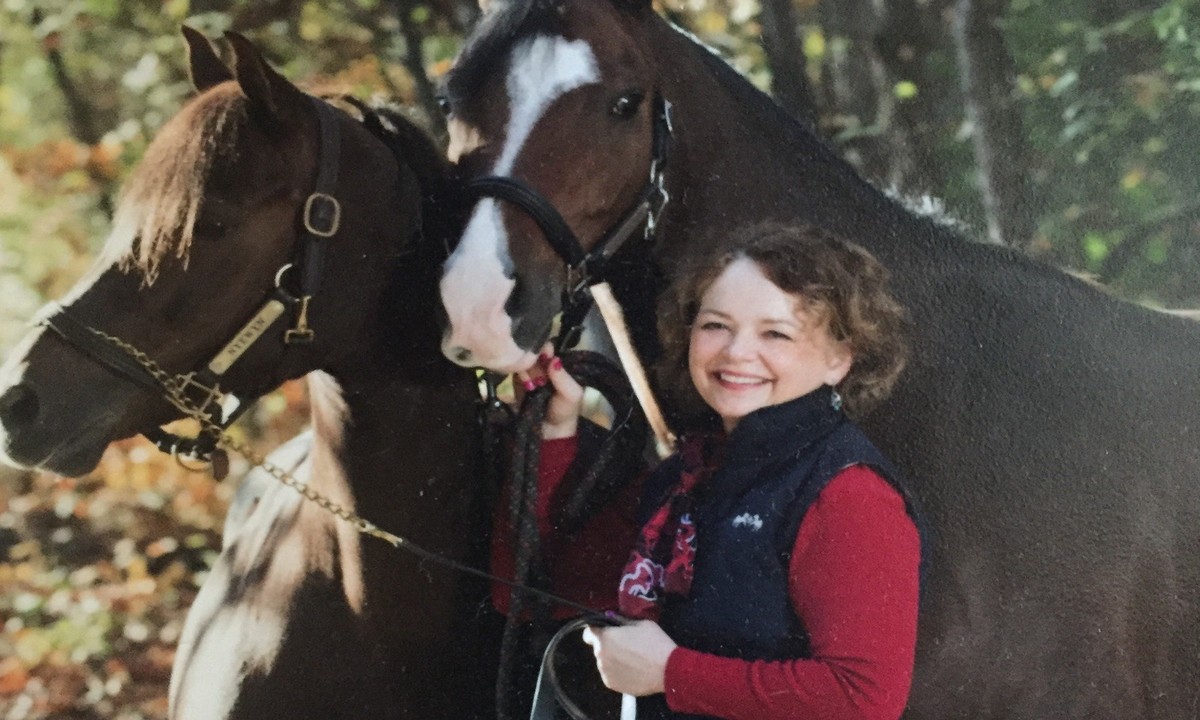 Jill first heard about Karen Pryor Academy (KPA) when she attended an ACVB veterinary behavior conference in Chicago and met Karen Pryor. From that meeting with Karen, Jill took home information about the Dog Trainer Foundations course. She completed the Foundations course, but later became interested in the Dog Trainer Professional (DTP) program, concurrent with her pursuit of a residency and board certification in veterinary behavior. Jill says, "I spoke to Debbie Martin and others about the value of the KPA program; they had enthusiastic responses." She completed the KPA DTP program in St. Louis with Laurie Luck in 2015.
The small-group and hands-on elements of the DTP weekend training sessions were fantastic, according to Jill. "I went home after each weekend and was inspired to learn more!" Jill's canine partner in the program was Rosie, a female French bulldog. Jill reports that it was an "eye-opener" when she was able to communicate with Rosie via the clicker. "It was like finding the Rosetta Stone." Jill recalls the exercise where other students clicked her for the behavior they wanted to see as the hardest element of the DTP program. "Coming in blind" and figuring out what was expected led Jill to feel a lot of empathy and understanding for pets trying to determine what is expected of them.
Jill believes that her veterinary behavior career has grown from her work with KPA. "It is the foundation from which I have continued to build." She emphasizes that the "applied learning theory knowledge acquired" from KPA has been critical. "A large part of my practice involves training clients on how to do behavior modification. I rely on my skills from the KPA program daily."

I rely on my skills from the KPA program daily.
Board certified in veterinary behavior (ACVB Diplomate) with a practice focused solely on behavior issues, Jill sees cases on a referral basis. Her referrals originate with "general-practice veterinarians and trainers." Clients often refer themselves as well. Jill collaborates and shares office space with a trainer friend. "We work collaboratively to help fearful, reactive, and aggressive dogs and their families." Jill has always valued work as part of a collaborative team. Her current team members are positive reinforcement trainers and veterinarians, as well as pet families. "It takes a village to help many of my fearful patients." Jill describes her practice and the services that she offers as integrative. "I use medicine, environmental and safety management, and behavior modification with marker/clicker training every day!"
In addition to her behavior referral practice, Jill is a consultant for a sanctuary and for a humane society. Using clicker training, "I work with both organizations training fearful and reactive dogs so that they can cope better with their surroundings." Horses also receive attention and guidance from Jill. "I have shared my entire life with horses; they are amazing animals." Again using marker/clicker training, Jill works with horses, teaching ground manners, offering veterinary medication/treatment, and partnering with farriers. "I believe that positive training not only is an important way to train, but that it totally changes the relationships people have with horses. When your horse looks at you to say, 'You mean I have a choice in this?' it is a total game-changer."
On top of her positive interactions with animals in her care and in her life, Jill sees how her KPA background has expanded how she looks at "interactions between people." She says, "It has 100% opened my eyes to how punitive humans can be."
Jill uses analogies to interpersonal relationships and communication to help her clients see how problematic it is when they expect animals to do something just because they say so, never thinking about motivation. "I think the analogies help clients see things through their pets' eyes." In response to questions about "when are food/ bribes going to stop," Jill turns the question to the client: "When will you stop expecting to go to work and receiving a paycheck?" Continuing the analogy, Jill asks her clients to reflect on "a boss who was always about the things you did wrong versus the things you did right. Who would you prefer to work for?"
Now that she has completed the KPA Dog Trainer Foundations and Professional courses, finished her veterinary behavior residency, and passed those certifying board exams, Jill is not slowing down! "I continue to attend lectures on training and am always looking for better and easier ways to help my clients help their pets." She says that she is also eager to train with her own dogs more. Considering the tremendous value of the knowledge gleaned from KPA and how it has enhanced her veterinary practice experience, Jill would like to see future veterinary behavior residents complete skills training from KPA as part of their residency.