january 2021 KPA CTP of the Month
---
Cari Tetzlaff
, KPA CTP, was searching for new ways to help at-risk dogs when she enrolled in the Karen Pryor Academy (KPA) Dog Trainer Professional (DTP) program. A long-time staff member at the Oshkosh Area Humane Society (OAHS), in her then-role as Volunteer Coordinator Cari encountered many dogs that were not considered adoptable or had behavior issues in their adoptive homes. She remembers, "I knew there had to be a way to reach some of these animals, but I didn't have the knowledge or skills to put the pieces of the puzzle together to help them get the outcomes they deserved."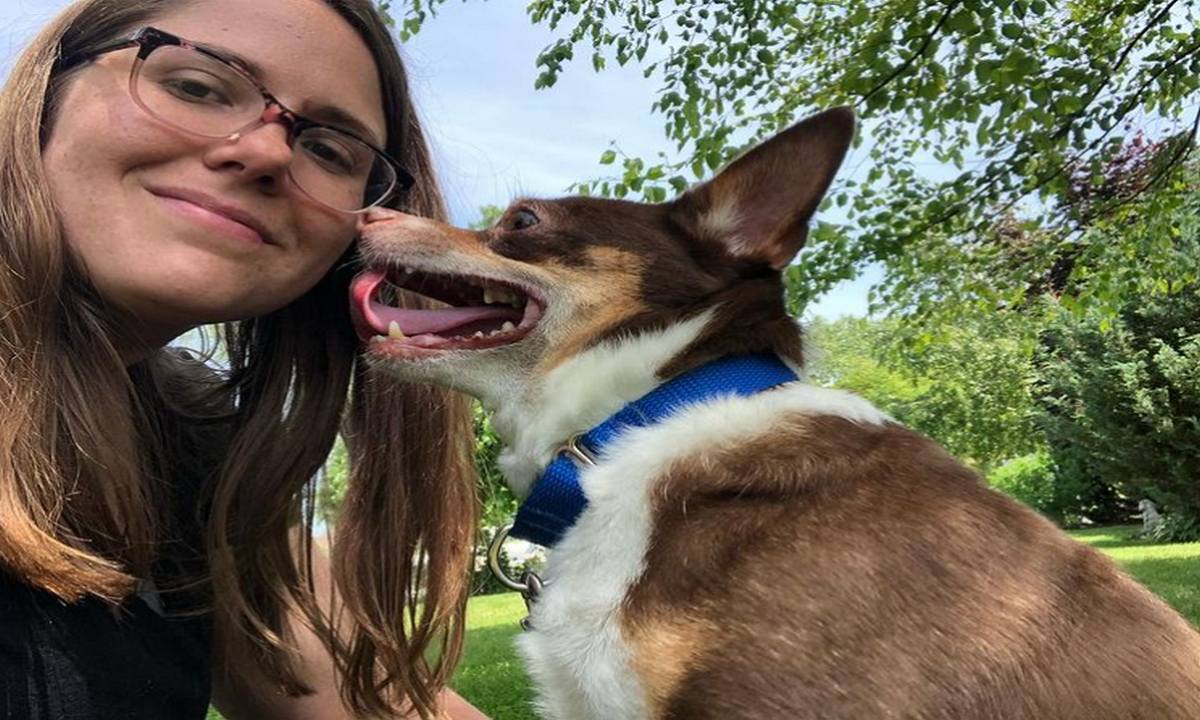 Cari began to read everything she could find by Karen Pryor and KPA faculty members. She attended ClickerExpo and then completed the Dog Trainer Foundations course. The DTP program was the next logical goal for Cari as she continued to grow as a trainer and as a shelter-animal advocate. "I wanted to learn as much as I could from a curriculum designed by my training heroes and take that information back to the shelter environment to save as many lives as possible." Cari completed the KPA DTP program in Minnesota with Shelly Brouwer in 2014. "Shelly is an inspiration. I appreciated her background in the shelter world; she understood from experience the challenges inherent in the work I do." Shelly helped Cari understand how the power of clicker training could be leveraged in a shelter setting. Cari describes Shelly as "an amazing instructor" and shares that they have remained in contact since the program ended.
In recalling the KPA DTP program, Cari says that "every aspect of the program was helpful." However, in 2020, she has come to appreciate TAGteach concepts as, due to the pandemic, she consults with pet owners virtually. "Since I am not in the room with students, I am leaning on TAGteach skills more heavily than ever before." With her KPA-learned skills, Cari launched OAHS's first formal dog and cat behavior-modification programs that utilized clicker training. She has also strived to create a culture of positive training among volunteers, foster home families, and staff members. OAHS now has a Behavior Department, and Cari is currently the Behavior Department Manager. She oversees and implements behavior-modification plans for animals with behaviors that pose potential barriers to adoption. "I also manage the surrender-prevention behavior hotline that works to keep animals in homes with the people who already love them." Cari provides post-adoption support for special-needs animals that have been adopted.
Explaining how KPA has provided so many tools for her shelter work—and her ever-present goal of "saving a life"—Cari shares the story of Pipsqueak, a dog with a history of biting. "Pipsqueak bit the hand of a potential adopter who was reaching toward him to greet him. Pipsqueak is small, but the bite caused damage. Naturally, we were concerned about allowing visitors to interact with him. I moved Pipsqueak to my office and led a small group of volunteers in daily training sessions with him. We taught him to touch a target stick with his nose to collect treats and then transferred the skill to unfamiliar people holding a target stick. It became standard procedure for him to 'play the target-stick game' with potential adopters. He would approach the target with his nose but would then retreat a short distance away to collect his reinforcement." Cari reports that adopters had safe, hands-off, and positive interactions with Pipsqueak, and he formed positive associations with unfamiliar people in a structured, familiar, and supportive way. Pipsqueak found a wonderful foster home and then a permanent home. "I've received positive reports about his behavior post-adoption!" Before completing the Dog Trainer Professional program, Cari had never even used a target stick! She is thankful she learned about this useful tool as a KPA student, in time to help Pipsqueak and other shelter animals.
Cari describes shelter work as "a tremendously demanding field." Staff members and volunteers must meet the needs of animals with diverse behavioral challenges living under what are typically stressful conditions. In shelter work, time is of the essence, of course. Cari explains: "Research shows that long-term stays in shelters are both physically and psychologically unhealthy for animals. Shelter staff members are under intense pressure to secure desirable outcomes for animals in a timely manner... and then it's on to the next animal in need!" Cari believes it is "an honor to support the needs of homeless animals and to help set them up for success in the next chapter of their lives." She loves working directly with shelter animals, but also loves helping to prevent pet surrenders by offering consulting services to people with animals that are at risk of being relinquished. Cari helps animals post-adoption by working with their new guardians. "A good day for me is any day I improve an animal's life by helping the people who care for the animal understand how to meet that animal's needs."
KPA has led to Cari's connections with "a global community of like-minded trainers dedicated to improving animal welfare through science-based practices. Every time I attend ClickerExpo or interact with other KPA CTPs, I'm reminded that our movement is growing, our reach is expanding, and animals and the people who care about them are better off."

KPA has led to Cari's connections with a 'global community of like-minded trainers dedicated to improving animal welfare through science-based practices.
Just as she uses TAGteach principles learned in the DTP program with virtual clients, Cari utilizes the psychological principles of positive reinforcement with both animals and animal guardians. "I strive to build relationships with caregivers, show them how training will be relevant (and fun!), teach necessary skills one at a time at a pace that will allow for quick success, and reinforce at a high rate," she reports.
Cari believes that clicker training animals has taught her to be kinder to herself, too. Instead of being unnecessarily hard on herself, she asks, "Does my environment need to be managed better? Can I eliminate an unnecessary source of stress? Is my reinforcement rate high enough? Should I adjust my expectations and lower my criteria temporarily?" Thoughtful consideration often yields answers and results in improved self-care.
Always looking ahead, Cari continues to attend conferences, including Clicker Expo, read about training, and observe other trainers. She is considering returning to school for a master's degree in psychology. Recently, Cari attended the Aggression in Dogs Conference and Shelter Playgroup Alliance's LIMA-based dog-play seminars. She has completed Dr. Susan Friedman's Living and Learning with Animals course as well. Cari asks, "Has there ever been a more exciting time to be interested in animal behavior?"
Cari's philosophy is based on helping animals do more than survive. "I challenge myself and the shelter community to set our sights on helping animals thrive." She is eager to continue "helping the helpers" by working with other organizations looking to use positive reinforcement training. "In some shelters, training is something 'above and beyond' to try to get to if there is extra time. In my view, training is essential to a well-structured animal-care program." Cari believes that, with thought, "intentional positive reinforcement training can be incorporated into all interactions with animals without adding significantly to the workload of caregivers." Good training saves time, "a precious commodity in the sheltering world!" as well as shelter animal lives.