january 2020 KPA CTP of the Month
---
Eva Berginc, KPA CTP, completed the World format of the KPA Dog Trainer Professional (DTP) program in 2018, with Terry Ryan. A helicopter pilot in the Austrian military, her other calling is as a professional dog trainer.
Having fulfilled the requirements for professional dog trainers in Austria, Eva was searching for "a high-quality international education." With recommendations from KPA CTPs that she knew, Eva chose the KPA DTP program because it covers "everything that is necessary."
Eva liked that the course included information about working with people and about marketing strategies in addition to all of the elements of dog training. While she absorbed so much from the DTP program, Eva sometimes found it "tough" to explain a problem or an issue in a language (English) that was not her native language.
Some of the biggest takeaways from Eva's KPA educational experience were the value of both detailed planning and breaking training down into small pieces and the success that comes from careful listening. "I listen more carefully to what the other person is saying," checking that what they "would like to say and what I understand are the same," she says. "When our canine training buddies do not understand, we have to change our strategy. It is exactly the same when you are working with people."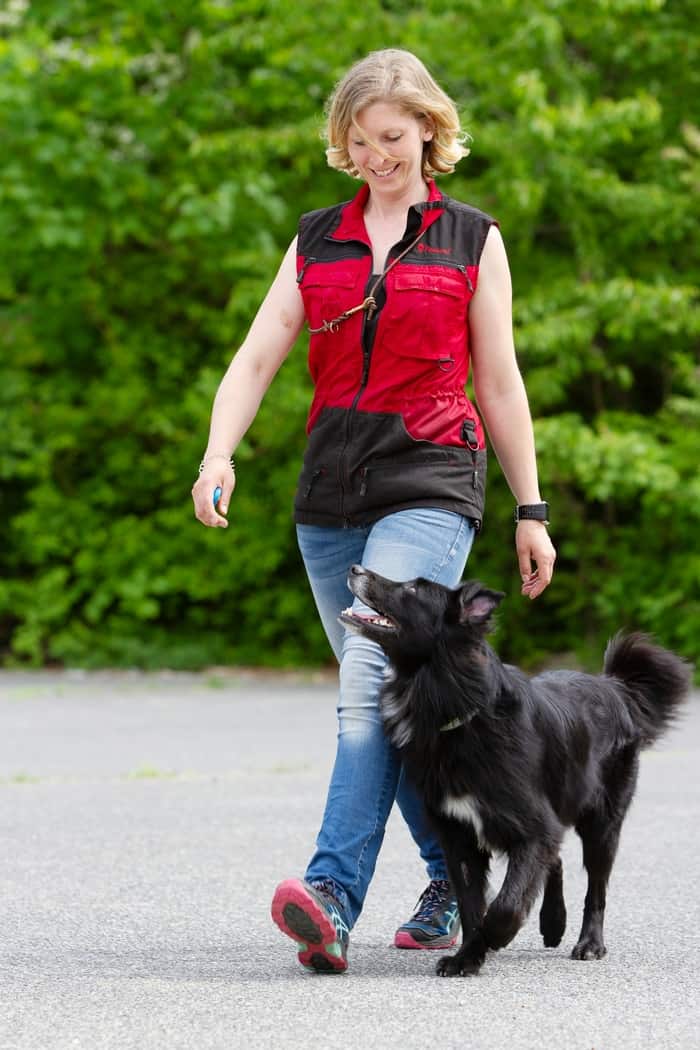 Eva has worked as a helicopter pilot within the Austrian military for more than 14 years. "As I am really interested in training and education, I always try to improve my skills." Eva completed the theoretical component of her training first and then went on to finish the EDA (European Defence Agency) HTIC (Helicopter Tactics Instructor) program to become a Gold Instructor. Now, she trains other instructors to teach students who enter the helicopter tactics training program.
Eva explains that she incorporates positive training into instruction by dividing content into small and achievable pieces. "During my own training, I was fully overloaded by my instructor and experienced the, common at the time, British way of teaching helicopter pilots. I promised myself to do it in a different way and I did!" Eva was very interested in the TAGteach segments of the KPA DTP program; she continued on to the TAGteach Level 1 and 2 courses. "Right now, I am working on my videos for certification."

I promised myself to do it in a different way and I did!
Combining her training in helicopter tactics with her KPA background, Eva has been given permission to launch a program with student pilots in basic training and with experienced pilots in emergency and tactic training, using TAGteach. "The program will start in February and I am really looking forward to it," Eva shares. While Eva is compiling TAGteach lessons and videos to help the pilots, she plans to involve her students in the training plans, too. "I will let them prepare their training plans together, let them be part of the process of implementing something new in training."
A "so-called workshop junkie," Eva is constantly joining a workshop, conference, or seminar. She believes that "education should never end." Eva has attended the last two ClickerExpo Luminos conferences in the United Kingdom.
Eva looks ahead to when "TAGteach becomes a regular part of military helicopter pilot training." She is excited and hopeful about her soon-to-be-launched (March 2020) German Podcast about positive training. The podcast will be called Knackfrosch & Gummistiefel. "Knackfrosch is an old-fashioned German word for clicker, and Gummistiefel are rubber boots, symbolizing people who walk their dogs no matter the weather."
Good luck, Eva, as you spread the success of positive reinforcement training across the world—and into the air!