INTERVIEW WITH SARA BENTON
---
Join Karen Pryor Academy (KPA) faculty member Sara Benton for the KPA Dog Trainer Professional (DTP) program in Fareham, UK (app deadline 3-20-20).

Learn more about the DTP program

.
In this interview, Sara shares highlights from her own training career.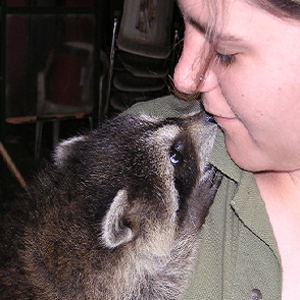 Q: Tell us about the first animal you trained.
A: I think the first animals I ever trained were my pet guinea pigs that I had when I was younger. I didn't know I was training them, but they came when called and seemed to enjoy spending time with me. Looking back, I can see that I was using conditioning, both operant and classical, to create a positive relationship with them. The first animal that I knew I was training was a raccoon in Canada. I trained him to wear a harness and walk on a lead so that we could increase his exercise and decrease his waist size!
Q: Was there a particular dog/animal in your life that was your most important teacher?
A: Marley, our first family dog, a rescued Akita mix. She was a kind and patient soul that let me mess up over and over again, but forgave me every time. Without Marley, I doubt that I would have become a trainer.
Q: What is your favorite activity or sport to do with your own dog(s)?
A: My dog Hattie loves scent games and shaping games. Having only 3 legs, and now a bit older, we keep running/jumping etc. to a minimum. She's a super shaper, and very imaginative!
Q: What is your proudest training moment?
A: I don't think I can pick one! I am super proud every time one of my students has a "light bulb" moment; that really makes me beam from ear to ear. I love seeing animals and humans suddenly "get it" and I love the resulting joy.
Q: What does a typical day look like for you?
A: My days start early, and the first hour or so is spent with the dog (my husband is usually either already at work, or still in bed!). We just hang out while we have breakfast and I get her things ready for when I leave for work.
I work full time as a Veterinary Nurse in a first-opinion practice, and my day can be spent in theatre, in the ward, doing clinics, or on reception. No two days are ever really the same, although, needless to say, I see a lot of furry faces! I try as hard as possible to make the animals' visits to the vets positive, low-stress visits. I am about to change jobs and enter a referral practice, so things are going to be a bit different there! However, the job is essentially the same—doing our best to make sure the patients are comfortable and relaxed while we try to help them get better. When I get home, it's walk time with the dog, and then chill-out time as a family. The weekends are our fun time—when we get to train, go on longer walks, or meet up with friends.
Q: What advice would you give to a new training student?
A: I would say to be a splitter, not a lumper (I'm stealing this from somewhere, Theresa at TAGteach, I think!). Don't try doing everything at once; instead, split it down into smaller more manageable pieces. Those small successes add up quickly!
Q: Do you have any student success stories you can share?
A: Lots! But they all have one thing in common—every student has come away from the course not just with fantastic training skills, but with such a joyful, positive approach to training and teaching.
If I have to pick just one story to share, then it would be a story from my first-ever class entitled The gundog who learned to shape, and the owner who taught her with love. Watching that pair complete their final chain, and the sheer radiating joy that came from both of them, was truly a magical moment. They received a standing ovation from their peers, and it makes me beam just to think about it! That moment for me summed up everything that is so wonderful about clicker training and our community—the individual and the collective joy, and the support that our trainers give to their learners and to each other.
Q: What do you do to continue your training education?
A: I make sure to read a lot of books and articles, I watch a lot of training videos, and I attend training conferences/events when I can. I also love doing courses to increase my knowledge, although budget and time don't always allow for this!
Q: Outside of dog training/dog sports, do you have any hobbies?
A: I knit! I spin yarn from fibre on my spinning wheel, and I crochet. Basically if it involves fibre, yarn, and pointy sticks, I'm in! I also love to read. I'm currently trying to convince myself that I want to get into running, but so far no luck!
Q: If you were a dog, what breed would you be?
A: A yappy terrier of some kind.