INTERVIEW WITH LAURIE LUCK
---
Karen Pryor Academy (KPA) faculty member Laurie Luck, CTP, will lead a KPA Dog Trainer Professional (DTP) National program in Arlington, VA (application deadline 11/15/18) and Kansas City, KS (application deadline 11/27/18)
In this interview, Laurie shares highlights from her own training career.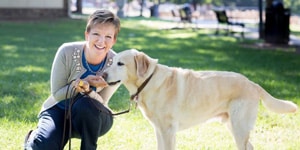 Q: Tell us about the first animal you trained.
A: I was a kid and I trained my dog to go over jumps. I pretended he was a horse because I wanted one so much.
Q: Was there a particular dog/animal in your life that was your most important teacher?
A: I had a dog called Bad Dog Lucky. He LOVED to bite people, kids especially. Lucky is the dog responsible for turning me into a clicker trainer. He would bite when I'd use the choke chain on him (because he lunged at kids, bicycles, joggers, strollers, etc.) and I was fairly certain he'd have to be euthanized. I fell into a clicker class by accident and was SHOCKED at how well it worked with Lucky. We also found Dr. Karen Overall and she helped us implement positive training in our everyday lives. Bad Dog Lucky lived out his entire life with us—all due to behavior modification via clicker training.
Q: What is your favorite activity or sport to do with your own dog(s)?
A: I love to run with Schooner.
Q: What is your proudest training moment?
A: I think my proudest moment is when I think about all of the service dogs that we had a hand in raising.
Q: What does a typical day look like for you?
A: I am up at 5:30 am (thanks to the dogs). I stay in pjs working until about 8:30 am. After that, I am off for a run with Schooner and doing more computer work. Group classes are in the evenings.
Q: What advice would you give to a new training student?
A: Get your hands on as many dogs as you can. Find someone to mentor with, ask questions, watch, and listen.
Q: What do you do to continue your training education?
Q: Outside of dog training/dog sports, do you have any hobbies?
A: I love to run and I love to drink micro/home/craft brews.
Q: If you were a dog, what breed would you be?
A: Easy: Labrador retriever! (But Hannah Branigan swears that I have some terrier in me, too.).