INTERVIEW WITH LAURIE LUCK
---
Karen Pryor Academy (KPA) faculty member Laurie Luck will lead a KPA Dog Trainer Professional (DTP) program in Washington, DC (application deadline 11/26/23) and Kansas City, KS (application deadline 12/4/23).
In this interview, Laurie shares highlights from her own training career.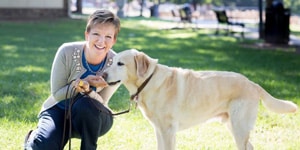 Q: How has graduating from the Dog Trainer Professional program and becoming a KPA Certified Training Partner (CTP) changed your life?
A: Becoming a CTP has opened doors for me professionally. Veterinarians recognize the depth of knowledge imparted by the program. They are confident that the CTP designation indicates a quality trainer who understands the science and can work with people, including the veterinarian, for the best outcome for the dog. As for how it has changed my life, before I became a CTP, I knew about and understood the basic tenets of clicker training. I had read Don't Shoot the Dog multiple times. However, it wasn't until I graduated from the DTP program that all those pieces fit together, and I had a deeper, more robust understanding of the underlying science.
Q: Why did you decide to become a KPA faculty member and lead the Dog Trainer Professional course?
A: I loved the program and the people involved in the program. I wanted to be a part of it; it felt like I was on the brink of something both exciting and important.
Q: Can you give an example of how the KPA community has helped you with referrals or connections?
A: The KPA community is vast and diverse. I've met neurologists, marine mammal trainers, emergency room nurses, and professional entertainers! Each of these people brings his or her own special talent and knowledge to the field. It's an amazing experience to learn from and interact with them all. .
Q: What is your favorite thing about leading the Dog Trainer Professional course?
A: I love the travel. I love getting to meet and work with people all over the United States who are interested in furthering their career and knowledge. I love the vibe of all the different communities I've visited, and I appreciate the friendships I've made all over the US and internationally!
Q: When did you start training and how has the industry changed since you started training?
A: When I started training, there wasn't much evidence-based information. Most training was handed down from one generation to the other, without any empirical data as to what to do and why to do it. You did something because your teacher did it that way. Now, we have so much science! We can find out if something works better and why. Also, there is much more emphasis on a trainer's educational background, on objective standards, and on continuing education.
Q: What is the most important piece of advice you can give to a new trainer?
A: Learn as much as you can. Watch and ask questions. Get involved! Find a trainer who is willing to share his or her knowledge. Attend as many conferences and read as many books as you can.
Q: What do you do to continue your training education?
Q: What makes the Dog Trainer Professional program the best?
A: The people, the connections, the information, the science!