INTERVIEW WITH JEN BIGLAN
---
Karen Pryor Academy (KPA) faculty member Jen Biglan will lead the KPA Dog Trainer Professional (DTP) program in Eugene, OR. (Application deadline October 20, 2023.)
Learn more about KPA professional certification
In this interview, Jen shares highlights from her own training career.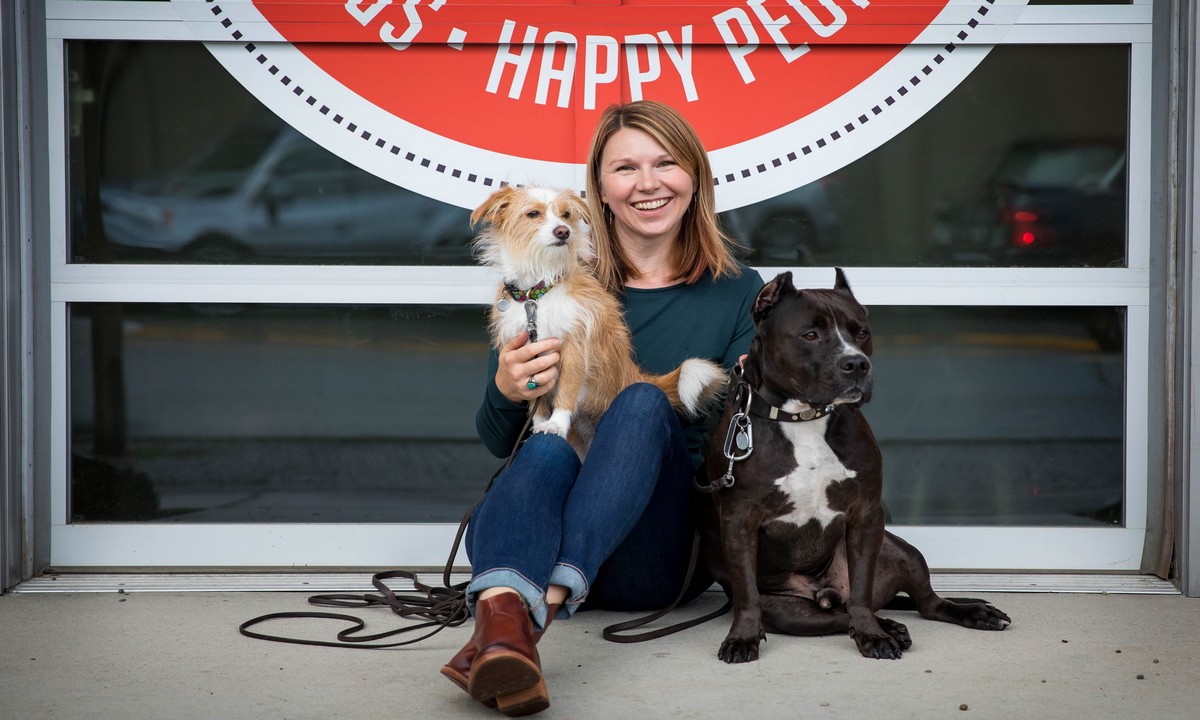 Q: Tell us about the first animal you trained.
A:
I adopted Kyla, a soft, fluffy, adorable Siberian Husky mix from a shelter where I was working when she was approximately three months old. She was picked up as a stray with a broken hip, possibly from being hit by a car, and she had a softness to her that drew me in. I remember bringing her home and thinking, "This is my dog; we belong together." At that time, I was 22, living in a small apartment with two cats, and really had no idea what I was doing. We enrolled in a dog-training course at San Diego Humane Society and were introduced to clicker training. Lucky me! I remember taking one class and thinking, "Okay, that's it. She's all trained!" Boy, was I wrong. Who masters anything in six hours? Kyla was responsible for my passion and love for dogs. Her gentle nature and adventurous spirit (read: always wanting to explore on her own) got me hooked on training.
Q: Was there a particular dog/animal in your life that was your most important teacher?
A: After Kyla, we found our way to Stitch, or, rather, Stitch found his way to me. Stitch is my heart dog. To this day, his memory makes my eyes well up with tears. Stitch was not laid back; he was fearful and very, very big. I first saw Stitch when he was working with a trainer at the shelter. He had been relinquished by his previous family when he was about five months old and ended up at our shelter because he was fearful of people and exhibited some resource-guarding.
Stitch changed my life forever. He taught me about the time it can take to undo damage from punitive training and lack of opportunity to explore at a young age. Although we didn't have DNA testing then like we do today, Stitch was likely a mix of Doberman, Basenji, and Swiss mountain dog, but who really knows? Because of Stitch, I am passionate about helping fearful and aggressive dogs today.
Unlike Kyla, born relaxed and ready to meet the world, Stitch was afraid of the world. A pumpkin on the side of the street would send him skittering; seeing the neighbors' garage open when it usually was closed was scary. Stitch had to learn that the world could be a safe and fun place, that learning was hard and it was totally worth it. The relationship, the trust, and the communication we built through clicker training made him both my hardest dog and the dog I loved the most.
Q: What is your favorite activity or sport that you do with your own dog(s)?
A:
We live in the beautiful Pacific Northwest and love to hike, camp, and explore with our dogs. We also love couch snuggling (that's a sport, right?). My American pit bull terrier, Bear, wins the Competitive Snuggling contest every day.
Q: What is your proudest training moment?
A: Maybe the time I trained a chicken to run an agility course while I was 8 months pregnant, or the time I worked to teach color discrimination to pigs so they would learn to go to their own feeders? But, what keeps coming back to me is not one particular event. It is the moment I see my clients understand why we don't need to use punishment and intimidation to train. They realize how the use of modern, science-based methods is not only more effective and humane, but is more fun and enhances their relationships with their dogs. It is a special moment when they see that learning how their dogs speak, and how we can train without punishment and intimidation, not only makes dogs happier, but it also makes us happier. My moment is also the moment a dog goes from shut down and afraid, to open and ready to learn. Dogs soften, they smile, they take a deep breath and relax because they know they don't have to worry now that they are part of a team.
Q: What advice would you give to a new training student?
A:
Always keep yourself open to learning and growing. That is what I love most about training dogs and their people; every dog and every family teaches me something new.