INTERVIEW WITH HANNAH BRANIGAN
---
Karen Pryor Academy (KPA) faculty member
Hannah Branigan
believes that clicker training is the perfect technology to teach new behaviors, especially for competitive performances.
Hannah will lead a KPA Dog Trainer Professional (DTP) program in Mebane, North Carolina (application deadline 2/15/2019). Learn more about the DTP program or apply to this course in Mebane.
In this interview, Hannah shares highlights from her own training career.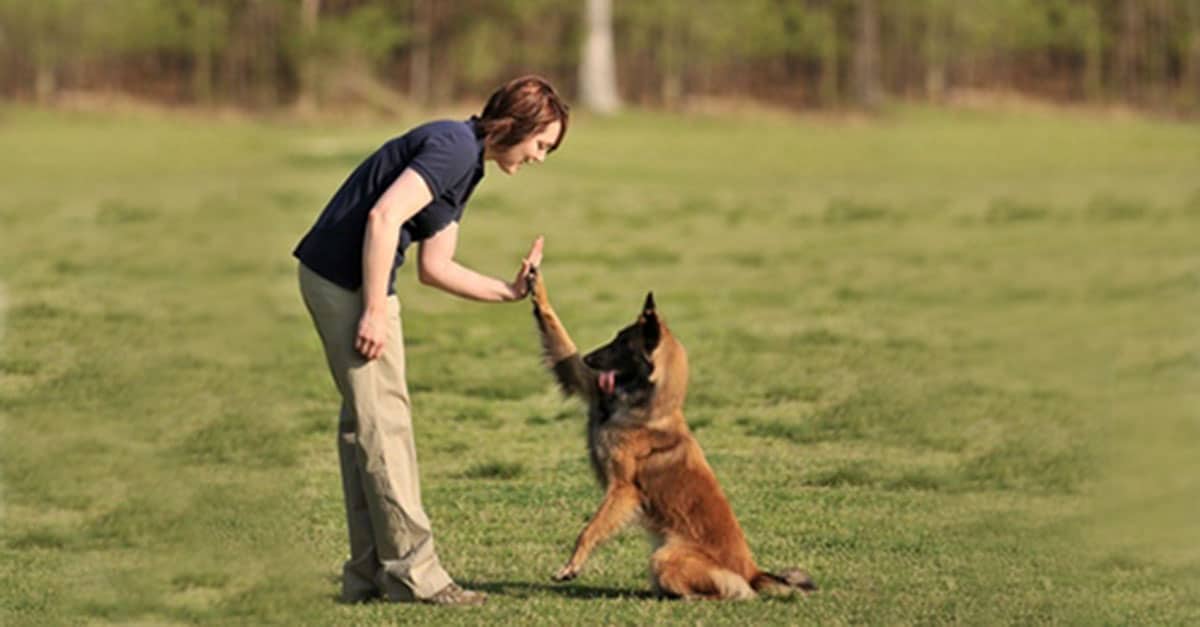 Q: How did you get started with clicker training?
A: My story is similar to a lot of others. The first thing I did when I got out of the dorm and into my own apartment was get a dog. (Well, the first thing I did was get my bellybutton pierced, but AFTER that, the first thing I did was get a dog.) The piercing turned out to be a bad idea, but the dog was life-changing. My dog turned out to be a lot more of a challenge than I expected. He reacted (aggressively) to people and dogs; the behavior was scary and frustrating. The first trainer I sought out for help used old-school methods. I wish I could say I felt uncomfortable right from the beginning, but all I remember feeling was desperate. This guy was an authority, so I trusted him. After all, this was a "dominant" dog! <wink> That was until my dog bit me. Then I KNEW something was wrong. Before my dog may have wanted to bite other people, but at least he wasn't biting ME!
I started looking for other options. I met a trainer who used hot dogs and explained the fear behind the aggression (oh, how guilty did I feel then!). She introduced me to clicker training, and loaned me a Gary Wilkes video to watch. From there, I took hold of clicker training and ran. This stuff was awesome! Within weeks I had my dog targeting everything in sight. A few months later, he was retrieving beer from a fridge! How cool is that?
You know what they say about early and strong reinforcement—I could never go back.
Q: Tell us a little about how you use clicker training!
A: My special interest right now is in applying clicker training principles to performance sports, especially obedience and rally (although I tinker in many others). I believe clicker training is the perfect technology to teach the high-precision, high-reliability behaviors necessary for competitive performances. We can not only do as well as traditional trainers, we can do better. Our success comes not only because we skip punishment and its fallout. It occurs because clicker trainers look at the problem completely differently! Nobody breaks stuff down physically and emotionally like a clicker trainer. That by itself gives us an advantage over "the way it's always been done."
Q: How did you get involved with KPA?
A: As a student, I really enjoyed the KPA process. As my own business and goals grew and changed, I found that I wanted to help more people and dogs than I could reach on my own. My KPA instructor, Laurie Luck, recommended that I apply for a faculty position at Karen Pryor Academy.
Teaching through KPA, I am able to spread clicker philosophy farther than ever, guiding other instructors on their own journeys to… (enlightenment? That sounds too dorky even for me). My goal is to give KPA students the skills to apply clicker training effectively in teaching and training, which they then pass on to their own students—making clicker training accessible to as many people as possible.
Q: What are some key components of the Dog Trainer Professional program that you think benefit all clicker trainers?
A: I really learned a lot more than I expected about the power of cues, especially complex cues, through the Dog Trainer Professional program. I was an experienced trainer coming in, and thought I had a pretty good idea of what stimulus control was all about. The course went so much deeper, into levels I didn't even know existed. I was able to see so much more of how cues work together to form complex behaviors and chains. I learned not just deliberate cues that I was training, but also cues in the environment, cues that involve each of the senses. Scent cues! Real-world cues that trigger and maintain problematic behaviors that affect our ability to live with and enjoy our dogs around the house. I can't do the program justice in one paragraph. So cool! So amazing!
Q: What has been the most rewarding part of your KPA experience?
A: I loved spending a whole weekend with a group of like-minded trainers. We all were showing off what we had been working on, brainstorming solutions to any challenges we encountered. I love that! I actually cried at the end of the workshops, because I wouldn't be seeing those folks regularly any more.