february 2020 KPA CTP of the Month
---
Sarah Surritt, KPA CTP, CPDT, CGC, was drawn to volunteer work at the San Diego Humane Society when she had some free time back in 2001. There she met her "mentor, friend, and future KPA instructor," Nan Arthur. For nine years Sarah assisted and taught training classes at the humane society "soaking up" all the information that she could. Familiar with traditional training methods from her growing-up days, Sarah says, "Everything I was learning about clicker training and science-based methods was a wonderful revelation."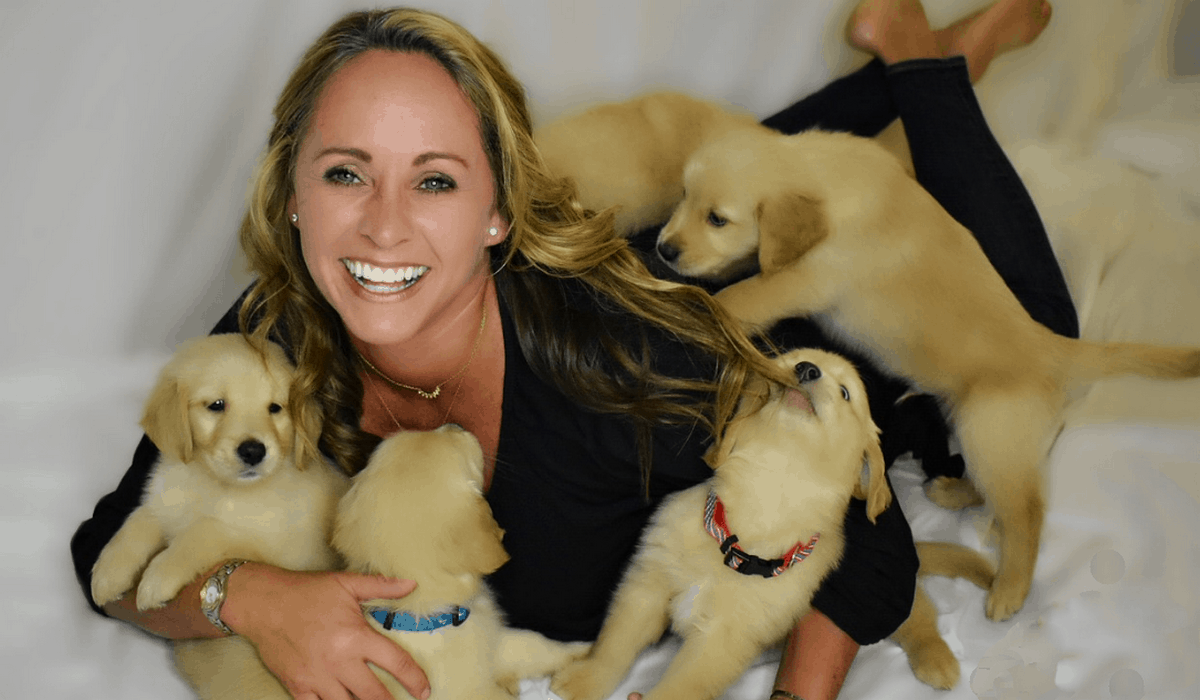 While Sarah did not have a pet dog of her own at that point, she turned newly acquired knowledge and skills toward equine training, working extensively with her mare, Chrissy. Referring to Chrissy as her "big dog," Sarah shares how their relationship changed significantly. "It was amazing how much her confidence, love, trust, and willingness [to train] blossomed." In 2009 she left fulltime work to "help spread the word and power of positive reinforcement training to as many pet owners as possible."
Inspired by both Chrissy and Nan Arthur, with whom she worked and trained at the humane society, Sarah enrolled in the KPA Dog Trainer Professional (DTP) program in 2011, having completed CPDT certification years earlier. She completed the DTP program in San Diego, with Nan Arthur, of course. As Sarah was currently employed as a senior trainer working for Nan, her KPA coursework and hands-on skills were also evaluated by Terry Ryan. "What a bonus to be evaluated by two amazing faculty members! I really haven't looked back since."
Sarah had considerable training experience before she enrolled in the KPA program, working with shelter dogs and pet owners in a group environment and having applied positive-reinforcement training tenets to a non-canine species. Understanding the foundations, she sought "details that would really help my training skills flourish in the pet industry." Details like TAGteaching, videotaping training sessions, getting behaviors under stimulus control, and complex training skills combined to give Sarah confidence. Mastering these skills would lead Sarah to specialize in behavior cases involving fear and reactivity and to go on to teach many up-and-coming trainers after completing the KPA DTP course.

Mastering these skills would lead Sarah to specialize in behavior cases involving fear and reactivity and to go on to teach many up-and-coming trainers.
In 2011 launched her business Get Pawsitive Dog Training. Group classes are often held at Rancho Coastal, a local private humane society in Encinitas, CA, where Sarah is the head volunteer trainer. Class offerings include puppy training, manners training, and specialized training for reactive dogs, for example. Sarah is one of only a few trainers in the San Diego area leading a reactive-dog class.
When she trains volunteers at Rancho Coastal, Sarah reflects on how rewarding it is for her to "come full circle, standing in front of a room of volunteer trainers, knowing I was once one of them!" Her growth as an animal trainer, and her KPA journey, help Sarah inspire others. Volunteer trainers come with a range of experiences and backgrounds. Sarah explains that lessons from the KPA DTP program have strongly influenced the training methods her shelter employs with these students. With other KPA graduates who work at the shelter, Sarah explains that they "only use clicker training… and train all of the new volunteers on the associated benefits."
Five years ago, Sarah created, and now leads, a special volunteer hands-on training program called "Pawsitive Practices" at Rancho Coastal Humane Society. "I lead volunteers through best practices with shelter dogs to give the dogs a solid foundation of learning skills." The goal is for the dogs to be adopted more quickly. With this highest level of volunteer training, Sarah and her senior trainer at Get Pawsitive Dog Training, fellow KPA grad Patti O'Farrell, use TAGteaching skills from the DTP and achieve great success. "Our program focuses on the most stressed dogs in the shelter, dogs that need extra attention. They can be the most fearful, the most reactive, or the most shut down animals and they require the most training and care." Each session Sarah and Patti select several shelter dogs to work with and lead volunteers through clicker training lessons. Sarah believes that the "Pawsitive Practices volunteer training program gives shelter dogs an extra advantage they might not have somewhere else."
Another of Sarah's efforts has been to create protocol for volunteers that directs them to slow down the pace in the kennels before taking dogs out. "Dogs have a better chance to calm down and really build a connection with the handler." Sarah's "5x5 system" encourages volunteers to spend 5 minutes with the dogs, while clicking and rewarding 5 desirable behaviors. This routine also "helps reduce unwanted behaviors, such as barging out of kennel doorways." Recently, Sarah has accepted responsibility for training and testing dogs for the shelter's PAT (Pet Assisted Therapy) program.
While Sarah still encounters people who believe in traditional training, and associated myths, she strives to educate them, demonstrating that "the safest, most effective, and humane way to train dogs, in the shelter or at home, is to reinforce the behavior you do want." She says, "I love teaching people that giving our learners more CHOICES through science-based training" leads to success.
Her belief that "dogs are constantly speaking to us" drives Sarah's training philosophy. Having learned from Susan Friedman, Sarah teaches staff members, volunteers, and clients to observe behavior and stop labeling dogs. "I teach them to listen to what the dogs are telling us so that they can help the dogs feel their best and learn faster. That is a win-win."
Sarah says that the KPA program has led her to focus on the positive in all aspects of life. "It has become second nature to me." Her growing knowledge about behavioral science is often helpful, including in "debates with my husband about raising our three young boys and pets with positive reinforcement. Sarah also uses TAGteaching with the children on her son's soccer team, for which she is a head coach. "I have become unconsciously competent acting, speaking, teaching, and doing things from a positive mindset."
At home, Sarah trains all of her animals with a clicker: bell training four indoor/outdoor cats to recall and station at dinner time; working with her fearful foster horse to accept and drop his head into a halter; training her 8-year-old rescue Australian shepherd Nick to pivot into place; helping her Black sex-link hen, Maria, target a red disc; training her pet pig Toby to differentiate colors, her goats to target up onto a station table, and her miniature horse Whinnie to walk next to her. "It's just FUN! Who wouldn't want to learn about clicker training? As my mentor Nan Arthur used to say, 'Make it fun, or make it stop.'"
Of course, Sarah uses clicker training and other elements of the KPA DTP program when she works with puppies and with "every new puppy owner or pet parent I meet" through Get Pawsitive Dog Training. Stressing the benefits of focusing on desired behavior, using the analogy of building up a dog's bank account for jobs well done, and explaining that the click is like a performance review for the animal helps bring clarity to pet owners, Sarah finds. "They also see the power of the click once we start training! The message is in the click!" And when it comes to instructing the pet owners themselves, Sarah sees another area where TAGteaching and breaking down a task into smaller parts yield benefits.
Sarah maintains all of her dog training credentials and remains up to date with new topic in training. She attends local seminars and ClickerExpo conferences and in 2019 spent a week at The Ranch "with the amazing Ken Ramirez." Sarah recommends programs at The Ranch highly. "What an amazing environment to learn in!"
Having recently launched her online Pawsitive Puppy Training Academy program, modeled after the puppy course she has been teaching for more than 10 years, Sarah is "having the time of my life helping folks all across the US with their dogs." Her reward for coaching new dog owners is when they "stop feeling stressed out by or disappointed in their dogs and start feeling confident about their pups' behaviors."
Sarah describes her home as her "own little ranch" with its two horses, six goats, eight chickens, one dog, four cats, and one pet pig, all clicker trained in some form or fashion. She dreams of hosting her own "mini Ranch" that she envisions as "a hands-on, multi-species training workshop for new trainers." Grateful to provide "affordable solutions that are positive," Sarah says she is "blessed to be able to do what I LOVE!"