december 2021 KPA CTP of the Month
---
Hu Wang, KPA CTP, changed careers to improve the image of dogs in Chinese society. A TV producer in Beijing, Hu felt frustrated and helpless when he covered stories that focused only on problems caused by dogs. "As a lifelong dog lover, I knew that shouldn't be the whole story, but I didn't know how I could help when society lacked understanding of canine behavior."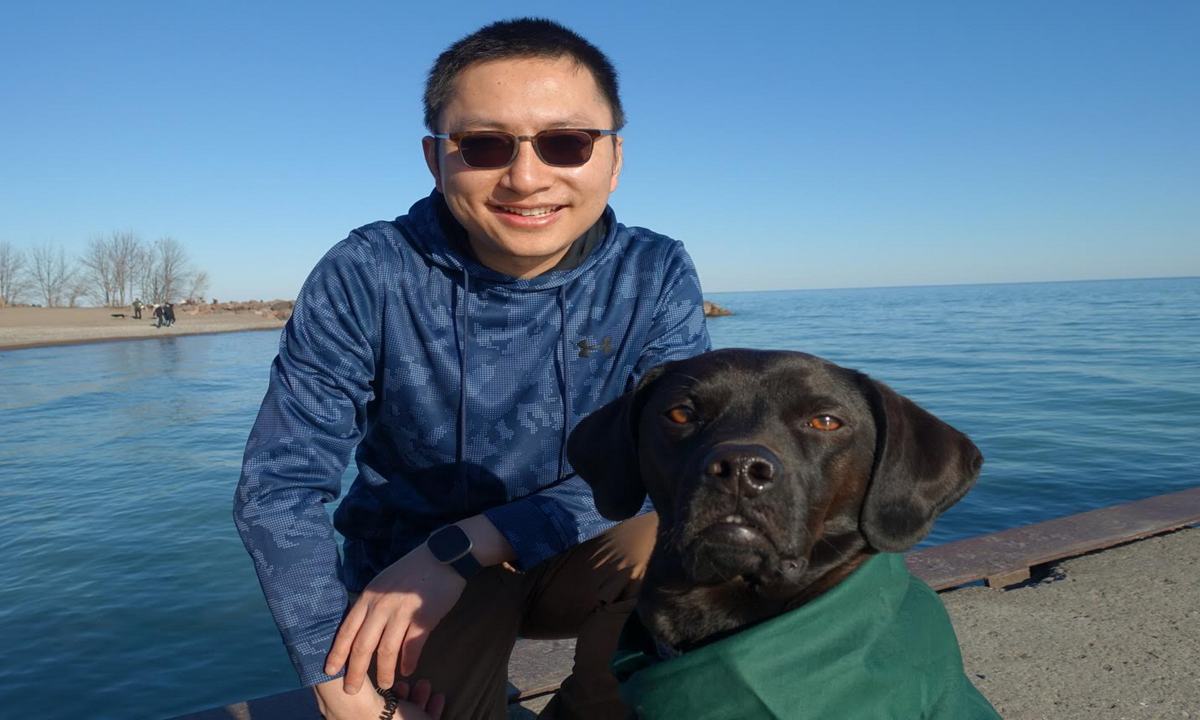 Hu took a "leap of faith" when in 2015 he and his wife, newlyweds at the time, decided to move to the United States to further their educations. Hu and his wife adopted their dog, Bear, a Vizsla/Beagle mix, that same year. Hu remembers that he "wanted to learn from scratch about training a dog and wanted to do it right." However, he did not know how to distinguish among the many training techniques out there. "At the time, I had no idea what the difference was between positive reinforcement and punishment/balanced training." Karen Pryor Academy (KPA) stood out to Hu. "I was not a fan of using aversives just to get the job done." He preferred KPA's science-based training methodology and philosophy. Hu completed the KPA Dog Trainer Professional (DTP) program under Laurie Luck in Kansas City, Missouri, in 2016. "Laurie was an awesome teacher. She was knowledgeable, encouraging, and fun to interact with," Hu remembers. "I made the right decision to take that course!"
Hu reports that he "loved every part" of the DTP program. "Every day was a mind-opening experience for me." He admits that he found the first training assignment, capturing, quite challenging, however. Trying to capture Bear's lip-licking and record the training on video took much longer than Hu expected. "In the beginning, I was only able to capture the lip-licking after Bear's mealtime, so that limited my opportunity to click the behavior." To capture more lip-licking, Hu started using peanut butter. He called the behavior "ice Cream." Bear would lick his lips every time Hu provided that cue.
After completing the KPA DTP course, Hu felt that he had earned "a passport to my dog-training career." He found his very first dog-training apprentice job in Arlington, Virginia, at a time when the job market was extremely challenging for foreigners in the United States. The owner of the school was also a KPA CTP! Hu learned a lot, accumulating significant first-hand experience with dogs and training. That background helped him land his current job at When Hounds Fly Dog Training when he moved to Toronto, Ontario, Canada, in 2018. "It's safe to say that KPA has changed my life."

It's safe to say that KPA has changed my life.
Learning about shaping may be what Hu values most from his KPA course experience. Breaking down a goal into incremental steps and reinforcing the approximation leads to incredible success. The baby steps for teaching a dog the behavior "Go to Mat" (first click for the dog looking at the mat, then click for walking toward the mat, then click for stepping on the mat, and gradually raise the criteria until the dog lays on the mat) help set up the dog up for success. In shaping, "you can clearly see that both the dog and the human learner are enjoying the game."
Hu relies on positive reinforcement not just with the dogs he trains but also with clients, co-workers, and family. "It helps to shift my attention from what they are still working on to what they've accomplished. I try to acknowledge their achievements generously and positively." Hu feels that he was not the best communicator when he worked as a TV producer in China. "I was quick to point out errors but was not generous with compliments when they were due." This attitude was quite common in the media industry, according to Hu, as people just needed to get the job done and move on to the next task. The downside was high employee turnover. "Apparently, nobody was happy about being treated harshly without any appreciation."
Post-KPA, Hu decided to use positive reinforcement with the people around him. Recently, Hu was promoted as Team Lead at When Hounds Fly. "I started to give more compliments to my co-workers for their fantastic work performances, which they rightly deserve. I want to make sure my teammates feel safe and comfortable enough to ask me any questions." For his private-lesson clients, Hu creates training roadmaps and sets specific mini milestones. "I remind them what they've already achieved with their dogs if they encounter challenges and cheer them on in continued training."
In addition to KPA CTP designation, Hu obtained his CPDT-KA certification in 2019. He completed Michael Shikashio's Aggression in Dogs Master Course in 2020 and is currently preparing for CDBC certification. Hu's ongoing plan is to use clicker training and TAGteach with all of his staff members and co-workers at When Hounds Fly. "I want to help each of them become a great instructor and team player, using all of the knowledge I learned from KPA."
Hu's longer-term aim is to help bring KPA to China, as he speaks both English and Mandarin. "At the moment, there isn't a Chinese version of any of the KPA courses, which makes it difficult for the KPA techniques to be taught in China. I hope I can do my part to share the lessons of KPA and to help improve human-canine relationships in China." Hu is on his way to realizing his goal from his TV-producer days: changing Chinese society to include an understanding of canine behavior.