December 2018 KPA CTP of the Month
---
Teoti Anderson, KPA CTP, CPDT-KA, Vice President of A Dog's Best Friend in Fort Lauderdale, Florida, has provided professional dog-training services for more than 23 years. She shares her own, and Karen Pryor Academy's (KPA), positive philosophy not just through training, but by authoring books and magazine articles, speaking on the radio and at conferences, and working with rescue and pet-therapy groups.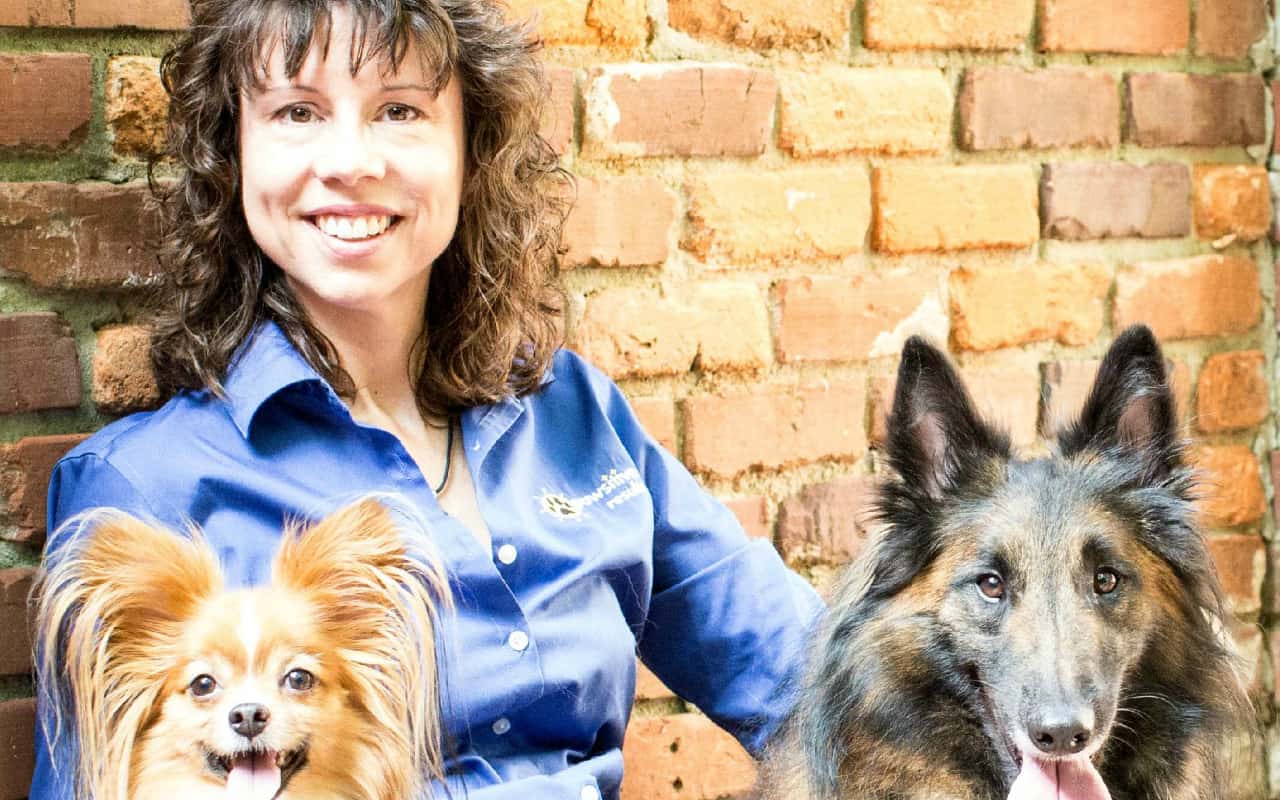 It was Karen Pryor herself who introduced Teoti to KPA. "Karen and I would see each other at conferences. She invited me to ClickerExpo and introduced me to the [KPA] program," recalls Teoti. Although Teoti had attended conferences, read many books, and watched videos about clicker training throughout her years of dog training, she "always felt like there were gaps" in her education. Teoti was "adept" at clicker training but was happy to discover the KPA Dog Trainer Professional (DTP) program. "It was wonderful to find a program that connected the dots for me. It brought together all my bits and pieces and enhanced my understanding of this powerful and effective tool."

It was wonderful to find a program that connected the dots for me.
Teoti completed the KPA DTP program in Georgia in 2010. Her instructor was "the wonderful Laurie Luck." Teoti found that training another species (her friend's cat) was the most challenging part of the program. "I was daunted, but ended up loving it best of all," she declares. That segment of the program taught Teoti to trust the science. "The principles work no matter the species." 
A fulltime dog trainer, Teoti uses the clicker daily. She works with a wide range of dogs and needs—from young puppies to dogs with extreme fear and aggression issues to therapy and service dogs. "Clicker training is the fastest way to build behavior. Not only is it effective, it's efficient," explains Teoti. Counter-conditioning is a very good example of the value of clicker training, according to Teoti. "When I work on counter-conditioning with a fearful dog, the clicker is an efficient tool. I'm trying to change the dog's understanding. I want him to learn that the presence of his 'scary thing,' whatever it is, predicts that he will get a yummy treat." With steady clicker training, Teoti finds that dogs in this situation gradually learn to look forward to seeing the scary thing—instead of dreading it. The very second a dog in training "sees the scary trigger, I click to mark the moment. Click means treat," explains Teoti. Teoti once worked with a dog terrified to enter the garage of the condo where he lived. Teoti shares, "He was also scared of the car. With clicker training, he now loves both. It's made his mom's life a lot easier!"
In addition to training dogs one-on-one, in group classes, and through board-and-train services at A Dog's Best Friend, Teoti promotes clicker training in the various magazine articles and books she has written. The author of seven books (Your Outta Control Puppy, Super Simple Guide to Housetraining, Quick and Easy Crate Training, Puppy Care and Training, Animal Planet Dogs 101 Dog Training, DogFancy Ultimate Guide to Dog Training, and The Dog Behavior Problem Solver), Teoti says that "My journey as a dog trainer is reflected in those books." Her early books feature a good amount of lure training, while the latest books emphasize clicker training. The Dog Behavior Problem Solver and the Ultimate Guide to Dog Training showcase the clicker: how and why to use it effectively in dog training.
A columnist for Modern Dog magazine, several of Teoti's articles discuss marker training (the use of the clicker or a "Yes" verbal marker). She says, "My preference is to use a clicker. I use the clicker for all of the training I do with our board-and-train dogs, with my own dogs, and in my group classes. For private clients, I offer the option of the clicker or a verbal marker. Some clients find it physically challenging to use a clicker." Teoti also authors freelance pieces for "various blogs, magazines, and newspapers," where she "squeezes in mentions of clicker training as it applies!"
Radio is another medium where Teoti has shared the success of clicker training. Her show is called Get Pawsitive Results on Pet Life Radio. "I'm woefully behind in recording shows," confesses Teoti. (With all she is involved in, it is easy to see why!)
Pet therapy has been part of Teoti's life for more than 23 years. "I was one of the first Pet Partners in the Carolinas with my beloved three-legged Labrador, Cody." Teoti and Cody did not know about positive training in those early days. "Even then I knew something was missing from my training toolbox," says Teoti. "In my quest to learn more, I met Dr. Ian Dunbar, renowned veterinarian and behaviorist and the founder of the Association of Professional Dog Trainers. He taught me that you don't have to be mean to your dog to get him to work for you." Teoti went on to meet Karen Pryor and many others. "They shaped my path to the positive trainer I am today."
Teoti's most recent Pet Partner, Finian the Papillon, is now retired at age 11. "He was completely clicker trained and he was my partner in the Karen Pryor Academy DTP program." Finian and Teoti visited assisted living facilities and Finian "also enjoyed visiting the University of South Carolina during exam weeks to help cheer up the students!" Teoti says that Finian "ADORES clicker training. He's fast, so I had to learn to be a fast teacher just to keep up with him!"
Learning about TAGteach during her KPA DTP program has allowed Teoti to use "marker training for people" in her interactions with pet owners. "TAGteach is a tool that helps me better educate my human clients. Breaking down instruction into workable chunks, shaping behavior one task at a time, giving feedback at each step—these are such great concepts for people, too!" Teoti points out that "there are dog trainers out there who may be able to train dogs but are terrible with people." She says, "I love that Karen Pryor Academy focuses on both ends of the leash."
Teoti continues to absorb any and all information related to positive training, attending multiple conferences and reading new books. "I've also graduated from videotapes to DVDs!" A popular speaker and guest lecturer, Teoti has been invited across the country, and to Japan and Mexico, to share her expertise. "When I'm a speaker at a conference, I use that opportunity to attend the other presentations" to learn more, Teoti explains. She also hopes to attend a course or seminar at Karen Pryor Clicker Training's National Training Center, The Ranch. "I studied with Ken Ramirez when he was at the Shedd Aquarium and have the greatest admiration for his work. He is a gifted trainer and educator—and the nicest guy!"
Looking toward the future, Teoti is open to new explorations and undertakings. "My clicker is in my treat bag in the car, so it goes with me wherever I go. I'm sure there will be training adventures ahead!"