CONGRATULATIONS TO THE 2022 ZOE SHELTER SCHOLARSHIP RECIPIENTS
---
Waltham, MA, October 26, 2022—Karen Pryor Academy (KPA) and Lisa White, DVM, founder of Veterinary Behavior Management Solutions in Cincinnati, Ohio, are pleased to announce and congratulate the winners of the 2022 Zoe Shelter Scholarships to KPA's
Shelter Training & Enrichment course
.
Made possible by Dr. Lisa White and her husband Brody in remembrance of their dog Zoe, the annual scholarship program debuted in October 2014 in honor of the ASPCA's Adopt-A-Shelter-Dog-Month. The program is designed to assist shelters as they implement training and enrichment programs that both enrich the lives of the animals in their care and help the animals find their forever homes. This year, four scholarship recipients were selected from dozens of applications representing shelters and rescue organizations throughout the world.
"We are thrilled to be able to offer this scholarship for the eighth consecutive year," said KPA Associate Director Gretchen Carey. "Shelter enrichment programs not only help reduce the stress and boredom of kennel life, but they also help increase the animals' adoptability. We look forward to seeing how this year's Zoe Shelter Scholarship winners implement the knowledge gained from the Shelter Training & Enrichment course to benefit the animals in their care."
For shelters and rescues who did not apply for or receive the scholarship, KPA is offering a $50 discount on the Shelter Training and Enrichment course through October 31, 2022. Learn more here.

We look forward to seeing how this year's Zoe Shelter Scholarship winners implement the knowledge gained from the Shelter Training & Enrichment course to benefit the animals in their care."
The 2022 Zoe Shelter Scholarship recipients are: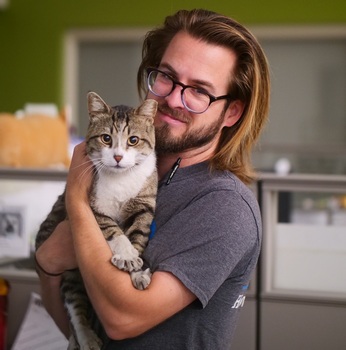 Andrew Findley, The Animal Foundation, Las Vegas, Nevada
Former dog-walker and then a volunteer at The Animal Foundation in Las Vegas, Nevada, Andrew Findley now works within the organization's Academy of Canine Etiquette (ACE) training program. The program promotes more positive outcomes for larger, harder-to-adopt dogs that may lack the training and good manners to impress potential adopters immediately. "When we notice a dog having a hard time, we try to increase enrichment and add more training."
Recent struggles at the shelter have sidelined the ACE program and directed most efforts toward the fulfillment of the animals' basic needs. Andrew has worked to revitalize the Training and Enrichment program by involving volunteers. "Our volunteers are excited to help our animals beyond simply cleaning or walking a dog. Enrichment is fun and makes for some great volunteer opportunities." Andrew reports that with extra hands the shelter can ensure that their animals get the extra care they deserve.
While enrichment is focused on the shelter's dogs and cats, Andrew is eager to extend the program to provide proper enrichment for the rabbits, pigs, and any other animals that come through the shelter door. "The Shelter Training & Enrichment scholarship will help to secure the supplies and additional training needed to establish a strong and valuable training and enrichment program that will benefit all of our animals here at The Animal Foundation."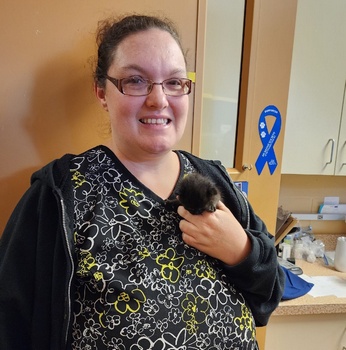 Jennifer Hanson, Humane Society of the Treasure Coast (HSTC), Palm City, Florida
Jennifer Hanson works within the cat-care department of the Humane Society of the Treasure Coast (HSTC), the only open-access, no-kill animal-welfare organization operating in Martin County. She has had a long association with HSTC, starting as a dog-kennel attendant in 2005 and then working as a canine vet tech. Jennifer has enjoyed providing enrichment opportunities for the dogs, including Tunchi—a dog that, due to behavioral issues, could not be adopted. In addition to providing Tunchi with daily enrichment, the shelter's trainers introduced him to agility and nose work. "Years ago, before our enrichment program, this dog would have gone kennel crazy."
The shelter recently experienced a large turnover of staff and has many new employees who have never attended an enrichment seminar. Adding to this challenge is their recent transition to a no-kill shelter, resulting in an increase in animals with new behavior problems and longer stays at the shelter. "It would benefit the staff to receive more training on enriching the lives of the animals while they are in our care here at the humane society." Jennifer looks forward to the KPA Shelter Training & Enrichment course. Her goals are to "implement what I learn in the shelter's daily-care routines and share my knowledge with my coworkers."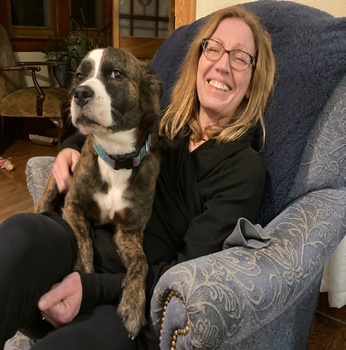 Joanne Langman, SPCA Westchester, Briarcliff Manor, New York
Joanne Langman has been working for the SPCA Westchester for more than four years. She is currently the behavior manager. Before joining the SPCA, Joanne worked at the ASPCA for more than five years. Joanne believes that "enrichment truly saves lives at shelters," which is why her focus has always been on enrichment experiences both in and out of the kennel. She offers training classes (including nose work and basic cues), playgroups, offsite group walks, and more.
Since the shelter recently relocated to a new facility that is all indoors, Joanne says "we really need to up our game" with kennel enrichment. Joanne hopes that the Shelter Training & Enrichment course will give her the tools and inspiration to expand the SPCA's programs. She also hopes that it will offer ideas for kennel reactivity, which she believes has been "a huge hindrance to adoption at our facility."
Melissa Webb, Avery Humane Society, Newland, North Carolina
Melissa Webb, assistant manager, has been with the Avery Humane Society for seven years. During that time, she worked in all areas of the shelter. Melissa was nominated for the scholarship by Avery Humane Society's shelter manager, Charlene Calhoun. "Melissa's love of the animals goes above and beyond," said Charlene. "She loves each animal that comes through." While the shelter already offers daily enrichment for the dogs and socialization opportunities for the cats, Charlene's hope is that the knowledge and skills that Melissa gains from the Shelter Training & Enrichment course will shorten the time animals wait before they are adopted. "Any shelter can benefit from training," she says.
About Karen Pryor Academy
Karen Pryor Academy for Animal Training & Behavior (KPA) offers positive reinforcement-based courses for both experienced and aspiring trainers. KPA offers 14 courses (Dog Trainer Foundations, Dog Trainer Foundations-Immersion, Dog Trainer Comprehensive, Puppy Start Right for Instructors (PSRI), PSRI Online Puppy Preschool, Dog Sports Essentials, Shelter Training & Enrichment, Canine Freestyle, Smart Reinforcement, Better Veterinary Visits, Train Your Cat!, Game-Changing Dog Training Classes, Concept Training: Let's Get Started, and Concept Training: Modifier Cues) as well as its flagship Dog Trainer Professional program, a combination of online learning and hands-on workshops. KPA is advancing the field of force-free training by certifying and promoting the next generation of skilled animal trainers and teachers. To learn more about Karen Pryor Academy courses, visit www.karenpryoracademy.com. To see an international list of KPA Certified Training Partners, visit https://www.karenpryoracademy.com/find-a-trainer.