Black Voices in the Animal-Care Community
---
by Ken Ramirez
It is impossible to ignore the realities of racism in the world. Is the absence of people of color in the dog training world a result of racism or are there other obstacles? Personally, I strongly identify with Black, Indigenous, and People of Color, so I have opinions about the lack of color in our community, but I will save those views and experiences for another time. Today, I want to focus on the experiences of black professionals in our community. Who better to share those experiences than the individuals who have lived through the challenges of being black in a largely white profession? I have been listening and reading many stories; it seems like the best thing to do is to amplify their voices and point you toward stories you may have missed.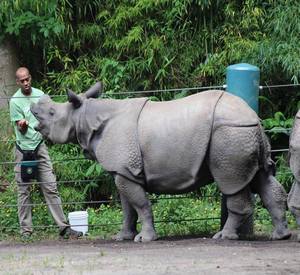 Photo courtesy of Jordan Veasley
I have followed
Jordan Veasley
(@junglejordan23) on Instagram for almost two years. I am impressed with his passion for educating people about conservation and wildlife. His posts are fun and always informative. But he is unique in the zoo world because he is a black zookeeper. In June of 2018, long before the headlines of today would have highlighted his story, he posted on YouTube about being black in a largely white world. You can hear the nervousness in his voice because he wasn't sure his followers would want to hear him talk about this topic. But I am glad he did. I hope you will listen to his story and follow him, because he is an enthusiastic supporter of wildlife conservation, which is a strong passion of mine as well.
Racism: A Black Dog Trainer's Experience