April 2020 KPA CTP of the Month
---
Amber Quann
, KPA CTP, CPDT-KSA, is the owner and head trainer at Summit Dog Training in northern Colorado. She is also the creative force behind the novel Drink With Your Dog Project, working with local breweries and local dog owners to make breweries canine-friendly.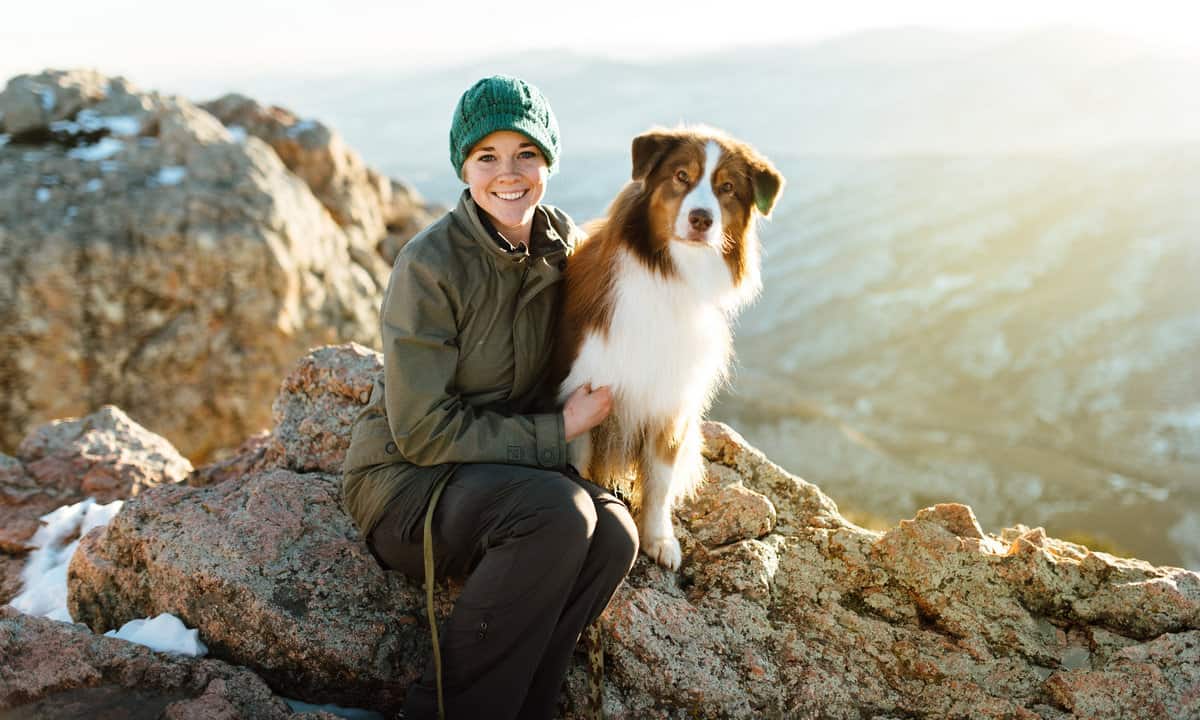 In 2011, Amber heard about the Karen Pryor Academy (KPA) Dog Trainer Professional (DTP) program from a graduate of the program who was offering a training workshop for 4-H dog clubs that Amber attended. She researched KPA, decided to enroll in the program herself, and completed the course in April 2013 with Laurie Luck.
There are many things that Amber remembers, and utilizes, from her DTP experience. She says, "I really appreciated the sections on effective teaching for human learners." Amber works hard with her clients to build "a bridge between head knowledge and effective communication." This lesson from the KPA DTP program is something Amber calls upon "every single day with every single client." Whether she is helping a client train a particular behavior or explaining the concept of shaping, Amber needs "to know how to communicate in easily digestible pieces."
The final assessment's 10-part chain was a challenge for Amber and her canine partner, Roo. "I had to work a lot with Roo to get his excited barking on good stimulus control. I am most proud of the behaviors that weren't in the behavior chain when we completed it!" Incorporating the Premack Principle, Amber worked with Roo "to make the opportunity to bark a reinforcer for doing parts of the chain without barking." Working toward her ultimate goal of completing a 10-part chain successfully, Amber began with small steps. "I started by asking Roo to do one or two behaviors before I would cue a bark behavior and built up to doing 10+ behaviors before the bark cue." Amber and Roo were excited to have worked through that challenge.
Amber explains that KPA has had a far-reaching impact on her professional work as the owner/head trainer of Summit Dog Training. "I use clicker training skills for both my dog and human students in all of my classes and private lessons," she says. Amber offers an assortment of group and private classes that range from basics and manners for dogs of all ages to concentrations on specific behaviors like loose-leash walking, recalls/stays, and polite greetings to preparation for therapy-dog work and certification as a Canine Good Citizen team. When she works with clients and dogs on challenges such as separation anxiety and dog reactivity, Amber relies on what she learned from her KPA program and calls "the heart of the KPA curriculum." Thanks to KPA, she can "look at any problem behavior and identify what reinforcement is driving that behavior, and then look at the 'goal' behavior and implement alternative reinforcement strategies for that behavior instead."

Thanks to KPA, she can look at any problem behavior and identify what reinforcement is driving that behavior...
Amber also offers what she terms "adventure training" where she works with clients and their pets to prepare the dogs to be great hiking trail companions. Sports and other fun classes are also options Amber provides at Summit Dog Training. From parkour to agility to rally to tricks, Amber incorporates positive clicker training basics to build the desired behaviors and human-canine relationships.
The "Drink With Your Dog Project is so much fun," according to Amber. She describes the program as "three-part." It includes "education for dog owners on good brewery manners, education for brewery staff members on hosting dogs safely in brewery spaces, and education for dog trainers who themselves want to run successful brewery manners group-training classes." Amber points out that the brewery-manners classes attract dog owners who might otherwise not enroll in training classes. "We work on many aspects of public manners, including a popular behavior chain of a dog and human approaching a bar together, the dog practicing a sit stay by the human's side while the human orders from the bartender, and then loose-leash walking back to the table while the human carries a beer." Dog owners also learn how to observe and interpret canine body language in brewery scenarios that may include loud noises and strangers approaching, for example.
Amber has worked with brewery staff teams both in in-person workshops and via an online class format. "I love teaching these groups about dog behavior, because it is so different from teaching 'dog people,'" Amber shares. Her lessons focus on canine body language, greeting a dog appropriately (and determining when a dog doesn't want a greeting to continue), and ways that brewery staff can set up breweries "to be safe for dogs but comfortable and pleasant for other visitors as well." Amber particularly enjoys discussions about interacting with dog owners who are not behaving appropriately with their dogs. She explains, "We role play scenarios where I coach brewery staff members how to positively redirect people to more appropriate behaviors with their dogs. This emphasis on positive communication and small, specific goals is strongly influenced by clicker training and TAGteach principles."
Amber teaches fellow dog trainers how to offer brewery manners classes via an online course that covers "everything from setting up and marketing a brewery manners class to the weekly curriculum. It includes access to my curriculum, videos of me teaching brewery manners classes, and a Facebook support group." This offering has been a big hit, according to Amber. There are now several communities and training businesses around the country using her brewery manners curriculum. "I'm so excited about this!"
At Summit Dog Training, Amber has "a rock-star team of four employees." Leading this team is different from training clients, but Amber uses "clicker training principles of shaping and positive communication" in of both these interpersonal aspects of her work. With dogs and people, "being clear with criteria and communication, focusing on reinforcing instead of punishing, and building a positive, collaborative relationship are all aspects of my management style that I attribute to clicker training," says Amber.
After graduating from KPA, Amber passed the CPDT-KA exam, including the skills-assessment portion, to become a CPDT-KSA. She tries to attend a ClickerExpo conference annually and in 2019 completed Dr. Susan Friedman's Living and Learning with Animals course, "which was fantastic." Amber also enrolls in many webinars and always has "a big pile of books waiting to be read on my shelf!"
Recently, Amber completed her first marathon. "I definitely see where my understanding of positive training helped me with that goal. Breaking down a marathon into a training plan of small pieces gradually raising criteria simulates a shaping training plan in clicker training!" Turns out Amber works hard for food reinforcers, something she has able to use to build a strong reinforcement schedule into her training plan. "I love that I'm able to apply positive training and marker principles to so many aspects of my life."