April 2019 KPA CTP of the Month
---
Patrick (Pat) Emmett, KPA CTP, is full-fledge into his second career. Pat turned to dog-training in his retirement after more than 35 years as a businessman and president of his own company. Now he is the Training Program Manager and an Instructor at his wife's business, Godfrey's-Welcome to Dogdom / Dog Is Family (DIF) K9 Training. Pat oversees all training offerings and services, including Karen Pryor Academy's Puppy Start Right Preschool. His strong interests include helping families adding a new dog to their home and therapy dogs. Pat and his golden retriever, Lake, are certified as a Therapy Dog Team through Keystone Pet Enhanced Therapy Services.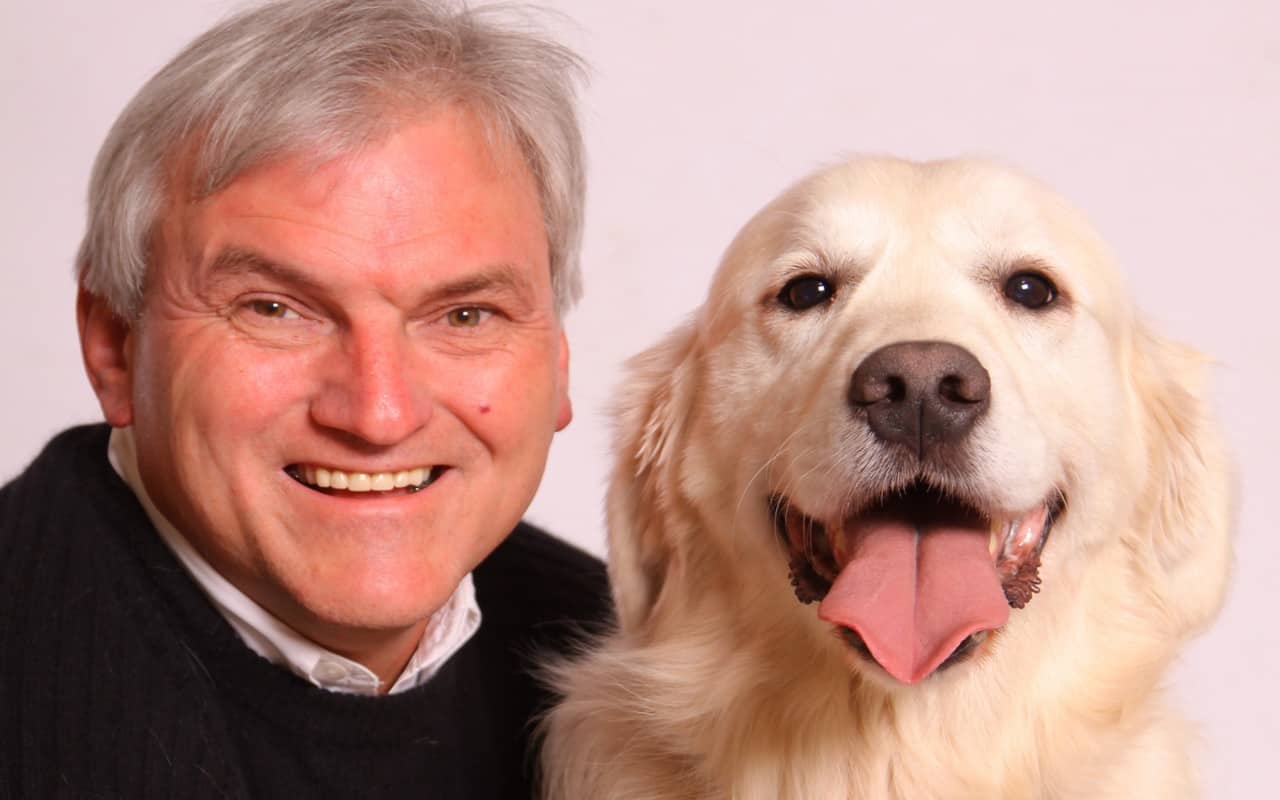 His wife Barb's company, founded on her interest in canines and on both of their devotion to dogs (particularly golden retrievers), needed a trainer just about the time Pat retired. "She was familiar with Karen Pryor Academy and insisted that I enroll there when I volunteered," remembers Pat. Pat completed the KPA Dog Trainer Professional (DTP) program in August 2014—in Endicott, New York, under the instruction of Steve Benjamin.
Pat found that learning everything he could about positive reinforcement and the use of the clicker during his KPA program was enlightening. Teaching itself was a challenge for Pat. "After years of being in business, it was definitely outside the box for me." Pat recalls that "Steve and my classmates made it very easy to make the transition" to his new work.
When he trains new clients and their animals, Pat finds that "the clicker gets my clients involved in the training process immediately because they see how powerful it can be." Pat introduces the clicker as a tool during orientation sessions so that his students are "ready to work as soon as class starts." The animals realize how powerful the clicker is, also. "It becomes a great tool working with reactive dogs, helping to get their attention away from distractions." Some of Pat's clients with excitable dogs that jump have been able to "eliminate that unwanted behavior in as little as one session using proper clicker techniques," he reports.
Pat prefers to train dogs off leash (except during loose-leash walking lessons, of course). Why? "It lets the dog make the proper decision without any input from the leash," Pat reports.
Inside and outside training venues, Pat has found that he is "much more relaxed speaking to an audience." He says, "Understanding operant behavior, I tend to use those principals in everyday life."
Since completing the KPA DTP program, Pat has passed the CPDT-KA exam. "I am very interested in helping people with their specific dog-behavior issues, so I'm constantly absorbing any knowledge that may help me help them." Pat has amassed more than 2300 logged hours of training since August 2014. "I'm still learning from every dog I meet." Pat's "teachers" include three deaf dogs and one "light-blindness" dog that he trained in the dark!

I'm still learning from every dog I meet.
Pat often prefers working with one dog at a time. At "65 years young," he enjoys training people as well as their dogs. "I've found that working with the whole family (including children) along with the dog makes training easier because everyone is on the same page. We all know how dogs love consistency!"
Helping his human clients understand how dogs process information and how they think in relation to humans are important goals for Pat. "I also make it my mission to make the training fun. We laugh a lot at our dogs and ourselves," he says. Working with individual dogs and their families allows Pat to "modify the training process to reflect more of what each owner needs." Pat is flexible when it comes to training times, too. "Life is crazy as it is, and schedules are hectic. Clients sign up for classes online and come to class when it fits their schedule."
One-on-one training affords Pat the time to talk about nutrition, spaying and neutering, vaccinations, and other relevant topics, such as crate training. Pat sees that effort as steps toward retaining the owner/family as a long-term client at Godfrey's and extending the influence of positive training.
When he retires (again, this time from Dog Is Family K9 Training/Godfrey's), Pat sees himself using his skills to help rescue and shelter organizations in his community. His experience with family dogs, therapy dogs, puppies, and many challenging students (both canine and human) will make him a coveted asset in the shelter world.