INTERVIEW WITH STEVE BENJAMIN
---
Karen Pryor Academy (KPA) faculty member Steve Benjamin will lead a KPA Dog Trainer Professional (DTP) program in Endicott, NY (application deadline 4/26/2023). Learn more about the DTP program or apply to this course in Endicott.
In this interview, Steve shares highlights from his own training career.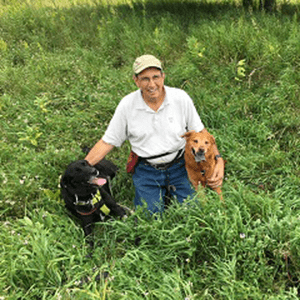 Q: Tell us about the first animal you trained.
A: It was my first yellow Lab, Cougar. I got him as a puppy, at the point in my professional career when I was beginning to contemplate life after retirement. I decided to enroll with Cougar in private dog training sessions to not only get him some training, but also to educate myself about formally training a dog. This attempt only lasted one session because the instructor wanted to put a choke collar on my young pup. When I protested, she pulled out a prong collar as an alternative. I had never even seen one. "How is THAT thing any better?" I asked. That was the end of that, and we withdrew from the classes hastily. I shelved any thoughts of dog training as a retirement career option.
Fast forward about two years to when I had relocated from the Washington, D.C., area to upstate New York. I had seen an agility competition on television that looked like fun, so I looked for a trainer who offered classes. I found one and called. She gave me the details and then let me know that she used "clicker training," asking if that was a problem. I was only slightly aware of what clicker training was, but told her it was fine with me as long as it didn't include those awful collars. She assured me that it did not.
We attend the first class with some apprehension but, as they say, the rest is history. Cougar took to clicker training immediately. I'll never forget the joy he displayed while learning totally new behaviors quickly at that very first class. I was intrigued by how it all worked, and that first class started me on my own journey to learn as much as possible about positive training. I was able to resurrect my interest in becoming a dog trainer; three years later I retired and opened up my own training facility.
Q: Was there a particular dog/animal in your life that was your most important teacher?
A: Kara had three strikes against her when she was young. She was born with a very shy personality, she was taken from her litter at less than 5 weeks, and she received very little socialization during her first year. I agreed to adopt her so she wouldn't end up in a shelter and be euthanized because of her problems.
When Kara came to me, she couldn't keep food down, she was afraid of having a collar put on, she refused to walk on a leash, and she displayed fear-aggression toward strangers, other dogs, and, especially, kids. She had killed cats. Kara had absolutely no dog-to-dog social skills whatsoever.
After about two years of rehabilitation, Kara was a new dog. She was able to attend agility classes and run the obstacles off-leash with other dogs present; she could greet kids with a tail wag and take treats from strangers. During this two year period, I was mentoring and studying to become a trainer. Kara came along at just the right time and taught me patience, timing, and keen observation skills. The journey I took with Kara to help her has been one of the most rewarding things I've ever done with any dog. I owe her a great deal for what she has enabled me to learn.
Q: What is your favorite activity or sport to do with your own dog(s)?
A: Our most favorite activity is hiking. We try to get in 3-5 miles a day. Fortunately, we live in an area where there are ample places to hike. I get some good exercise and it appears to be extraordinarily enjoyable for my dogs to explore the outdoors.  
Q: What is your proudest training moment?
A: The one that stands out is the family with their very aggressive dog. The dog had bitten about a dozen times, and the "trainers" they had been to, and even the vet, had told them there was no hope for rehabilitation and the dog should be euthanized. The family took the dog to their vet to be put down but couldn't go through with it. I was recommended to them and, even though I was two hours away, they came for help. By the end of eight weekly visits, their dog learned skills to cope and the family learned how to train and help their dog properly.
Q: What does a typical day look like for you?
A: I spend most mornings online for a couple hours, responding to student and client e-mails. Then it's maybe some work outside around the house or in the garage, possibly some reading on the deck, followed by an afternoon hike for a few hours.
Q: What advice would you give to a new training student?
A: I have a few pieces of advice:
1. Learn the science.
2. Observe dog behavior as much as you can to learn how to read dog body language.
3. Practice, practice, practice!
Q: Do you have any student success stories you can share?
A: 2020 marks my 13th year as a KPA faculty member, so there are many. I have students who have gone on to establish their own very successful training businesses, pursue academic studies in animal behavior and learning, and there is one person who also became a KPA faculty member after graduating from my very first KPA class. It is very satisfying professionally to know that you've helped so many achieve their own level of success.
Q: What do you do to continue your training education?
A: I am always reading books and journals. I keep up with the latest developments and advancements in positive reinforcement training methodology, and I attend ClickerExpo.
Q: Outside of dog training/dog sports, do you have any hobbies?
A: I enjoy online NASCAR racing simulation and maintaining/showing my 1972 Oldsmobile 442.
Q: If you were a dog, what breed would you be?
A: I think a Lab. Happy-go-lucky, a free spirit, very active, and food-motivated.