INTERVIEW WITH EMMA PARSONS
---
Karen Pryor Academy (KPA) faculty member Emma Parsons will lead the Dog Trainer Professional (DTP) program in Manchester Center, VT (application deadline 7/14/2023). Find out more about the DTP program or apply to the course with Emma Parsons.
In this interview, Emma talks about her own clicker training history and her involvement with Karen Pryor Academy.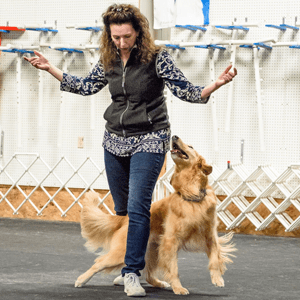 Q: How did you get started with clicker training? .
A: I became a clicker trainer when my golden retriever, Ben, became aggressive with other dogs after a traumatic correction by a traditional trainer. Instead of barking and lunging when he saw another dog, he started to scream, lunge, froth at the mouth, and bare his teeth. The side effects from the punishment-based training were far worse than the original behavior itself. Ben would react not only to dogs on leash, but to dogs on TV and to anything else that had an image of a dog.
Through a dog training conference, I met Karen Pryor. She taught me to click and feed Ben at his quietest moments, when he was taking a breath, for example. Gradually Ben's severe aggression was eliminated when he went from seeing another dog as a threat to seeing another dog as the opportunity to earn a click and treat. I have been a clicker trainer ever since, with reactivity/aggression my specialty.
Q: Tell us a little about how you use clicker training!
A: Currently my specialty is working with reactive/aggressive dogs utilizing the clicker training methodology. I teach private clients and lead "Click to Calm" seminars worldwide. I have yet to find a more effective way to deal with these serious behavioral issues.
Clicking and feeding dogs for, first, looking at the thing that scares or stimulates them, and then ultimately for looking at the handler for a click and treat, offers the handler the option of training a thinking dog rather than a reactive one. At this point in the training, an alternate or incompatible behavior can be inserted. The beauty is that this positive methodology empowers the dog to learn how to take care of himself in a challenging situation. The dog does not need to rely on the handler to try, usually to no avail, to protect or body-block the dog from seeing strange dogs and people.
Q: How did you get involved with KPA?
A: After many successful years working with Ben, as well as with many other clients, Karen invited me to become part of the KPA faculty. 
Q:  What are some key things in the Dog Trainer Professional (DTP) program that you think all clicker trainers can benefit from?
A: There are many people who call themselves clicker trainers, but are they using the clicker the way that Karen intended? What I like about the DTP program is that it teaches the student how to use the clicker, with science at the base of the training. The students learn precise timing, treat placement, and ways to teach much more complex behaviors.
Q: What has been the most rewarding part of your KPA experience?
A: I love working with students who not only have the interest in animal training, but who also care about what the process of communication is. There are many trainers out there who train animals, but when asked why they do what they do, they are unable to answer. They merely "copy" what they have been shown to do. They are not familiar with learning theory and how behavior works. Not so with our KPA graduates…!
KPA students are able to train their animals intelligently and efficiently. They understand how learning works and why the timing of the clicker is so important in teaching an animal a new behavior. These students respect the animal's mind and are able to set up a safe learning environment for both themselves and the animals that they work with.
---
Enroll in the next Dog Trainer Professional course in Franklin, MA with Emma Parsons.