FEBRUARY 2018 KPA CTP of the Month
---
Shelley Pryor, KPA CTP, offers in-home training and behavior consultations through her business Spry Dog. Spry Dog also provides Canine Good Citizen (CGC) preparation and testing, along with Fear Free support to acclimatize animals to visits with veterinarians and groomers. A volunteer with the Humane Society of Missouri (HSMO), Midwest Akita Rescue Society (MARS), Akita Club of America Rescue (ACAR), and the Greater St. Louis Training Club (GSLTC), Shelley works with children, rescued dogs, owners, vets, and others—always positively and with kindness.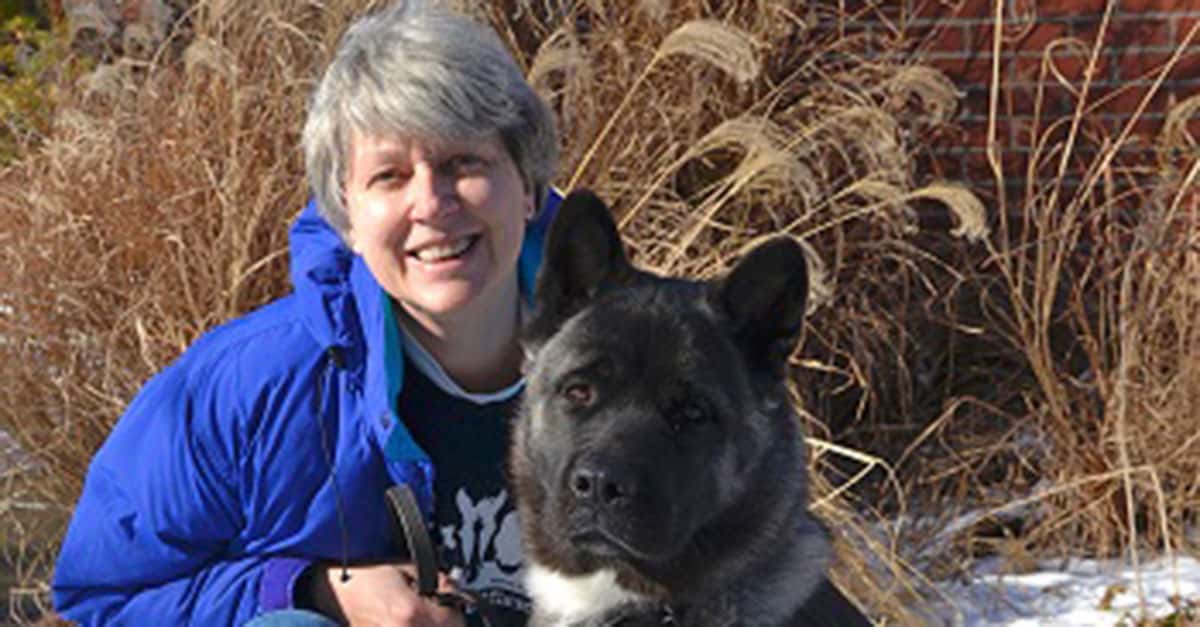 Shelley reports that she "became involved with Karen Pryor Academy (KPA) through a combination of luck and good timing." A friend suggested that she take her new puppy to a kindergarten class held by the GSLTC. Shelley had just retired from a long career as a Human Resources consultant where she designed rewards and recognition programs for employees. GSLTC attracted her because the club used only force-free training methods. "I already knew about B.F. Skinner's work, and had read books by Karen Pryor, so I was ready to try a positive approach to train my perfect Akita puppy."
That first class was a revelation for Shelley; her dog Kiku, went on to earn Star Puppy and CGC credentials at GSLTC. Kiku and Shelley began teaching children's classes together at the Humane Society of Missouri, and Shelley enrolled in and completed many more classes with multiple dogs. She says that it was "a natural next step to take the KPA Dog Trainer Professional (DTP) course."
Under the direction of "amazing" Laurie Luck, Shelley completed the KPA DTP course in 2015 in St. Louis, at the Humane Society of Missouri. "The work was challenging, but fun," remembers Shelley. "The days were long, but they were so exhilarating. We all had the chance to observe and discuss many examples of dog behavior—from shy to exuberant, from anxious to calm." What Shelley enjoyed most of all about her KPA course were the discussions with Laurie and the other nine students in the class. "Learning from them was invaluable."
Looking back on the KPA course and experience, Shelley finds it "hard to name just one standout concept." She saw significant parallels between effective reward strategies for humans and those for animals, and the program definitely augmented her previous knowledge. Shelley reports that the KPA DTP helped hone her handling skills. 

Probably the most important thing I learned was to do less, to relax and trust the animal, to wait and let him choose what to do next. Allowing my canine partner time to think always speeds the learning process and adds to the fun. Being a great dog-handler team means more than just being willing partners. It means being able to give and take.
Since her time at KPA, Shelley's professional work with dogs has continued to grow. She uses her KPA skills and knowledge every day and "couldn't be as effective without them." Passionate about force-free training, Shelley utilizes lessons from the DTP program with clients in private instruction through Spry Dog and volunteers as a Puppy Kindergarten teacher at GSLTC. "We get puppy families started with clicker training when their babies are as young as 8 weeks. These pups go on to become some of the club's best adult pupils."
With her CGC dogs Kiku and Robby, Shelley also volunteers with the Humane Society of Missouri. "We give clicker and trick demos to hundreds of school kids." Kiku demonstrates her many skills happily ("thank you, 10-part-chain"), and the team lets kids "experience firsthand the thrill of requesting a behavior and having the dog comply. It's extremely powerful." Shelley finds that the children at her demonstrations "often have no knowledge of dogs or, if they do, they may only know about fighting dogs." With her dogs, Shelley helps the kids "learn that animals have feelings, need our care and compassion, and are very, very smart." With pride, Shelley shares that Kiku has been named the AKC national ambassador for the Akita breed for her teaching contributions!
Through Midwest Akita Rescue Society and Akita Club of America Rescue, Shelley supplies positive training guidance to adopters of orphaned Akitas. "These are dogs that have been abandoned or neglected and need understanding and kind care." Shelley believes that "our type of training helps to break the cycle of dominance and aggression against pet animals, and begins the building of empathy."
For the last three years, Shelley and fellow KPA CTP Hope Edwards have led "Train-a-Shelter-Dog" day-camp classes at HSMO. Shelley estimates that they have taught close to 400 children, from 7 to 13 years of age. "Working in teams, the kids learn the fun of clicker training orphaned dogs, and the dogs learn a few great home skills. The dogs also learn to like kids. All of the dogs in these classes were adopted quickly, because they showed themselves to be child-friendly, and were 'trained,'" reports Shelley.
Asked about the challenges of teaching children, Shelley replies that "it's hard to think of any major challenges. In my experience, teaching adults is often harder!" She shares the following observations:

Kids are fantastic observers. Once they know what to look for, they see stress and calming signals with ease. Unlike their parents, they're lightning-quick learners; thirty 7-year-olds can nail clicker mechanics in less than five minutes. Of course, kids LOVE animals. Once they teach a dog even one skill, kids are hooked. Because they take their passion and skills back to family, friends, and school, children have a real impact on animals' lives.
Perhaps Shelley's most important student is herself. "I have a lifetime of old habits and methods to improve. The biggest lessons of clicker training for me personally have been to lighten up and allow the other guy a chance to think and speak. It sounds obvious, but it takes self-restraint and self-awareness to do less." Other helpful advice gleaned by Shelley from the KPA course includes: "Be positive. Have patience and empathy. Break the hard things down. Try another way. Be a coach, not a judge. Celebrate small successes. For heaven's sake, quit while things are working well."
Recently, Shelley completed the Fear Free Animal Training Program for Trainers and is now Fear Free-Certified. She learned more about fear, anxiety, and stress in pet animals. In addition to her two teaching dogs, Shelley works with her two rescued Akitas with serious anxiety and fear issues. One of them has gone blind due to an autoimmune disorder. "I use clicker training to help both of these dogs with handling and husbandry skills: chin rest, ear cleaning, wearing a muzzle and E-collar, scratch boards/Dremel, and inoculations. It's so rewarding to me that they are now willing participants in their care, and they look forward to taking their meds. That's worth more to me than any ribbon."
Looking ahead, Shelley would like to do more to support the emotional needs of the animalsin the care of her students/adopters and in veterinary offices. "Every animal deserves to feel comfortable at the vet and at the groomer." She is alsoworking with a team of trainers to develop a class for excitable dogs, dogs that struggle to be calm in regular adult classes. "Clicker skills can be applied in so many situations!"
This March, Shelley will attend her first-ever ClickerExpo—in St. Louis, her own backyard! "My fellow GSLTC trainers, many of whom are KPA CTPs, are looking forward to welcoming everyone to our fair city. We're spreading the word far and wide."