August 2014 KPA CTP of the Month
---
Jay Andors, Karen Pryor Academy (KPA) Certified Training Partner (CTP), uses his KPA education to augment his many years of personal and business experience with pets. A master groomer for 25 years and now a certified trainer, Jay's skills, manner, and knowledge are employed (and appreciated) in a variety of worthwhile activities. From focused training with clients and their pets to free clicker training classes for the New York City community to his newest project, working with shelter dogs and needy service veterans, Jay cannot count the number of ways the "KPA approach" has become part of his life.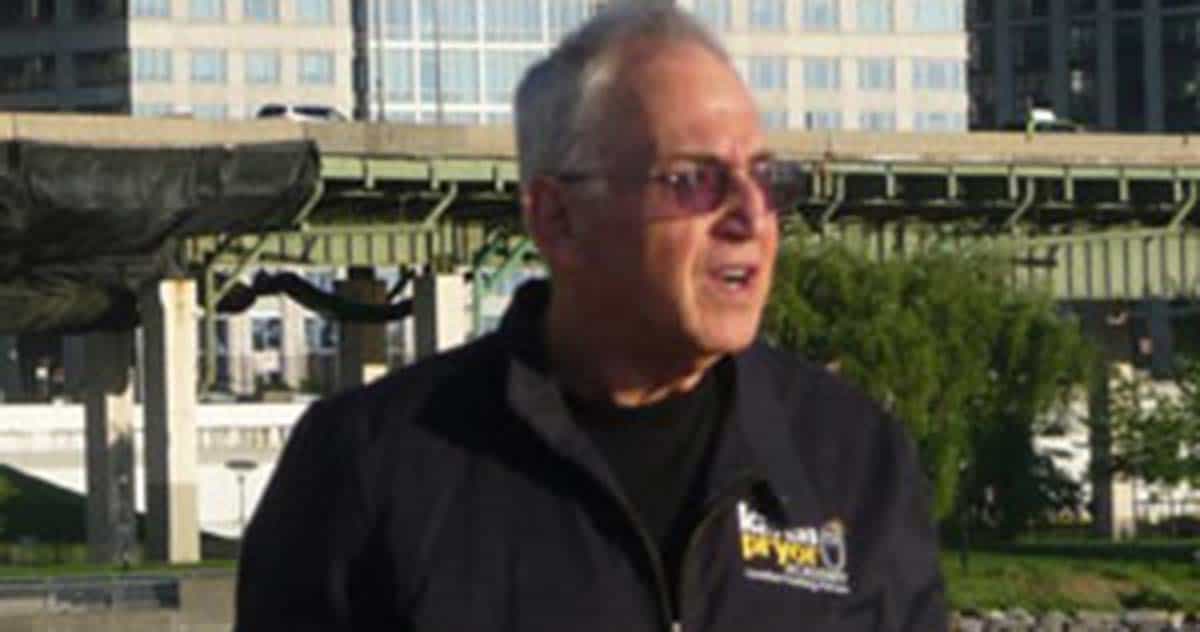 It was at an Association of Professional Dog Trainers (APDT) conference in 2009 where Jay first heard about the KPA Dog Trainer Professional program. Having just completed his first of many reads of Karen Pryor's book Don't Shoot the Dog! Jay was thrilled to meet and speak with Karen herself. At the APDT conference in 2010, Jay talked with both Karen and Tia Guest about the Dog Trainer program specifically. Although it took several years to figure out the right time, place, finances, and instructor, Jay enrolled in the Dog Trainer Professional program under the direction of Steve Benjamin and completed the course in the summer of 2013.
While he was waiting for his enrollment in the KPA program to begin, Jay kept in contact with many of the KPA staff. He says, "Everyone was collegial and nice to me. They recommended Karen's other wonderful books and offered feedback on the videos I sent of my shaping behaviors with my dog—and with my fish, training it to go through a hoop!" Even before he paid his tuition, KPA faculty members were very encouraging to Jay.
His patient wait to enroll in the Dog Trainer program was well worth it to Jay. As he worked through the course, he found every part of the program useful and the application of science incredibly interesting. However, Jay admits that, "…the way the course is structured step-by-step is challenging, as you have to manage your time. But time flies when you're having fun, and boy, is it fun!" Another challenge Jay faced was writing. He says, "I'm not a great writer. That part was a challenge that I overcame, or am in the process of overcoming!" Jay found that by following the lessons step-by-step and completing the exercises, his skills improved to the point where "Aha!" moments started to come "one after the other." As a KPA CTP, Jay feels proud.

I have experienced many instances where my KPA credentials and experiences have made a world of difference in regard to the respect that I get from other trainers and veterinarians, as well as from clients.
He firmly believes that his improvement in data accumulation, writing training reports, and offering positive feedback through notes and words, growth made through the KPA Dog Trainer Professional program, raised his work to a higher level. Now a graduate of the KPA course, Jay continues to receive help from the KPA community—"the huge support team behind me." Steve Benjamin is quick to reply when Jay contacts him for advice. And Jay says, "If I have a question, I post it on the alumni bulletin board and get many responses."
Jay's original interest in grooming came from his deep love for animals and his skill with his hands. He realized that the grooming process is "a long-duration behavior chain that can be very stressful for an animal." Some animals are so frightened of the grooming process that they require medication and/or work with a veterinary behaviorist. It occurred to Jay by analyzing the behavior chain and breaking it down into steps he could achieve the goal of training the skills needed for a dog to accept the grooming process. 
Training a dog to stand in place on a table "is really only a targeting behavior" according to Jay. But that behavior has to be built: shaped and then brought under stimulus control. Distractions include noise, the presence and feel of tools like clippers, scissors, and the powerful blow dryers used, and the different body postures required. "All of these activities have to be individually shaped. What better tool to do this with than a clicker—and some treats!"
Often Jay first works privately with an animal at the animal's home if the animal is so frightened that even the walk to the grooming shop triggers stress. Jay introduces the tools, clicks and treats at the sound of the tools, clicks and treats the feel of the tools on the animal's body, and clicks and treats manipulating the animal's body. He also teaches owners how to brush their dogs properly so that dogs don't need to come to the groomer matted. (Jay has found working with owners much easier now that he uses tag points and reinforces owners with praise!) When the training steps are all completed, when the skills are mastered and brought under stimulus control, Jay knows that the grooming process is a much safer, and more positive, experience for everyone.
A New York City native and dog owner his entire life, Jay has both lived and witnessed the many challenges of having pets in an urban area. Exercising, encountering other animals and noises like sirens, encountering other people, including children and their bikes skateboards—the list goes on. As he walked his own dog in the city's beautiful parks, Jay noticed that many dog owners were just managing their animals. He always thought these owners could benefit from classes, but never had the credentials to offer them.
When Jay became certified through KPA, he wrote a letter to the managing director of the New York City Riverside Parks Conservancy, an organization that sponsors a free Summer on the Hudson program each year. He offered a series of free classes, and Conservancy Director Zhen Heinemann took him up on that offer! Jay partnered with classmate Lauren Wojcik and the two have just completed a six-week program conducted "at the end of a beautiful pier on the Hudson River."
The diverse students, roughly ages 25-55, were very interested in training their animals and the program received wonderful feedback. Jay and Lauren hope to offer it again next summer. Jay is already thinking about introducing modular classes next time! "People who sign up for the program need foundation skills, but also have specific issues to work on." Jay would love to see a similar program in every park in New York City—and all over the country.
Jay's free classes were a wonderful way to introduce people to clicker training. Jay refers to his classes as "a great marketing tool since it draws a crowd." The Parks Department displayed banners in strategic areas that announced the program with his name and his title of KPA CTP!
There was one particular challenge to the classes—noise on the end of the pier came from wind, boats, airplanes and a vast array of people. But Jay thinks of the noise as just one example of a challenge a clicker trainer can overcome.
Jay's latest adventure has just started. Having met a number of veterans with PTSD and/or TBI, Jay had thought about becoming involved in a program that helped that population. An e-mail from Pets for Vets about the possibility of training for the organization reached him at an opportune time. Pets for Vets pairs veterans with companion dogs; all of the dogs are adult dogs and come from shelters! Companion dogs are trained in foundation skills, such as sitting politely for petting, coming when called, paying attention to the handler, and responding to cues from the handler.
Instead of the original plan of visiting foster families to help them train companion dogs, Jay will become a foster parent to a companion dog in training. He will also be interviewing veteran applicants and matching appropriate companion dogs with veterans. 

My training from the KPA program was very helpful for me as I made the decision to foster and train a dog.
Jay chose the more efficient option of keeping the shelter/companion dog with him and his own dog. He will be working with the dog at several points during the day and observing the behavior of the dog in different training situations. Jay has already met with Pets for Vets staff to interview as a foster parent and trainer. He has not received his first dog yet, but will soon. "I'm very excited about this opportunity!"
Alongside his work and volunteer efforts, Jay incorporates lessons from his KPA course into everyday life. "The Dog Trainer program has made me a better problem-solver." Jay reports that he can communicate more clearly and focus in a positive fashion now.
As a sole proprietor small businessman, Jay markets his business the old-fashioned way: through direct marketing, where communication is key! As he walks his dog all through New York City, Jay introduces himself, hands out a business card (Jay notes with thanks that his logo and card were designed for free by fellow KPA alum Dr. Dani Theule), and talks with people about the fun of clicker training.
Next spring Jay hopes to enroll in the KPA Shelter Training & Enrichment course with Steve Benjamin. He says, "As I get older, I'd like to do shelter work more and more." Jay also plans to travel to Chicago this summer for Ken Ramirez's animal training course at the Shedd Aquarium. Jay was thrilled to be a KPA-CTP coach in his Ken's ClickerExpo workshop this year. "I cannot wait to be his student and work with beluga whales!"
Jay continues to work on his goals of being a better writer, a more creative trainer, and a better shaper. He would also like to improve his TAGteach skills. He concludes, "My goal is to become more and more clickerly!"