The Dog Trainer Professional program is for the highly motivated trainer who has specific goals for improving knowledge, skills, and career prospects. The course blends online learning with hands-on instruction from some of the best teachers in the field.
This location has passed.
Midlothian, Scotland | Linda Ryan
Application Deadline:
March 1, 2021
Locations Navigation
Karen Pryor Academy's 9-month Dog Trainer Professional program offers an in-depth distance learning curriculum that explores the theoretical and practical aspects of animal training, teaching, and business set up along with (4) two day workshops.
Students are required to complete both practical and written assignments and assessments, and attend the workshops. The have the full support of their experienced and skilled KPA accredited faculty mentor.
This comprehensive nine-month course will give you all the knowledge and skill you need to attain the highest standards of positive reinforcement training, effectively teach these skills to others, and run a successful dog training business.
What About Covid 19?  We have it covered.  In the event that it is not safe for a workshop to be held in person, it can be delivered as scheduled in a virtual workshop environment. The adaptations we have made deliver the excellent education experience for which the Dog Trainer Professional program is known while keeping everyone safe in this unique time. If you have questions kindly contact [email protected]
KPA is a member organisation of the Animal Behaviour & Training Council, meaning that our graduate members may be listed under the ABTC Animal Training Instructor standard.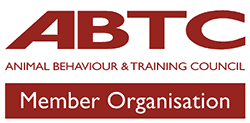 ---
---
Apply anytime before 1 March 2021
Your course begins on 08 March 2021
06 December - 10 December 2021
National
Integrated online learning and hands-on workshop

Travel 1 time to this location for your workshop

Bring your dog to the 5-day workshop

Video submissions are required
---
---
RATHAN HOUSE
Eskbank Dalkeith
Edinburgh Scotland
45 Eskbank Road, Dalkeith
Edinburgh EH22 3BH
+00 44 (0) 131 663 3291
_______________________
ICR Vets
44 Fountain Place
Loanhead, EH20 9DU. 
Tel: 0131 440 4229