September 2017 KPA CTP of the Month
---
Working with "Simply Brilliant Dogs" is what Lynn Rives, KPA CTP, does, and loves, best. She strives to be even more skilled and successful in this work every day. Somewhat of a Renaissance woman when it comes to various training and animal spheres, Lynn has raised horses, dogs, cats, rabbits, chickens, birds, and turtles. She is also an experienced wildlife rehabilitator, specializing in mammals, turtles, songbirds, and raptors. Throw in her 30+ years of training dogs and teaching people, and you have an impressive record of experience, education, and learning!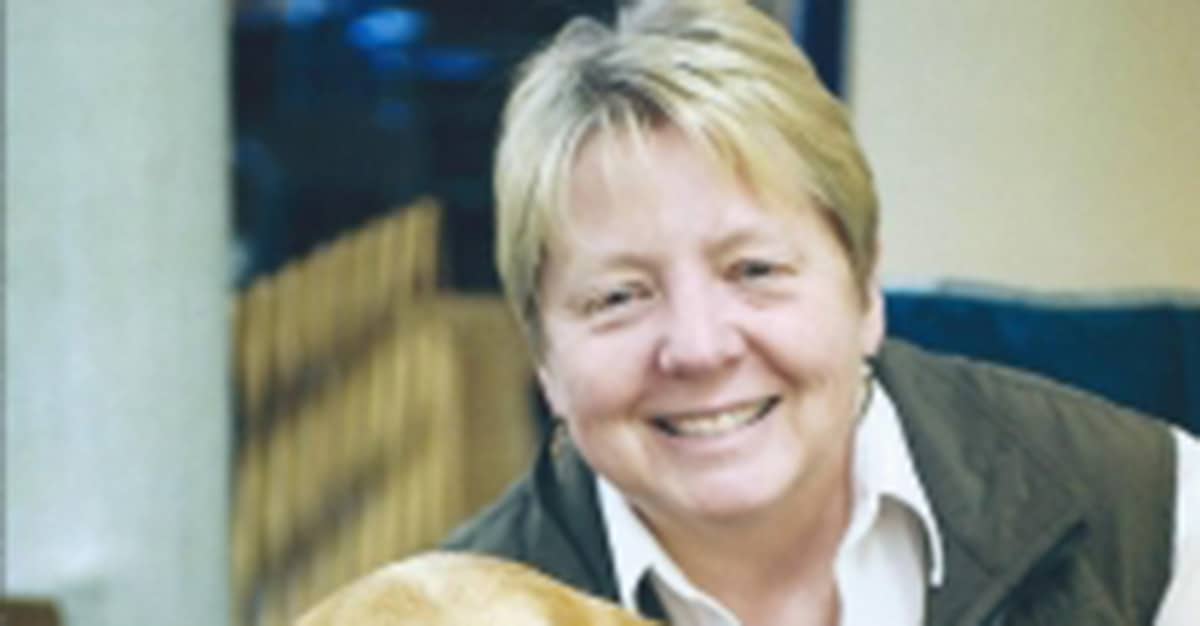 As Lynn was crossing over from traditional to positive training, she attended a workshop led by Kathy Sdao and attended by others who had completed the Karen Pryor Academy (KPA) Dog Trainer Professional (DTP) program. "Immediately, I knew what I needed to do next to further my education in dog training," remembers Lynn. "Kathy highly recommended the DTP, and off I went."
Lynn calls the KPA DTP course "without a doubt the single best investment in my dog training education, bar none!" Completing the program in Raleigh, NC, with Hannah Branigan in July of 2012, Lynn was thrilled to train a dog completely via positive reinforcement for the very first time. "What an amazing and incredibly gratifying experience!" With nothing but praise for instructor Hannah Branigan, Lynn points first to Hannah's ability to ensure that the learners (dogs and humans) had the correct tools for success. "Hannah's powers of observation are among the best I've ever worked with. She is a very, very good instructor," emphasizes Lynn.
Juggling a fulltime job that required global travel with the dedication her KPA DTP course demanded was difficult for Lynn, but she persevered. What Lynn found most illuminating about the program was the realization that she was acquiring the skills to teach "any being any skill they were physically capable of performing." For Lynn, the benefits of that realization were that she had a much larger toolbox from which to pull and that the stress of not being sure of the best way to help a client nearly disappeared.
Now, Lynn uses clicker training in all aspects of her work with her own animals, as well as with clients and their pets. When Lynn works with dog-owner and dog-handler clients, she is always pulling from that KPA tool set. 

I use clicker training while splitting behaviors into small slivers for different learners.
Facets of her clicker training knowledge are also employed when Lynn wants to "help handlers focus on what they want their dogs to do versus what they want the dogs to stop doing." Lynn works with many aggressive and fearful dogs, finding that through clicker training and positive lessons those dogs learn quickly how to influence their environments. "Then, the understanding really takes off!" Another area where Lynn finds clicker training particularly helpful is with canine conditioning. "Shaping the exercise behaviors slows down the humans so that they can 'see' the importance of correct form versus speed," she reports.
Lynn has used R+ training in her personal interactions and relationships as well as in her global corporate job (before she moved to training dogs and their people fulltime). The owner and fervent reader of all of Karen Pryor's books, Lynn particularly favors Don't Shoot the Dog, rereading it annually and issuing copies to her team members. The book's "learning topics are a way of being versus just doing," Lynn says.
I
ncreasing her knowledge and pursuing additional education are important parts of Lynn's life. In addition to her KPA qualifications, Lynn has earned CPDT-KA, CBCC-KA, CTDI, Tellington Touch L1, Fit Paws Master Trainer, CCFT, and Fear Free veterinary professional certification/credentials. Annually, Lynn and her daughter take a mother-daughter trip to ClickerExpo! 

My daughter's first love is horses, so she attends the latest equine tracks.
Lynn and her dogs participate (and earn titles!) in Obedience, Rally, and Tricks. They have added Agility and Canine Conditioning to their recent lessons as well. "With a certificate from TDI (Therapy Dog International) and as time permits, I visit assisted living facilities and hospitals with my therapy dog, Zane."
Looking ahead, Lynn plans to locate a building in the Raleigh/Durham area where she can open a canine wellness center. "At the center, we will have training, games, an indoor pool, an underwater treadmill, a dock diving pool, and other cool stuff for pets and their people. The only restrictions will be "no-force, no prongs, and no e-collars."