October 2018 KPA CTP of the Month
---
Lynne Stephens, KPA CTP, is a canine agility specialist, trainer, and seminar presenter. She is the co-owner of DogLogic Training in Statesville, North Carolina. Lynne's professional experience as an educator in the United Kingdom is combined with 30+ years working with dogs, including as a competitor in dog sports. This unique skill set is well utilized in Lynne's work as a dog training instructor.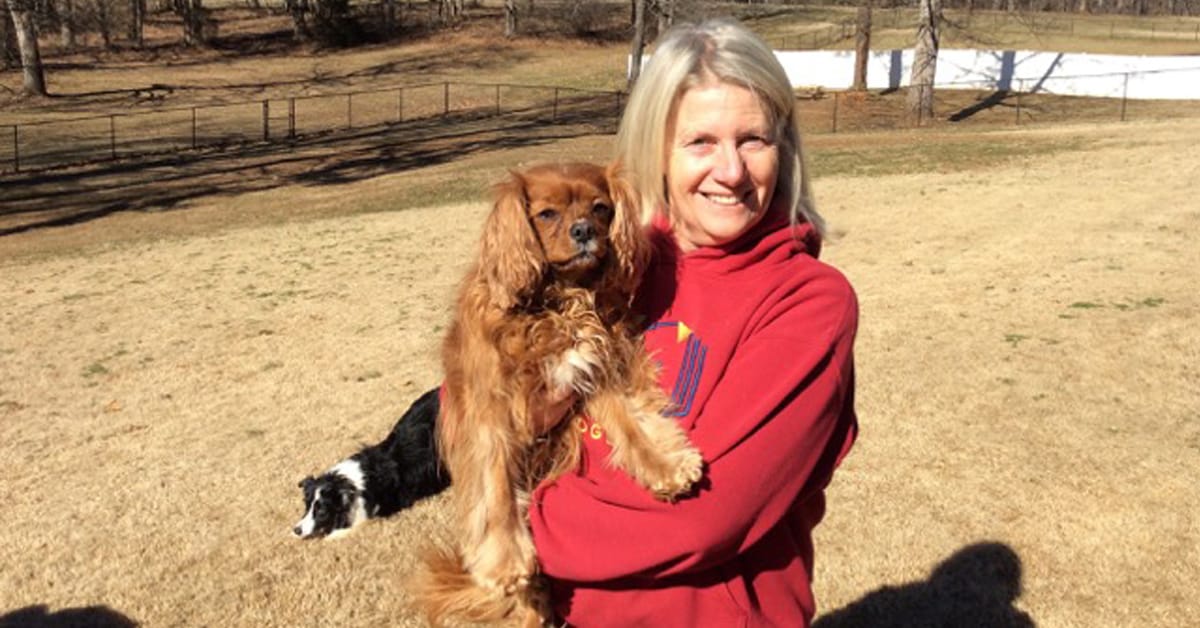 It was Lynne's sister and partner at DogLogic, Karen Mielke, also a KPA CTP, who introduced her to the KPA Dog Trainer Professional (DTP) program when Lynne moved to the United States from England. Despite training and competing in a variety of dog sports in the UK, she says "I quickly saw the need to further educate myself in the field—for the sake of my dogs, my students, and myself." While Lynne had experiencing teaching dogs and people, she felt that she was lacking the scientific knowledge to solve day-to-day challenges faced by pet owners—without using "just a little" coercion. Starting off as a crossover trainer, Lynne now fully embraces marker-based, positive reinforcement training. Post-KPA, Lynne declares, "When you know better, you do better!"
Lynne completed the KPA DTP program with honors in December of 2013, with Hannah Branigan as her instructor. There were many "light-bub moments" for Lynne as she completed the course. Her biggest epiphany was that "every correct response to a cue must be reinforced in some way or another to keep cues strong and reliable even in the face of extreme distraction." Lynne made this realization as she was learning about training service dogs, but "the light bulbs kept flashing as I saw the connections to everything we want dogs to be reliable and fluent in." She used this knowledge to prepare for the KPA CTP practical exam, the 10-part behavior chain, and has since incorporated it fully into training reliability and fluency in dog-sport behaviors.
This important insight led Lynne and her sister Karen to create a seminar that they presented at their own facility and elsewhere. Lynne explains, "I called it, But I Can't take the Treats and Toys in the Ring, a lament often expressed by my students." She reports that the well-received seminar was filmed as a DVD. "It was a proud moment when I saw the DVD for sale at ClickerExpo one year."
What Lynne found most difficult about the KPA DTP program were the business sections of the course. "I realize its importance, but really wish I could win the lottery and employ someone to take care of all that!" There was a lot of material for Lynne to take in during the DTP program, business-oriented and otherwise, yet she says that "often the most difficult experiences yield the biggest rewards."

Often the most difficult experiences yield the biggest rewards.
Asked about the impact of the KPA course on her work, Lynne replies, "It has impacted every area of my professional work!" A clear impact has been made on agility training, Lynne's primary focus. "Before the course, I would encourage people to praise/reward their dogs for performing the desired maneuver. However, marking incorrect behavior was also part of my early vocabulary." Since the DTP program, Lynne provides at least a rudimentary explanation of how the clicker acts as a marker signal to help animals understand what they are being reinforced for. "If we don't reinforce a correct response to a cue, how will our dogs know they did what we wanted?" If clients have difficulty with or are resistant to the clicker, "we suggest they use a marker word or sound." Lynne also uses more specific language now (reinforce rather than reward), although "I take pains not to make it all sound too technical. The glazed eyes give it away if I'm waxing too lyrical!"
Other areas to which Lynne attributes influence from the KPA DTP program are teaching shaping, "particularly in/on/under/through/round for agility obstacles," and instilling confidence in dogs and their humans. "Clicker trained dogs can be taught to be confident enough to work independently and away from handlers so much more effectively. Human students who teach their dogs the concept of a cue go on to achieve much more success and less frustration," she explains. "They no longer blame their dogs for mistakes but go back to the drawing board and work out what training is needed to rectify errors." Lynne tries to use TAGteach but admits that it is "not natural yet. It really works, of course, when I remember."
The great discussions and brainstorming sessions Lynne has with students make her feel the most satisfied. "The dogs are understood by their handlers. The handlers understand their dogs. Win/win—with or without ribbons!"
Lynne's experience with working dogs and dog sports began when she was an adult (although she did have well-trained imaginary dogs as a child!). With their very first dog, a Cavalier King Charles Spaniel, Lynne and her husband enrolled in obedience classes and observed others doing Working Trials. Working Trials encompasses criminal/detection work, agility, nose work, and obedience; Lynne and her dogs became particularly skilled in agility and in criminal work trials. Lynne explains that agility has "too short a time in the ring compared to working trials but isn't quite as time consuming in terms of training/competition." Lynne's husband and subsequent dogs also became part of the agility experience. "With no prior ambition, we eventually tried out for the British Agility World Team since we were experiencing success in more local shows up against previous team members." In 2003, Lynne and her husband qualified for the British Agility World team and competed for England in Lieven, France. Since moving to the United States Lynne has qualified for and competed in the AKC agility nationals and the USDAA agility nationals with four different dogs.
Conceptually, training dogs for sport is just like training pet dogs, Lynne believes. "The teaching, learning theory, and practice are the same. Basic behaviors like hand touches and targeting, go to crate/relax on mat, etc. may be phrased or framed differently depending on the audience and the needs.
With her sister Karen Mielke, Lynne co-wrote the course material for Dog Sports Essentials now offered by KPA. "Karen and I joined the dots and found the similarities among the sports I had competed in and sports we had observed. It is an honor to see the course on the KPA website."
A past presenter at ClickerExpo in the UK (now Luminos), Lynne attends every ClickerExpo conference that she can. "Presenting at ClickerExpo in the UK was an honor. Despite years of teaching and leading groups of adults and children, this was one of the most nerve-wracking experiences," Lynne confesses. "I knew some of the audience members, and I knew that there would be really knowledgeable KPA staff in attendance." Lynne found support from other KPA faculty members and Expo presenters and felt that "the UK audience at Expo was different, maybe more reserved, than audiences I've presented to in the US. My sense of humor and accent, helpful on this side of the pond [the US], didn't have quite the same effect in my home country!"
In her quest to improve as a trainer, competitor, and speaker, Lynne searches out and reads new and relevant books about training, behavior, and agility-related topics, especially books recommended by KPA and its faculty. Looking ahead, Lynne hopes to attend Dr. Susan Friedman's online course and investigate TAGteach more fully.