November 2016 KPA CTP of the Month
---
When she was selected for this month's profile, Charissa Beaubien, KPA CTP, said, "I am honored to be featured in the Karen Pryor Academy e-newsletter and website. I have been drawn to so many talented professionals through these means."
Charissa utilizes her lifetime knowledge of animals—and her Karen Pryor Academy (KPA) training—offering classes and consultations through Summit Dog Training and in shelter work at the Weld County Humane Society. She credits friend and Summit Dog Training's owner and head trainer Amber Quann, KPA CTP, for motivating her daily to be the best she can be!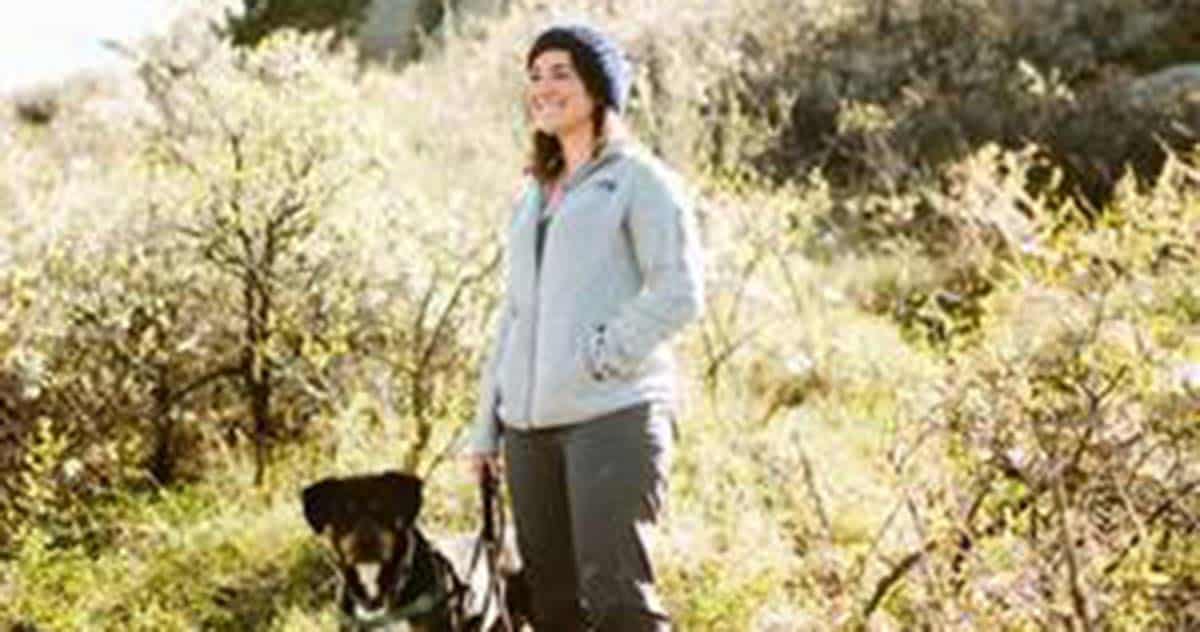 It was while she was working at a doggie daycare that Charissa first heard about KPA and the Dog Trainer Professional program (DTP). A coworker encouraged her to enroll in KPA and her family was in full support. Charissa completed the KPA DTP program almost 18 months ago, learning from Lindsay Wood Brown at Boulder Valley Humane Society in Boulder, Colorado. "I was in Lindsay's last KPA class in Boulder before she moved out East. I felt blessed to come full circle and complete the program in a humane society where I started working with animals professionally."
While it was a challenge to complete, Charissa believes that "the KPA Dog Trainer Professional program is the best certification professionals can receive." Charissa had only used a verbal marker, so she was a beginner clicker trainer in her KPA course. "The clicker was something I really had to get used to," she admits. However, Charissa says that the DTP program really helped her, and others, understand why the clicker is useful, how to include mechanics in training, and how shaping, capturing, and luring all work. She says, "For me, the most difficult part of the DTP program, and any training plan, is achieving stimulus control."
Now, Charissa finds herself asking, "What would Karen Pryor do?" on a daily basis. For example, Charissa received an e-mail recently about an adopted dog that was very excitable at home. The owner was frustrated that the puppy was "bad and mean and too dominant over everyone in the family." At first, Charissa felt angry with the pet owner, and with the veterinarian who had given the owner advice to make the puppy submit to the family. Before sending a nasty e-mail in reply, Charissa says, "I stopped myself and asked my 'WWKPD' question. I e-mailed the owner, focusing on the positives that she had demonstrated, such as seeking out a veterinarian, e-mailing me, and caring so much about this new puppy." Not only did Charissa feel that she had responded the Karen Pryor way, she was able to spread positive training information as well. She reports that she was able to sneak in some scientific information about dominance theory and ended her e-mail suggesting positive methods to help the new puppy learn impulse control.
For her work at the humane society, Charissa calls on skills she has built from shelter work since she was 16 years old.

In my life I have met so many amazing animals that have taught me more than any human.
Charissa believes each animal is unique, but uses counter-conditioning from day one with the animals at the shelter. "The moment they come in, I try to desensitize them to me and the other scary things in the shelter." She uses shaping, play, and errorless learning with the shelter animals because "I find the animals often have many poisoned cues. Asking them to do things can be punishing, while just rewarding them for everything builds a positive relationship quickly. They often enjoy the entire process!"
Charissa finds that shelter challenges often stem from "trigger-stacking." The shelter is a stressful environment for animals that have never experienced it. Charissa explains that the animals "stack" stresses until, often, they suffer medically. "That is a hard thing to witness." 
Hiking is an important part of Charissa's life, as a recreational activity with her own dog and through the trail hikes she offers to clients and their dogs. "I was born in Colorado and enjoy sharing the outdoors with my dog and love to see others doing the same." Recall is the most valuable skill that can be trained for this sort of activity, "an essential skill to teach your dog before you set off on a trail." Charissa also calls recall "a lifelong duration behavior that you build on with your dog." She suggests that playing and having fun with your dog can teach many behaviors. "Particularly with hiking, being able to play with my pup and bring along a tug toy really helps him stay close and check in with me often."
Carrying her "WWKPD" reminder into personal time, Charissa believes that "learning theory applies to every creature, including humans." She often talks about psychology and learning theory with her friends.

We also love to people-watch and try to read body language when we are out!
Charissa notes that her relationships improve and grow when she uses positive reinforcement with everyone around her. "I have used TAGteach to help friends 'master' body-builder-type weight lifting, and with family members who are classical dance trainers."
Since becoming a KPA CTP, Charissa has been certified through CCPDT, qualified as a CPDT-KA. She is working toward a Low Stress Handling Silver certification currently. Charissa says, "I have a shelter intern who has completed the KPA Shelter Training & Enrichment course. We have worked together to utilize the course material at the shelter!" Charissa would like to complete the shelter course herself, and she wants to tackle the KPA Puppy Start Right for Instructors course, Smart Reinforcement with Ken Ramirez, and the Better Veterinary Visits course (to augment the course she teaches veterinary students at CSU). Wow!
"My life goal is to own my own rescue-and-rehabilitation refuge where I employ at-risk youth or other professionals who are unable to gain work." Charissa believes that clicker training will help her be a good boss, trainer, and business owner. She has not been able to earn her undergraduate degree because of financial restraints and the difficulty of completing a degree slowly while working. "I often think about what Karen did when she was on the bus to her master classes, where she would reward herself for getting through each day!" A huge fan of treating yourself, Charissa rewards herself for sticking with her education. One day she hopes to complete a master program in animal behavior. "I have always dreamed of being a mother, too. My mother has always encouraged us to do what we love, and I know that my positive skills as a trainer can help me be the most supportive mother I can be!"