June 2018 KPA CTP of the Month
---
John McGuigan, KPA CTP, approaches dog training, and dog people, with humility, kindness, and curiosity. Relatively new to clicker training, John feels lucky that "Scotland, and the UK in general, have a positive approach to training dogs." Public parks in Scotland often allow off-leash activity. John appreciates that flexibility, but also realizes that Scottish "trainers have to develop skills in dealing with off-lead dogs." Training one-on-one or presenting internationally, John is passionate about his work.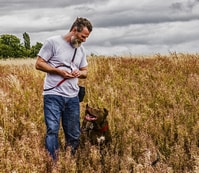 Although John had been interested in the KPA Dog Trainer Professional (DTP) program for years, it was at ClickerExpo in 2015 that he decided that "it would be as good a time as any to enroll." He sought a "qualification that was recognizable within the [dog training] industry" and to formalize his existing knowledge and skills. John completed the KPA DTP program in April 2018. It turns out that it was not "as good a time as any" when John first began his DTP studies! "On reflection, I probably didn't pick the best time, as there were several personal issues that made the program difficult." John's first training partner was his little dog Watson, but Watson was unable to complete the course. His second canine partner, Logan, a "newly adopted problem child," finished off the course with John.
John admits, "I don't think I could have picked a more challenging dog to work with than Logan, but we did manage to get through it." Because Logan's early life was difficult, "everything took an absolute age for him to learn. I had to be really creative in my approach, and my learning curve was really steep," reports John. In the end, John feels that the challenge was worthwhile. "I am a better man and a much better trainer for doing it." Sometime in the future, John plans to retake the DTP program with Watson. "I want to compare how different it is with a dog that is significantly less challenging."
Since completing the KPA program, John tends to study training far more critically than before. "Learning both from the course and from the amazing teachers within the faculty has encouraged me to really think about behavior's function, and how we can adapt it to help clients and dogs." Another post-KPA change that John shares is that he is "much more inclined to look through an operant lens now, rather than a classical one." When John is not leading private training classes, he offers presentations in the UK and elsewhere. As aggression and reactivity are the issue John has the most experience with, he speaks to those topics frequently. He points out that, most often, "the dogs are reactive and the clients less so!" John also focuses on human mechanics, in the specifics of clicker training but around how trainers and owners move, hold the lead, and otherwise interact physically with dogs. "These movement/handling presentations have been popular, as the topics are often overlooked," John says. He credits UK trainer Kay Laurence for launching him on this path—from the very first time he saw her present.

I am a better man and a much better trainer for it.
John has incorporated elements from the KPA DTP program into his personal interactions. "TAGteach and its principles have been hugely beneficial dealing with clients, breaking things down into bite-sized chunks," reports John. He also utilizes TAGteach with his Brazilian Jiu Jitsu hobby, and has introduced his personal trainer to TAGteaching. "My trainer is having great success with it!" More globally, John reflects on the "elements of this industry that are not always 'clickerly'" and how the ethos of KPA helps keep him on track. "If we are engaging our animals and human clients with curiosity, humility, and kindness, we must also do that with our peers. This takes practice and is not always easy," he says.
Workshops, seminars, and conferences are all on John's calendar, despite and because of the challenges that Logan continues to bring to his life. (Read more about Logan on John's blog.) "The more I learn from Logan, the better able I am to help him. All of the other dogs I work with are far easier than he is, so if I can find a solution to the issue I am having with Logan, all the other dogs will benefit." John hopes to enroll in some of the more advanced KPA courses in the future. "All aspects of clicker training appeal to me, from trick training to the advanced concepts that Ken Ramirez presents." John and Logan are determined to get as far as they can with training. "Who knows," says John. "I may learn enough on my journey to present what I have learned at ClickerExpo one year!"