March 2018 KPA CTP of the Month
---
Kat Camplin, KPA CTP, uses the skills she has accumulated in her many years volunteering with and training dogs—and through her experience at Karen Pryor Academy—in her California-based business, Romping Dogs. She offers flexible training and consultation sessions for dogs and families, from pre-adoption counseling and puppy lessons to behavior modification to specialized training for dog sports and service-dog work. It was Kat's exposure to positive training through Obedience competition work that led her to clicker training and KPA.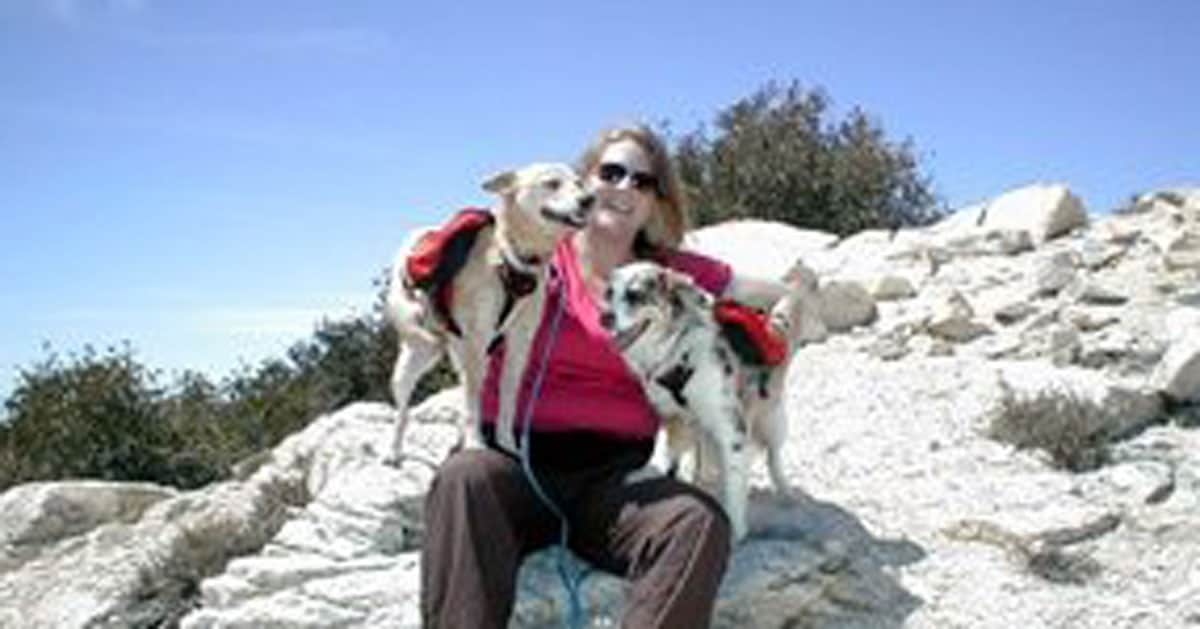 While "every year [she] heard about ClickerExpo," Kat had not attended the conference in the years before she devoted her professional life to dog training. "When I was laid off for the second time in four years, I looked for education and certification programs to formalize my dog-training education and make a new living on my own." Kat recalled hearing about ClickerExpo, and found KPA and the Dog Trainer Professional (DTP) program. "I chose the program because it included in-person workshops, which I believe is a unique asset to the program." Kat completed the DTP program 2012-2013. She worked with "the amazing Nan Arthur, which makes me a member of The Nan Clan or The Nanners, depending on who you're talking to!"
Looking back to her KPA DTP program experience, Kat says "the workshops were wonderful, and I still keep in touch with the students who attended with me." What she values most about the course was the "amazing opportunity, not only to clarify and work on what you've studied in the online portion of the course, but also to absorb the instructor's expertise, which really adds to the learning experience." When it comes to the challenges of the DTP program, Kat recalls that "there's nothing like the shared stress of needing to demonstrate a 10-part sequence in order to graduate," but declares that the shared experience forged lasting relationships with her course mates.
One of the most important lessons Kat gleaned from KPA "was to look for the things that happen before the big movements." 

I believe that humans imagine the big, final product and try to get there as quickly as possible. We fail because we're watching for the big movements that are closest to the final goal.
Now Kat watches for subtle movements in the body, a closed-mouth moment of concentration, or the fact that she does not have the dog's full attention. "Once you see the subtle occurrences, the mark-and-reinforce process goes quickly, but you need to start with something to click." Using shaping as an example of a skill she still hones, Kat reveals that "to go from a dog passively standing still to one waving at you after just 15 minutes looks like magic, because it is. Clicker training is an amazing philosophy."
When Kat works with dogs (and their people) involved in sports and competition, she can rely on her own personal experiences in those areas. "I started clicker training when I was involved with sports because I thought there had to be a better way to train behaviors." The biggest difficulty of this kind of training, according to Kat, "is maintaining a level of precision and endurance as a weekend trainer." Like herself, most of the human halves of the competition teams have day jobs, and must do "more formal training in a single class and on weekends." An invaluable tool that Kat uses and recommends to her students is some form of a log to record progress, next steps, "what needs precision or speed or distance, what's broken, what's working, and more." She shares her spreadsheet model that has behavior rows along the left margin and columns with the date and goals for that training session across the top. In each cell, she records data and observations about training progress. "With that information, you can create a valuable training plan for your goals. It is easier to see the smaller pieces needed to make the picture-perfect precision behaviors that needed to get high scores." The log information targets the areas where competitors should be focusing training time. "It's more reinforcing to practice skills that are working instead of the skills that aren't," says Kat.
In her work with trainers crossing over to the positive philosophy, Kat again goes back to her own experiences when she moved to clicker training. She knows that "the hardest thing in the world to get rid of is the automatic pop movement; the wrist-flick/bicep-flex of a well-timed, choke-chain collar pop stays in the body for years." With the surety that crossover trainers aren't being obstinate during the learning process, Kat is patient and understanding. Considering the rejection of the "pop" muscle memory as an analogy for "moving from a forceful mindset to a respectful mindset" helps Kat educate her crossover clients. "In addition to changing a memorized muscle movement in response to leash pressure, crossover trainers need to learn to see small success," she explains. "Learning to see the smaller, 'good' pieces before 'failure' means seeing the click point. Once you see the click point, you don't need corrections." While it takes concentrated effort to get there, Kat helps her clients learn to "release into the point of success and never see the point of failure."
It is not just professionally where Kat implements KPA lessons successfully. "I'm much clearer in all of my communications now. Instead of using subtle signals or expecting someone to read my mind, I state things much more clearly." The TAGteach portion of the KPA DTP program has helped Kat think in clear, small steps. Recently, she hired contractors to work on her house. 

It's so easy to start rattling off a list of instructions without pausing to make sure everyone understands, and agrees on what the final result should be. A 'sturdy fence' needs criteria and clarification when you're hiring people who aren't familiar with dogs. Breaking the criteria down into 'solid panels without knotholes,' and 'gate gaps measuring 2 inches or less' gave the workers specifications they could achieve.
Kat has completed Dr. Susan Friedman's Living and Learning with Animals course and is currently working on her BS degree in wildlife conservation through an online program, effort she calls "fun and challenging." She attended ClickerExpo 2018 in California (her sixth Expo!) and calls the conference "a much-needed respite from the world" and "a wonderful chance to learn and rethink how to do things." While Kat finds Expo enlightening and stimulating, it is also exhausting. "It's impossible to see everything, so each year I sit down with the schedule and two highlighters: pink for 'must see' and yellow for 'want to see.'"
At ClickerExpo, Kat appreciates that "there is always something new" and that some presenters "take a very narrow topic and put it under a microscope." Her "secret trainer crush" is Michele Pouliot, so she tries to attend as many of Michele's offerings as possible. "This year (2018) she dissected luring in a really elegant way and made me reconsider its use. Kat also enjoyed Kathy Sdao's presentation on preventing burnout. "It covered a topic we should be discussing more."
There is always another ClickerExpo to look forward to, but there are more short-term projects Kat is anticipating, some "traditional protocols that need to be revisited with a clicker training lens." One is rattlesnake-avoidance training. According to Kat, often this training "uses a shock collar and can create unintended negative effects." While it is easy to train rattlesnake avoidance this way, "a pre-programmed recipe that people can follow," it takes longer to train the same task with clicker training. Therefore, Kat believes in building alternative, replicable recipes for common protocols using positive reinforcement. "There are areas where modern training has migrated into public knowledge, but some areas still need a lot of work. Building strong behaviors takes time and ongoing practice."