June 2017 KPA CTP of the Month
---
Jane Jackson, KPA CTP, works with dogs, horses, and people at Bookends Farm in beautiful Vermont. Always striving to educate learners in a positive and stress-free environment, Jane offers animal training along with many other services, including riding instruction, demonstrations, clinics, discussion groups, and information-sharing through social media. In fact, the Spring issue of the online IABC Journal includes an article authored by Jane, Helping an Overachieving Horse Relax.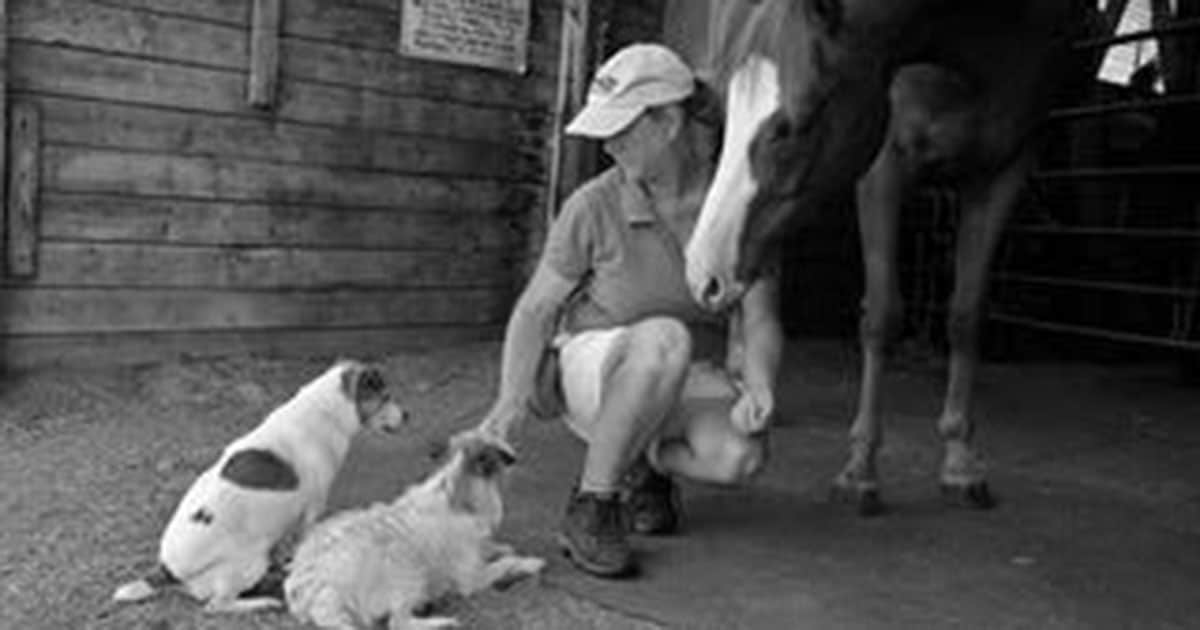 Jane's introduction to the Karen Pryor Academy (KPA) Dog Trainer Professional (DTP) program came via a suggestion from Alexandra Kurland. Jane has been an admirer and follower of Alexandra, widely known as the leader in the field of clicker training for horses, since 1999, as well as her student. "I attended her clinics, read her books, and watched her DVDs," remembers Jane. Another student of Alexandra Kurland's, Cindy Martin, now a good friend to Jane, was in the DTP program at that time. Cindy's enthusiastic recommendation led Jane to consider enrolling as well.
There were three major reasons Jane decided that the KPA DTP program would benefit her:

I thought there might be holes in my knowledge and skills, due to the scattershot learning I'd done over the years: a little here and a little there starting when positive reinforcement training was barely known in the horse world.
"I knew that no one else in my geographic area had certification of any kind. I believed that certification might help me build my business."
"I thought that adding dog training would help flesh out the income from horse training and riding lessons, which died down in winters in our area."
Jane completed the KPA DTP program in July 2011 with Carolyn Barney in Massachusetts. Post-KPA, she happily provides follow-up to her three enrollment prompts above, reporting positive results. Jane found that there were no major "holes" in her training. "Alex is an amazing teacher, and offered me a complete set of knowledge and skills." The KPA DTP program provided the "glue" that held all the pieces together, made many concepts more clear, and increased Jane's confidence and fluidity in training. Completing the progressive KPA DTP program with dogs, Jane then translated new skills and knowledge to her work with horses. "On the drive home from each training weekend, my mind was spinning with possibilities of how to use the dog exercises with horses," she recalls.
KPA certification is something that Jane is proud of and appreciates being able to add to her credentials. "The KPA program is respected by those well-versed in behavior. For others, including veterinarians and clients, I can refer them to the KPA website. My certification through the KPA DTP program is eye-opening to those who now realize that trainers should have legitimate education behind them."
As projected, dog training has added to Jane's training income. "When the snowy winds are blowing, I can still get in my car and help people with their dogs in a nice warm space!" Jane explains.
The most useful and illuminating part of Jane's KPA course was the expanded tool set she could use in her work with horses. Thanks to Alex's wonderful foundation, Jane didn't find anything particularly difficult… "except my enthusiastic Jack Russell Terrier who could move faster than I could click!"
Jane has found that a good amount of horse training is simply practices handed down through the generations; some training methods are used just because they get the job done. "However, there is little to no understanding of why any of it works or what the unintended consequences might be," says Jane. "We have a long way to go to catch up with the dog world." While horse people seem to be more open to using clicker training for practical purposes (loading a horse into a trailer, standing still with a foot up for the farrier, improving ease of leading to and from pastures), Jane finds it harder to convince people to use it under saddle. She also reports, "Choice in training and recognizing emotional signals are pretty novel ideas to most."
Jane is doing her part to raise awareness of positive reinforcement training in the equine world. (Additional help comes from the fact that "some ClickerExpo conferences now include a horse track!") Jane offers monthly clinics at Bookends Farm where attendees can use her horses and ponies for learning. "My equines live under the clicker umbrella, so they are quick to respond and are wonderful teachers," reports Jane. "They know how to offer behavior and they love to interact with people. When clinic attendees see this enthusiasm, it really changes the way they see their own horses."
E-mails and photos that Jane receives from clinic attendees that show how folks have used the lessons to teach trailer-loading, stationing, leading, and fun games are communications that Jane enjoys and finds encouraging. Mostly content with these "baby steps" in advancing clicker training in the equine realm, Jane often remembers the truths within Karen Pryor's steps of becoming a changemaker.
When it comes to training horses versus training dogs, there are similarities and differences that Jane sees. "Someone recently told me I should write a book on the topic!" Jane says that "the principles of operant conditioning are the same for both species: break things down into achievable steps, watch your rate of reinforcement, keep the animal under threshold, let go of the labels, and remember that body language is critical (our own as well as the animals')."
As far as dissimilarities, Jane believes that the difference comes down to working with distractions.

For MOST dogs, distractions tend to be things they want to get TO: a squirrel, another dog, a ball, scents. If you can make yourself more interesting than the distraction (by playing fun games and reinforcing with tuna or meatballs or cheese), you can change the focus to you instead of the distraction.
"For horses, distractions tend to be things they want to get AWAY FROM: flapping plastic, noises from wind, things coming over the horizon, barking dogs, noisy vehicles. Horses don't care what you are offering, if they feel they are in danger, they are going to leave—and you are simply holding on to the string of a 1200-pound kite. No treat is worth risking your life. Over time, you must convince the horse that you are more trustworthy than other things are fearful."
Jane has found that her extensive work with horses makes fearful or distracted dogs very familiar. "All the games and exercises to play with fearful dogs give me new ideas for ways to engage horses in scary situations." 
Jane is clear that every area of her life has been impacted by positive reinforcement and clicker training. "While I am (very) far from perfect, understanding behavior affects the way I interact with family, friends, clients, and anyone I meet." When clients express frustration with a dog's behavior, Jane responds only to efforts that will lead in the right direction, encouraging that behavior to continue and grow. "TAGteach helps me know when to insert a verbal marker like 'yes!' or 'good' into the conversation, as well as into active training. When people are reinforced for sharing good things about their dogs, they see those things more, encouraging them to reinforce the dog rather than to worry about the not-so-good."
Searching out what clients find reinforcing is another strategy Jane uses. "A webinar of Ken [Ramirez]'s really pointed out to me that value: do people want to show off for their neighbors? find new ways to spend time with their dogs? earn a discount on the next set of lessons? How can I reinforce them for reinforcing their dogs?"
Jane loves learning. Among other learning opportunities, she has: completed Susan Friedman's Living & Learning with Animals online course, attended the Art and Science of Animal Training conferences (formerly ORCA), attended ClickerExpo, participated in the Natural Encounters Professional Trainer's Workshop, become certified in the Fear Free Pets program, and taken part in many webinars offered by KPA and others. 
Recently, Jane has become involved with Blue Star Mothers of Vermont, which provides pets and PTSD service dogs to veterans in Vermont. "It's a fledgling organization but I've been very fortunate to have other positive reinforcement trainers (including another CTP!) to work with," she says. On the working farm that Jane and her husband Ed own, they utilize border collies for herding and Maremma sheepdogs as Livestock Guardian Dogs. "These two fields continue to challenge my training creativity. Starting with a healthy respect for dogs' ability to see and react to things we can't, I try not to get in their way. It is important to me that compassion for the livestock be considered as well."
Jane emphasizes that the generosity and community of other KPA trainers is appreciated immensely. "The KPA listserve is a phenomenal resource of support" that allows Jane to spread awareness of clicker training, move forward with her goals, and expand her training activities with animals.