December 2017 KPA CTP of the Month
---
Carol Meagher, KPA CTP, may be looking forward to her very first ClickerExpo conference in St. Louis this coming March 16-18, but this Lead Trainer with the Greater St. Louis Training Club (GSLTC) is already a clicker training advocate and specialist. In training classes, in canine competition, and even with the patient population in the hospital where she works, Carol uses positive reinforcement and sees wonderful results.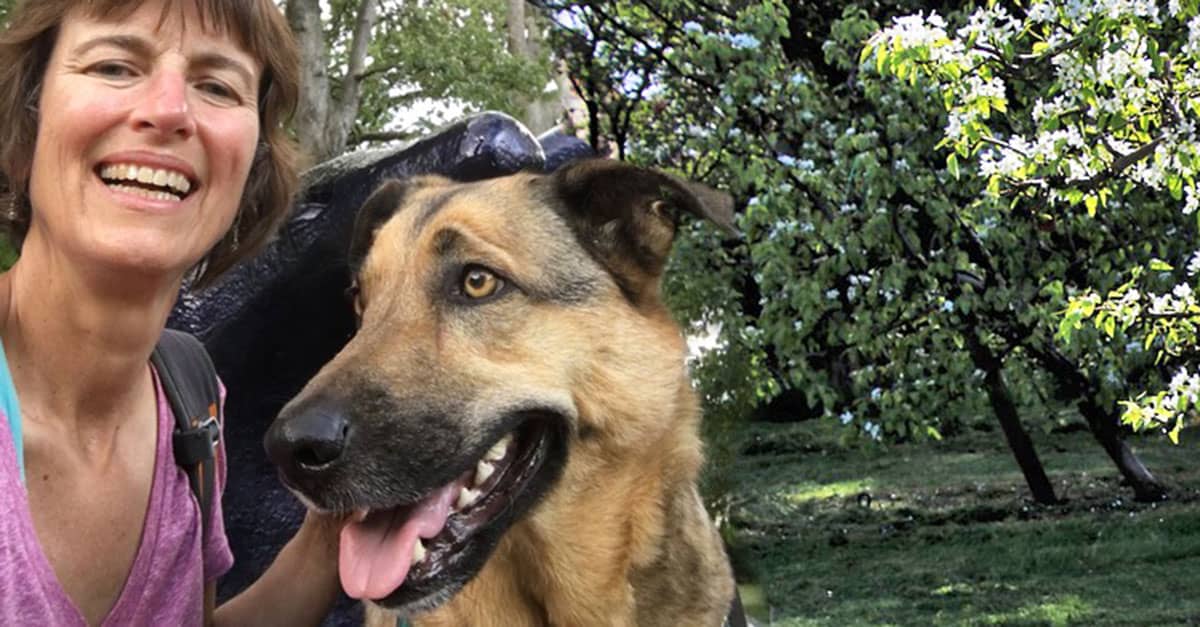 Carol was introduced to clicker training through the all-volunteer Greater St. Louis Training Club. After enrolling in classes there, she ultimately became a trainer herself! It was at the club where Carol met Lucy Bailey, one of the first trainers in St. Louis to be certified by Karen Pryor Academy (KPA). Lucy was the co-coordinator of the assistant trainer program Carol completed at GSLTC; she "was and is instrumental in converting the club's practice from compulsive/aversive methods to clicker training." Lucy also maintains the club's training style, through her role as training director and through her involvement with the assistant trainer program, according to Carol.
It was from Lucy Bailey that Carol learned about KPA. There were other KPA graduates at the GSLTC as well. With encouragement from these veterans, and a dog at home with a history of reactivity, Carol enrolled in the Dog Trainer Professional (DTP) program. With the challenging Keely as her canine partner, Carol says she was "very lucky" with the location and instructor for her KPA program. "Laurie Luck provided workshops in St. Louis at the Humane Society. It was close to home!"
The KPA program presented many challenges and rewards, Carol reports. For her, some of the most valuable takeaways from the DTP program came through videos shown during the training modules. "They were illuminating. I especially loved the videos of trainers training their animals. To this day, I recommend KPA trainers I saw in the videos and on YouTube: Helix Fairweather, Alexandra Kurland, and Hannah Branigan, to name just a few." Carol recalls spending a lot of time taking detailed notes about all of the training modules "because I didn't want to miss anything."
Carol's biggest challenge of the DTP was cueing, specifically recognizing what the learner sees as the cue. "During the program, when I was training Keely to do a figure 8 between my legs, I used targeting. Sometimes she would perform, sometimes not." Again, videos were helpful. This time, Carol used tapes of her own training sessions. In reviewing them, "I realized what Keely saw, what Keely was looking at for the cue, was whether my knee was bent. For her, the bent knee was the cue." 
"The lessons from the KPA course have enhanced my training, both in classes as the instructor/trainer and at home, practicing basic behaviors and tricks and dabbling in Canine Parkour with my own dogs," Carol says with confidence. She is most happy when she can pass on the lessons and success from positive reinforcement training, and shares this story:

One evening after class, a student and her mother wanted to show me something the daughter had taught the dog using capturing. I had suggested to this family that they click and treat when the dog stretched in the morning, and then cue it for a bow. Sure enough, the daughter bowed for her dog and he bowed back! When I gave him the cue, he performed the bow for me, too. The best parts of this demonstration were the expressions of joy on the mother's and daughter's faces as they were training their dog!
Carol believes that learning "canine language" through clicker training creates the success she works toward with her rescued dogs and when they venture to learn any new behaviors. "Often a rescue dog has trained behaviors that were trained inadvertently in his past. To undo these unwanted behaviors takes time and patience," reports Carol. Strong observational skills and time spent doing trust-building exercises are key elements in training rescue dogs. Carol points out that understanding dogs and what dogs (or a particular dog) love to do is also an asset. "For example, playing nose work games with a shelter dog is a great way to build confidence. Communicating clearly and consistently builds trust, and teaching tricks builds the relationship and teamwork." 
While the challenges of training dogs for competition and sports are similar to the challenges of a shelter dog, "the goals and motivation are different," says Carol. Sports and other competitions require:
Training the dog to be comfortable in the competition or sports arena (trust and confidence)

Training to the level of precision required (clarity and consistency)

Training the handler to hide disappointment from the dog (relationship-building)
The best practices of clicker training with animals—consistency, clarity, reliability, predictability, choices, and reading the learner's emotional state, confidence level, level of tiredness, and motivators—work with people, too. Carol applies these principles in her work at an adult cardiac-procedural area of a hospital. When she offers patient care, pre-procedure care, intra-procedural care, and post-procedural care, Carol pulls out her KPA tools. "Patients can be tense and afraid of the unknown." A real-world, human example from Carol's history was when a young adult patient exhibited fear of an upcoming procedure. The cardiologist was present, as was an anesthesiologist who had been asked to be there in case the patient needed a higher dose of anesthesia. Carol was also part of the procedural team. "I began talking to this patient and we happened upon the subject of dogs. He was lost in the subject of his dog and his dog's antics. Before we knew it, the cardiologist performed the procedure without the use of excess anesthesia," reports Carol.
Carol completed the Puppy Start Right for Instructors course in 2017. She has earned her CPDT-KA certification and plans to gain further certification as a Fear Free Trainer and in Nose work training. Looking ahead to ClickerExpo, Carol has registered for courses with Michele Pouliot (Tricky Motivators: Using Trick Behaviors as Reinforcement) and Ken Ramirez (Love it! Effective Non-Food Reinforcement), among other Sessions and Labs. "I am definitely taking advantage of Expo being in my hometown!" 
Carol plans to continue teaching students in group Manners and Puppy, as well as in private settings; she feels rewarded when she witnesses students' relationships with their dogs develop. "I would also like to become involved with the Humane Society of Missouri in St. Louis, the Puppies for Parole, and the Pets for Vets programs," Carol says. "These programs are appealing because they find homes for shelter dogs and find pets for people." Sadly, Keely passed away in 2016, but carol uses all that she learned from and with Keely with Gilbert and Scout, her current dogs. Someday, Carol would like to return to the Rally Obedience ring, too. "There is nothing more thrilling than the camaraderie of the dog-human team in the competitive ring."