august 2022 KPA CTP of the Month
---
After first hearing about the Karen Pryor Academy (KPA) Dog Training Professional (DTP) program from a friend who provided daycare for her dogs,
Joy Chia
, KPA CTP, enrolled in 2013. She was inspired after attending a
ClickerExpo
conference in San Francisco. Joy completed the KPA DTP program in September 2013, in Sequim, Washington, with Terry Ryan.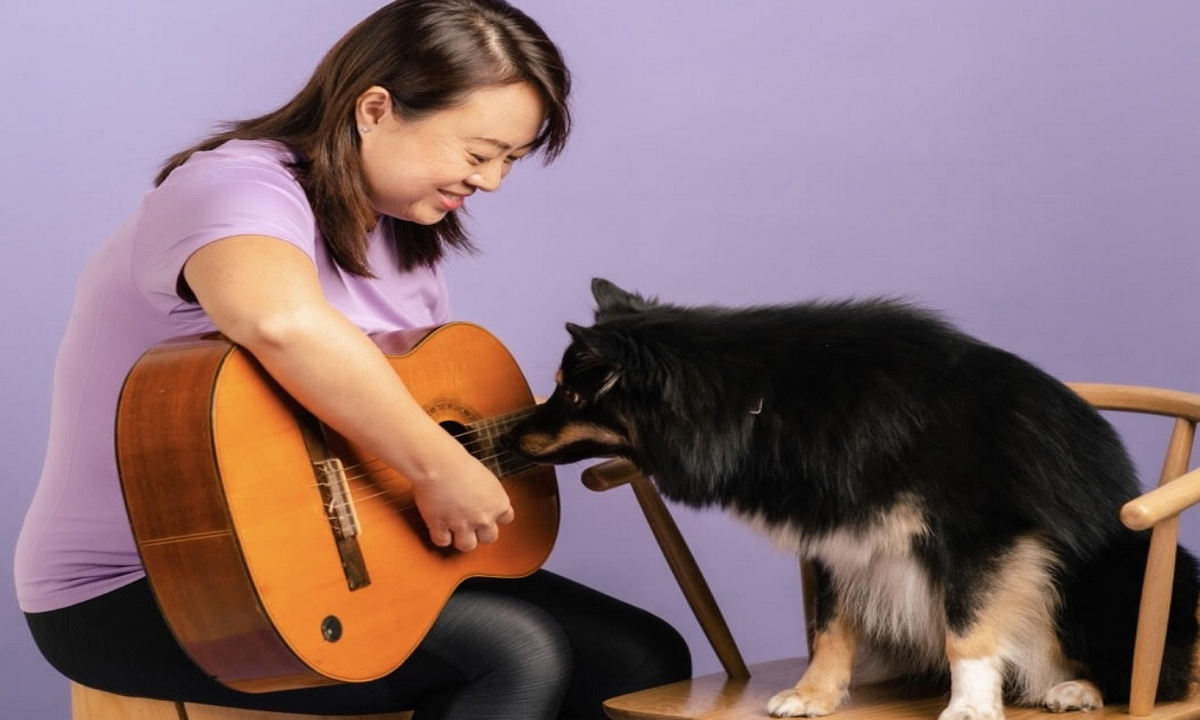 "What I loved from the start was being able to apply the same positive training methods with dogs and with other animals and humans. Now that I am a mother of three lovely girls, I apply the same method as I raise them!"
There are two themes that Joy remembers as the most useful parts of the DTP course. The first was the emphasis on being positive in every way. "That was very powerful. I became more mindful of how I spoke and behaved toward everyone, not just toward animals. Even in challenging times, I remind myself how being positive can help."
According to Joy, the other important theme of the KPA DTP program is the emphasis on what you want rather than on what you don't want. Joy reports that this message has intensified her focus on "creating what I want more of in my life." She works to strengthen the values she prioritizes and to build a strong foundation for her work.
Singapore is a fast-paced city and some "pawrents" tend to want quick fixes. However, clicker training requires time, consistency, and constant positive reinforcement to achieve results. It is a method "few Singaporeans were used to, initially."
Joy is especially proud of her music and art classes. "I love music and love to play different instruments. I used to wish the "furkids" could play with me, and then I thought, why not?" Joy designed a music class for dogs that incorporates foundational behaviors: offering attention to the trainer (Joy), staying, and targeting. The classes also involved letting the dogs get used to being around new objects and new sounds. When she first launched the course, Joy reports that "it was not easy to get my students to play the instruments. Many of them were apprehensive, reacting to the look of, and the sounds from, the instruments." For example, when Joy took out her guitar, several dogs avoided it. Joy turned to clicker training to mark specific behaviors that she wanted from her students when she was teaching them to play instruments such as the guitar, the keyboard, and various percussion instruments. Clicker training helped the dogs understand what she wanted, faster and more clearly. "It also created a lovely bond between us because there was clear communication."
Joy now reports success with her music class. "After a few training sessions, my students were able to play the instruments confidently and even perform yearly concerts for their "pawrents." It is heartwarming to watch them perform." Straits Times, Singapore's local newspaper, featured Joy and her music class in a recent online article.
Over the last 5 years, Joy has been approached by media companies, including MediaCorp and Zhao Wei Films, looking for "doggy-talents" to appear in various on-screen productions. Joy explains that different scenes require different animal behaviors. "I am constantly encouraged when I see positive methods working and the animals responding well to clicker training. Their onscreen performances have always garnered praise from their human co-stars and film crews."
Joy believes that positive training has impacted her personal life as well as her professional pursuits. "After I returned from the US after completing my DTP program, my husband said he loved the new me that was so positive!" Joy continues to remind herself that, as an advocate of using positive methods with animals, it is also important to be kind, positive, and respectful to humans. "The KPA program has increased my mindfulness about being positive with those around me. This mind frame has definitely influenced the way I work, especially when I face challenging times."

The KPA program has increased my mindfulness about being positive with those around me.
Another benefit to the KPA program, according to Joy, is the preparation it gave her for being a better mom to her three kids. "When I was pregnant with my first child, I was in Seattle completing my DTP course with Terry Ryan. I remembered telling myself that I can apply this learning to parenthood!" Joy started "clicker training" her infant and when she was 5-6 months old; the baby was able to communicate using hand gestures and show what she wanted. "Just as I use clicker training with the dogs, I can 'mark' the behaviors of my kids and reinforce them positively."
Joy says that these real-life experiences with her own children, as well as with her dogs and clients' dogs, have taught her valuable lessons. "Based on all of this accumulated wisdom, I am interested in continuing my education with children, dogs, and therapy." Joy would like to see clicker training forefront of family animal training in Asia. "I hope that one day I will see Singapore as a center for clicker trainers in Southeast Asia. I would love to help train more trainers to be proficient in clicker training!"